Small spaces to splash around in
Most homes don't typically have large bathrooms, which is why we believe that making the most out of your space is the best way you can get the most out of 'me' time – whether that's in a shower or tub!
See below for our favourite small bathrooms that we are living in right now. From mini tubs to downstairs renovations, we have the best pick for your next DIY project.
Small bathroom with separate bath and shower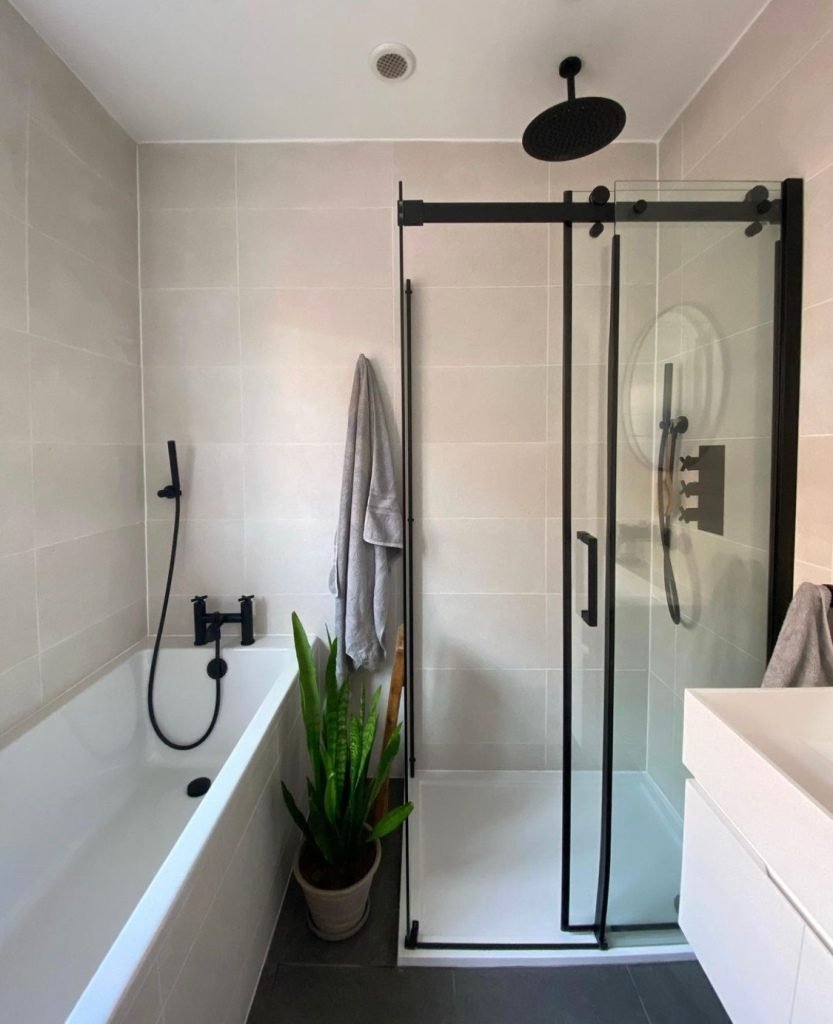 Image source @no179_
This small bathroom has a bath and separate walk-in shower whilst still looking super spacious. Using matching bold black fixtures for the shower head taps and the shower cubicle, the design is the perfect example of how minimal and clean lines can make all the difference in adding style to a small space.
Check out this transformation which was once a beige tiled bathroom with just a tub! See the full transformation on Instagram.
Small bathroom with lots of character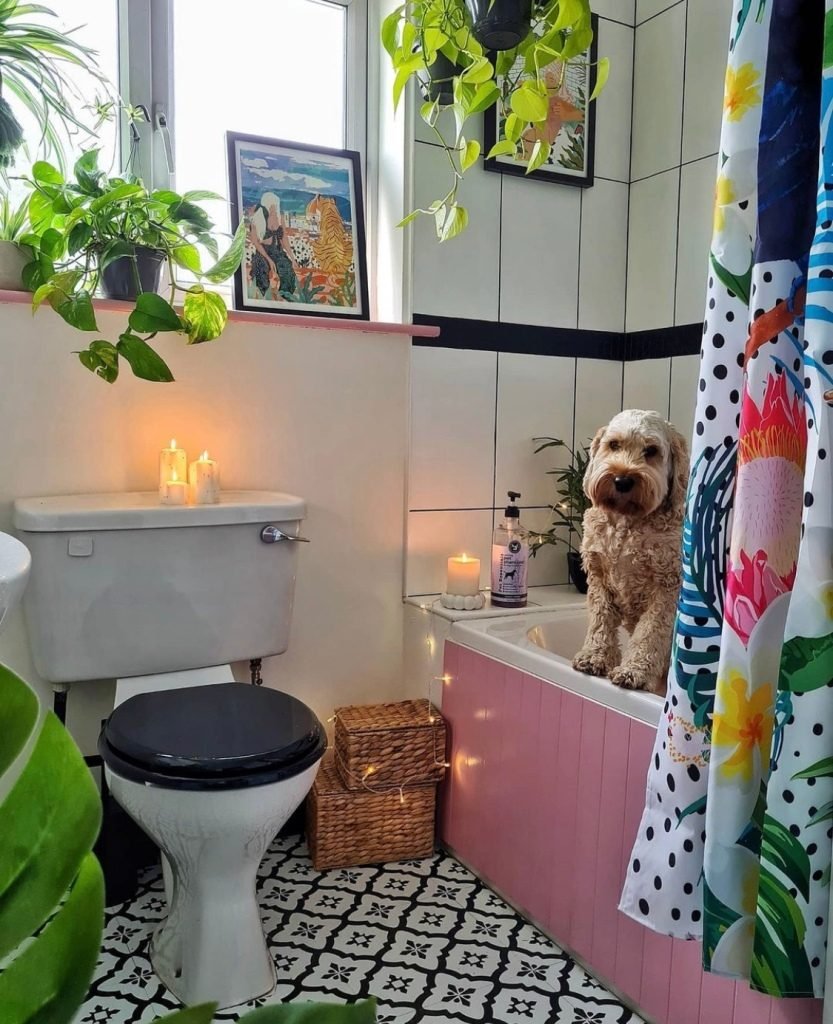 Image source @martinas_cosy_crib
Add lots of colour to a tiny bathroom to make the space feel homely and full of character. Play around with different colours and textures, like pattern floor tiles and printed shower curtains to bring a pop of colour into any bathroom.
We love this design from @martinas_cosy_crib where bright colours come together to liven up a small bathroom with lots of character! (Plus, we love the plant placements to add to the tropical theme)
Metro tiles for small bathrooms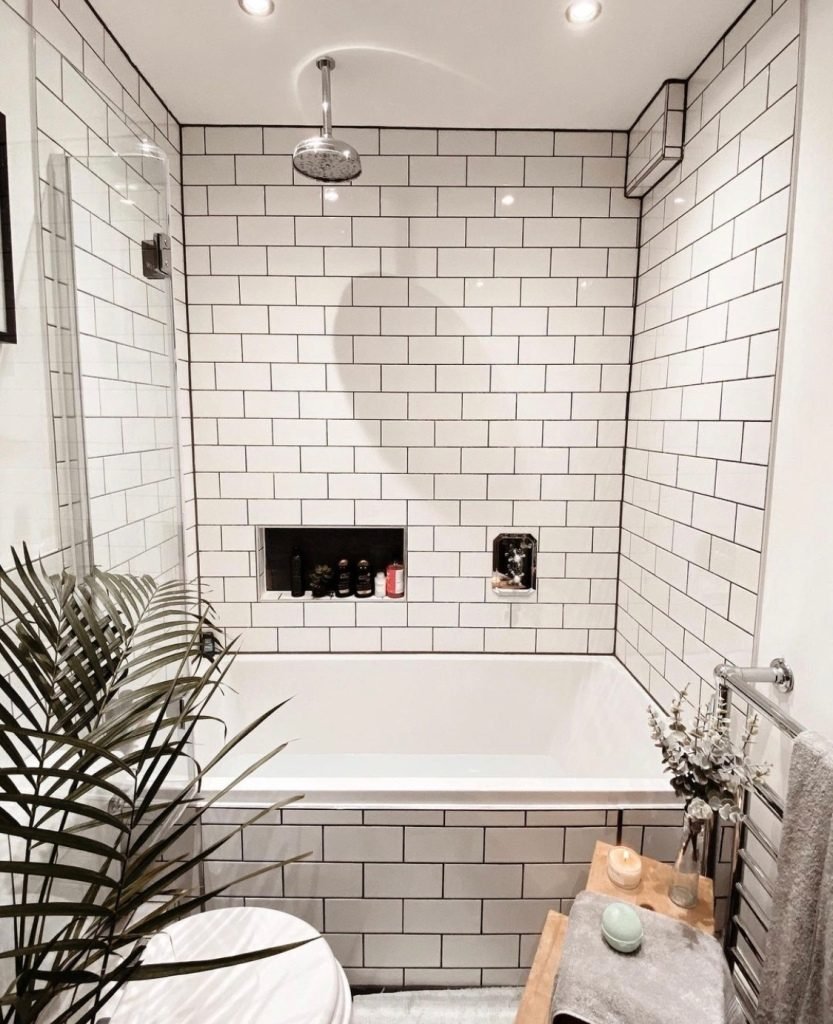 Image source @gemma.pepper
Glossy metro style tiles are perfect for tiny bathrooms as the light will bounce off the reflective surface to make the space appear bigger. @gemma.pepper shows us how it's done with this black and white bathroom that looks effortless and stylish. The rain shower and built-in shelves add a touch of luxury as well as being an efficient feature for a tiny home.
Bring in the outdoors in a small bathroom with plants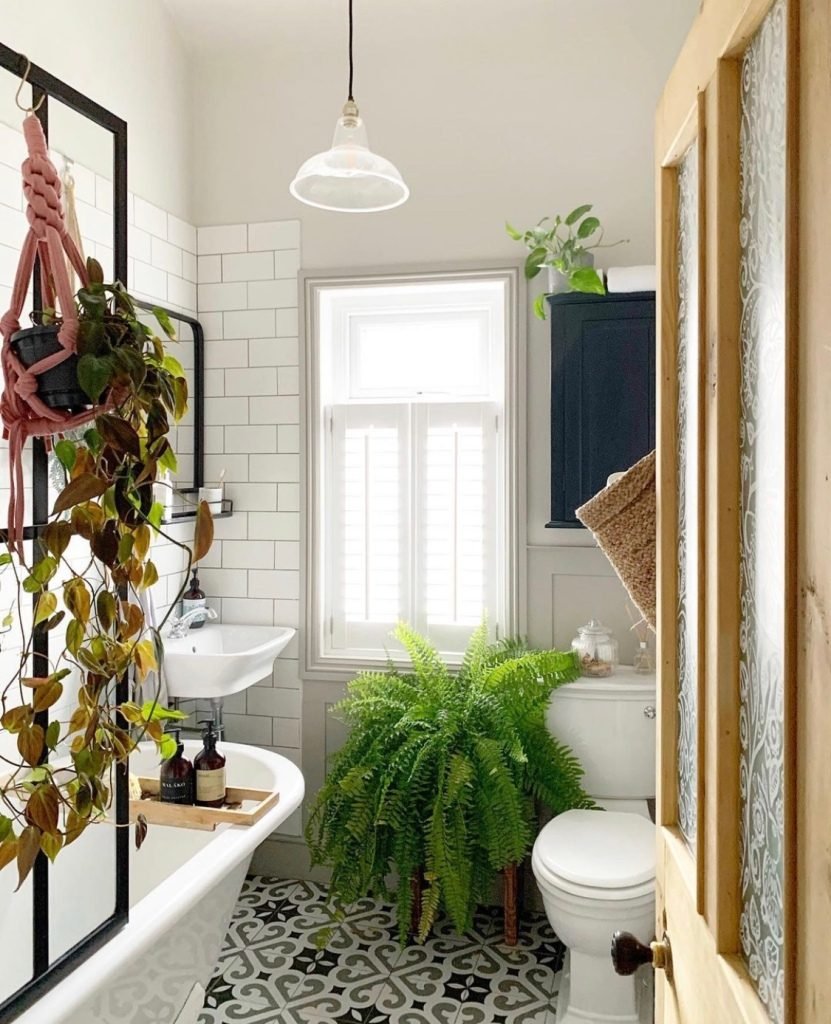 Image source @thehousethatjenbuilt_
If you've got a small bathroom that has minimal features you want to spruce up, why not add a few of your favourite plants into your space to add a spa-like experience to your bathroom?
Leafy plants like ferns and draped plants such as string of pearls will incorporate a bit of nature into your space while not taking up too much room, just like this gorgeous idea by @thehousethatjenbuilt_ that places plants around her bathroom in strategic ways to save on space!
Freshen up your small bathroom with green tiles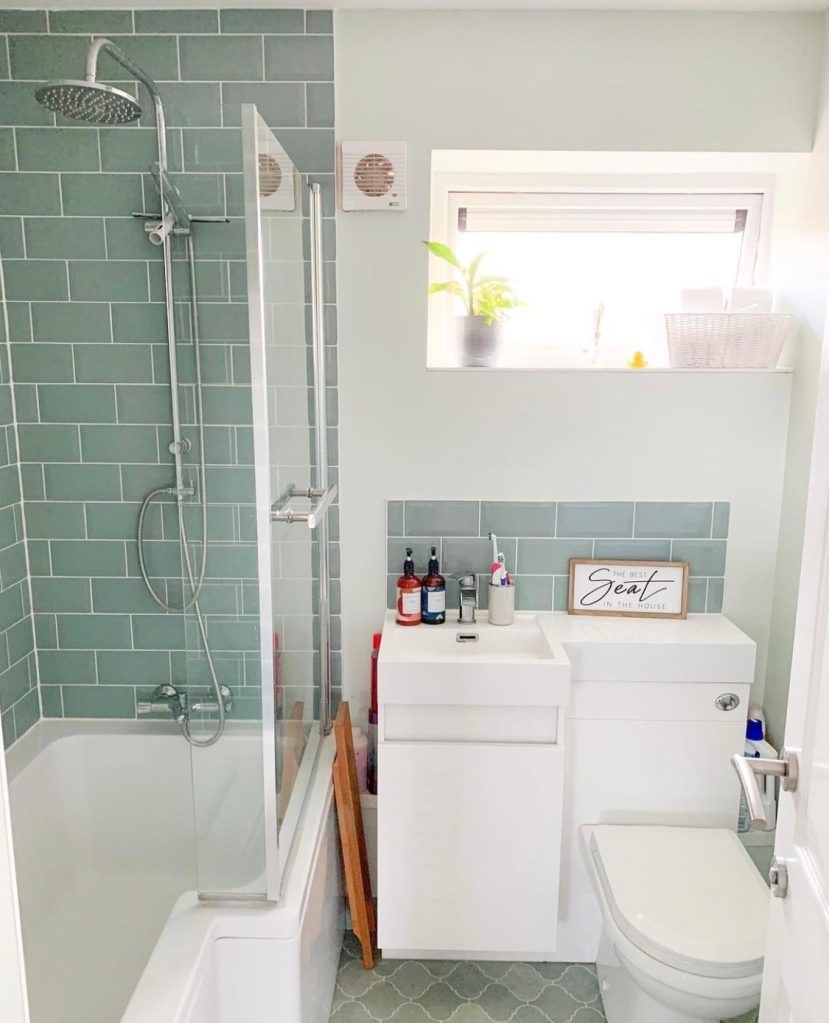 Image source @themapleapartment
Brighten up your small bathroom with green tiles for a fresh look, just like this gorgeous design by @themapleapartment. The contrast between the white and green in this bathroom creates the feeling of more space and combines two colours that express freshness. We love these green tiles that have been used as a splashwall in the tub and carried through to the sink and toilet so that the look flows through the entire bathroom effortlessly.
Small bathtub for a small bathroom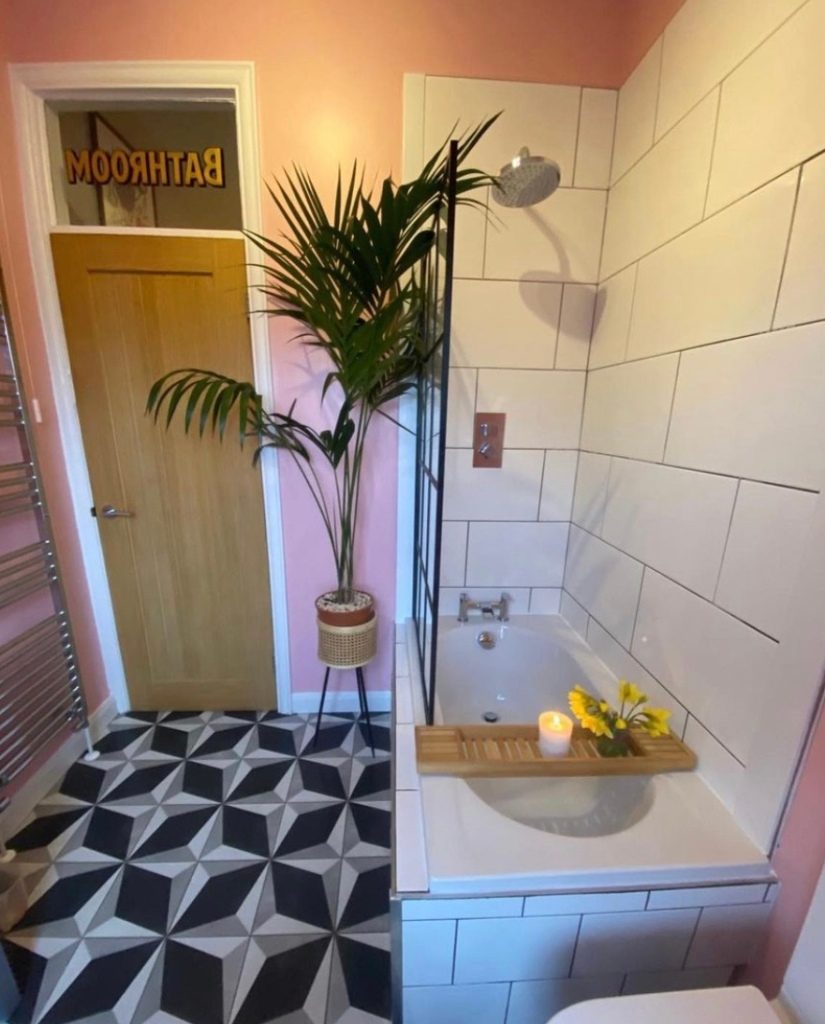 Image source @katiesarahcrosby
Small doesn't have to mean you compromise on style. This petite and pretty bathroom by @katiesarahcrosby has been styled to the max. From patterned tiles to bright walls, this tiny bathroom even comes with a smaller bathtub that doesn't make the space bulky. We simply adore the retro decor in this space and we also love the fact that there is room for a leafy plant too!
If you're styling a small bathroom with dark floor tiles, make sure to brighten up the room with light walls like these pink walls that will instantly draw your eye upwards.
Tiny white and grey bathroom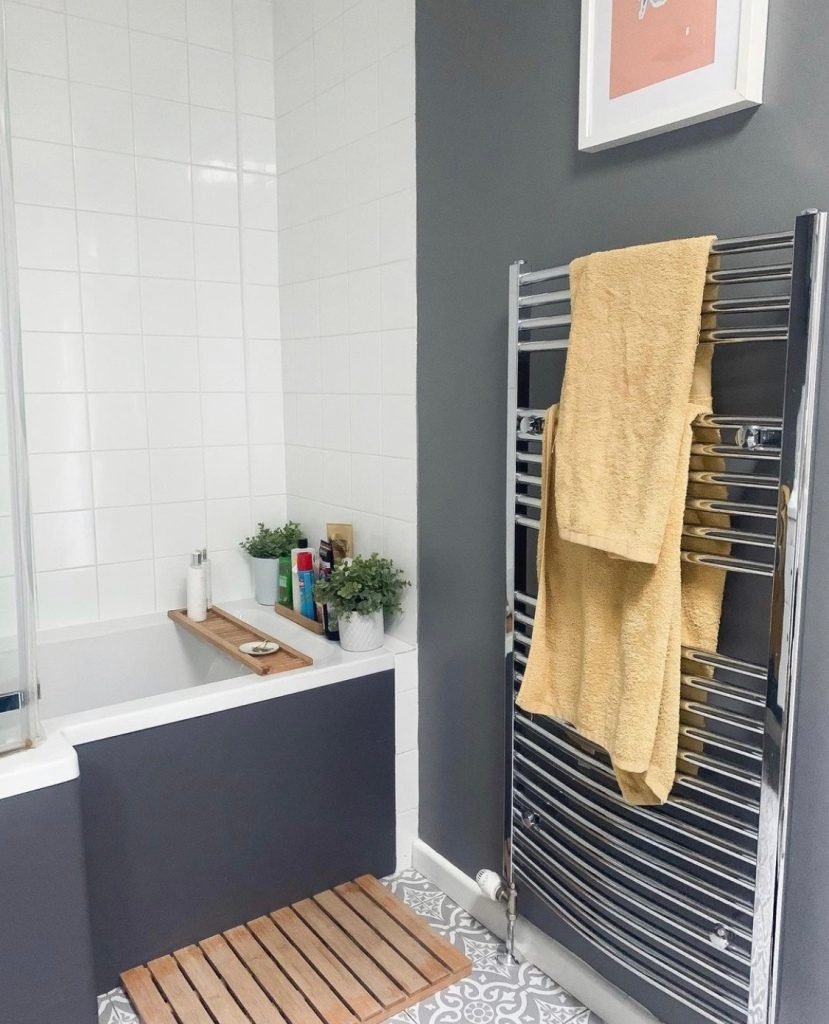 Image source @ellansavagehome
Neutral bathrooms work really well in making a small space appear bigger. Create a striking contrast with dark and light colours just like this design by @ellansavagehome that effortlessly styles a dark grey and white bathroom in a minimalist way.
Simple detailing such as patterned floor tiles and shiny shower tiles serve as decoration without the need of over styling your bathroom.
Convert a small downstairs room into a shower room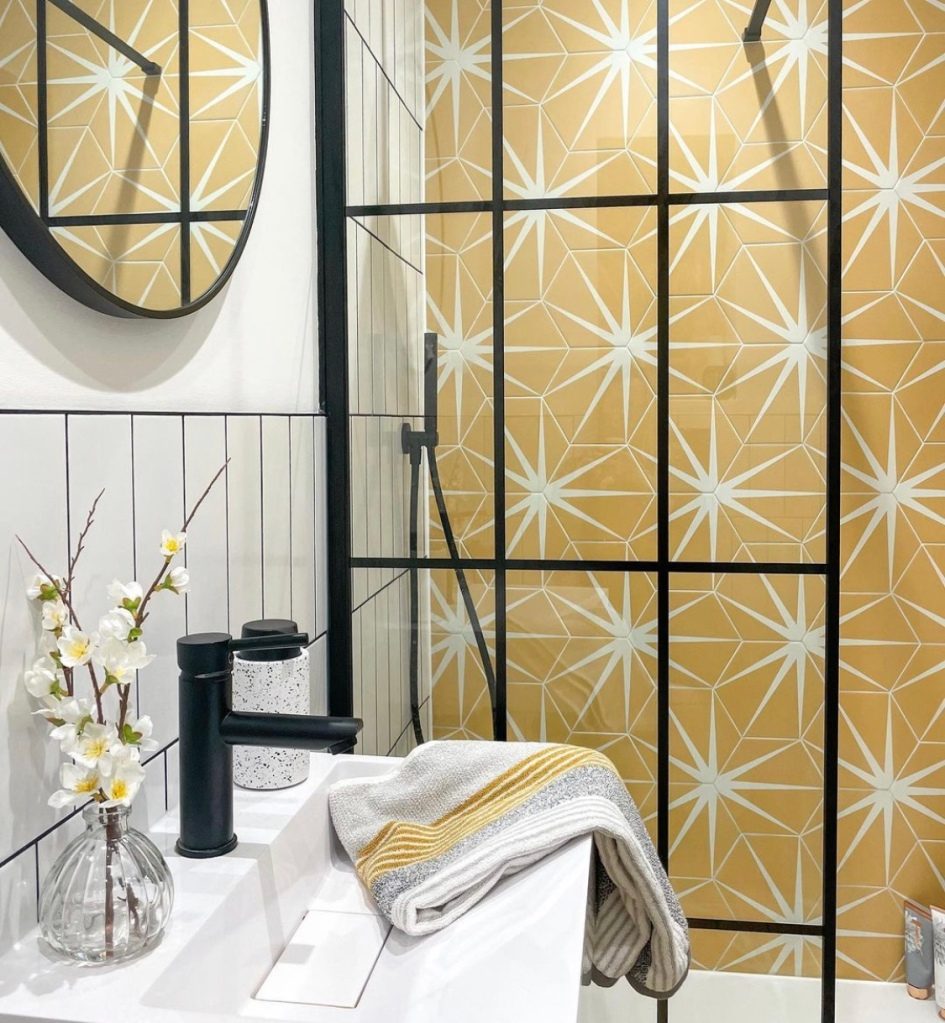 Image source @our1930shouse
This downstairs renovated shower room is fun, bright and full of character. Although small in size, you won't find a dull space in this room. The yellow tiles create a striking look, which sets the tone for the entire space and draws your eyes to different parts of the room.
Yellow is a wonderful colour to use when decorating a small space, especially if there is no natural light as the lights will reflect and illuminate the room to make it seem brighter than it is.
Tiny black and white bathroom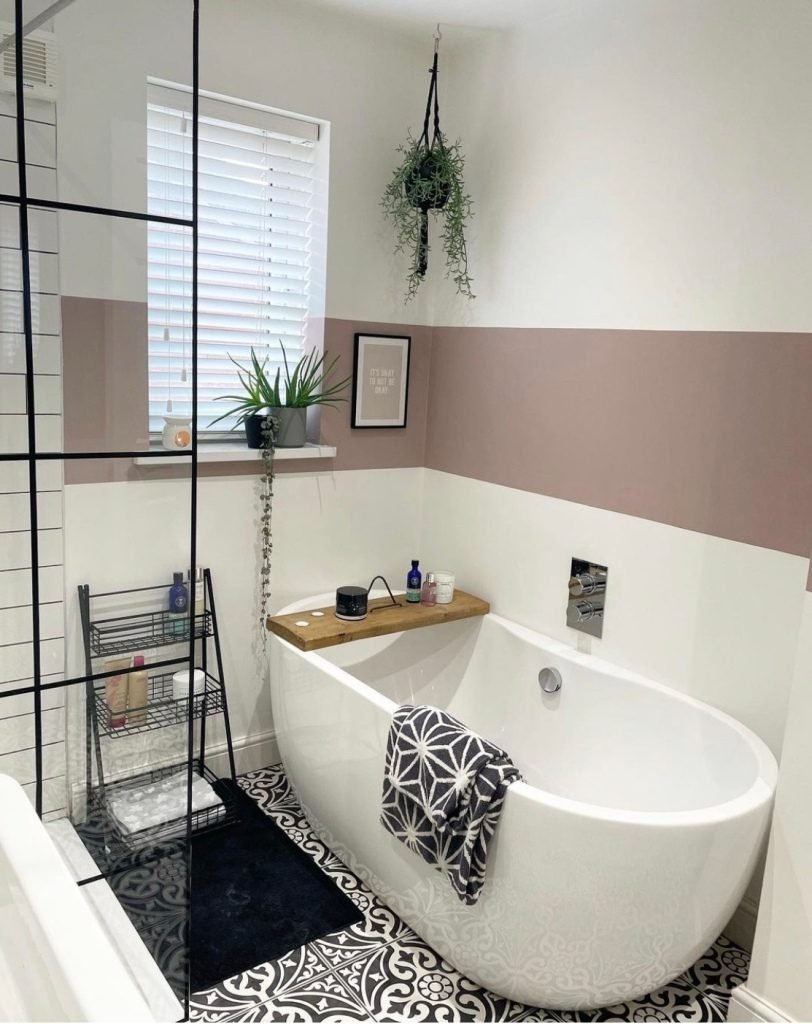 Image source @mamofboys
White bathrooms are perfect as a blank canvas to work with and if you've got a small space to work on @mamofboys will give you plenty of inspiration to work your space.
We especially love the patterned floor and painted horizontal strip around the room to break up the walls and to create a textured look on the bottom half of the bathroom. This effect will allow your eyes to gaze up at the room, and will make your space appear taller than it is.