Spruce up your kitchen floor with these budget friendly options…
Kitchens are rarely done on the cheap but there are some ways in which you can cut the costs down while still maximising on style and comfort. We've gathered our best cheap kitchen flooring options to help you save your pennies on your next renovation, with style ideas from professional homeowners.
Budget friendly kitchen floor options:
Scroll down to reveal the best design ideas using budget friendly kitchen flooring.
Laminate kitchen flooring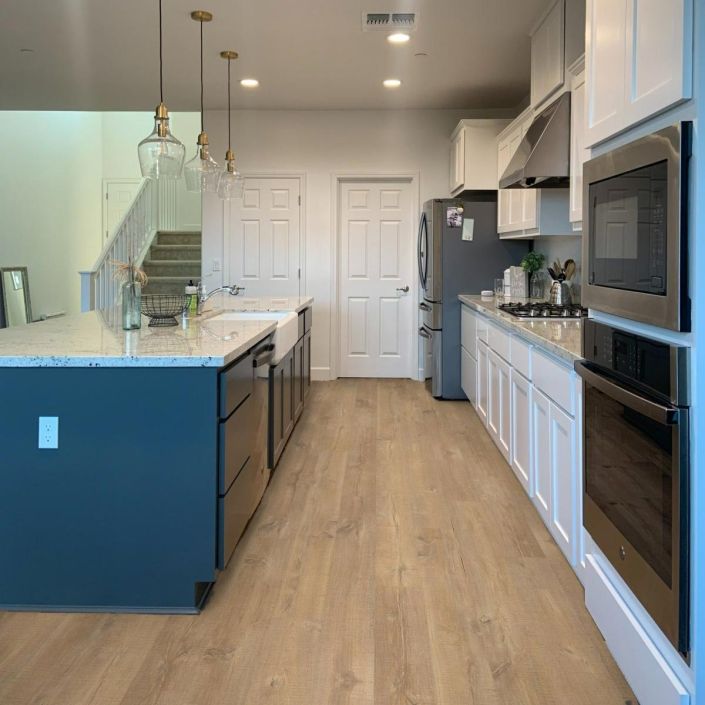 Get the look: Quick-Step NatureTEK Select Reclaime Malted Tawny Oak By Best Laminate
For a classic kitchen floor look why not consider laminate flooring? It's great at being long lasting and is also waterproof, which is essential in the kitchen for everyday usage. This gorgeous floor is reclaimed malted tawny oak and gives a sense of chic style which is ideal for a light coloured kitchen to give the look and feel of a coastal kitchen. 
Engineered wood flooring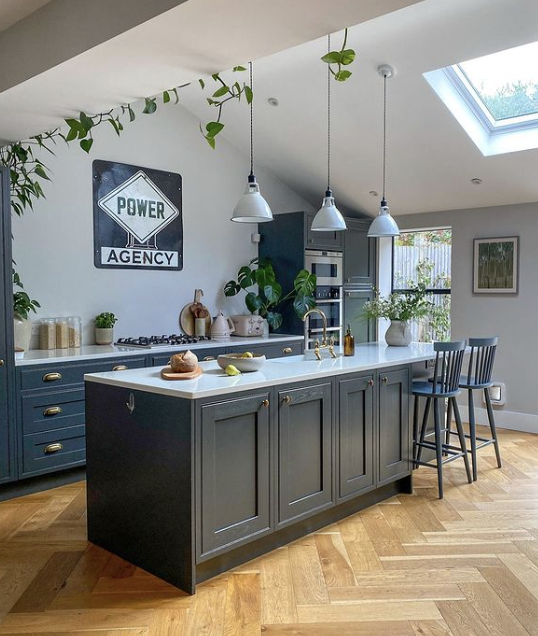 If you love the look of real wood flooring but can't afford to have it in your kitchen, try engineered wood flooring which is made from layers of timber to give a realistic look and is much more affordable.
We love this engineered wood flooring in this modern family kitchen which has been laid for 5 years and shows minimal signs of needing to be redone. Furthermore, we love the classic elements of this kitchen design which makes this space timeless and Sophisticated with a minimal colour palette for a clean look.
Porcelain tiles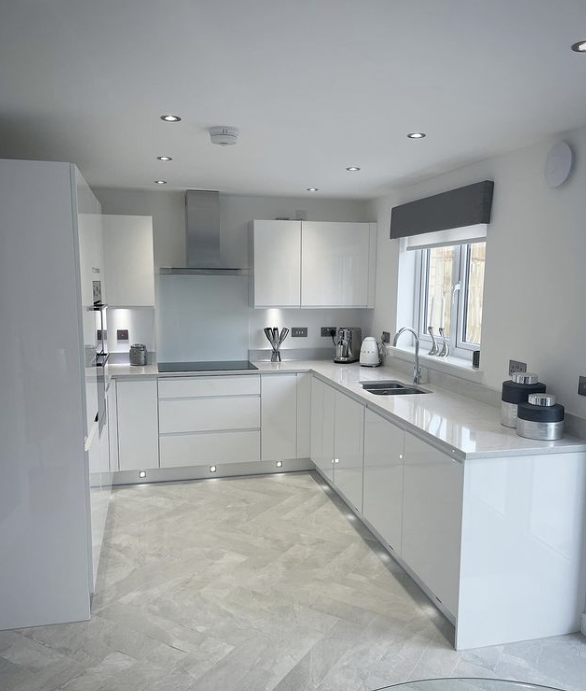 Get the look: Sandstone tiles from Tiles Mania
The look and feel of stone flooring is sophisticated and luxurious, however if you are looking for an affordable alternative why not consider porcelain tiles that can give a similar look at a fraction of the price.
We love this new build kitchen design that has had a few upgrades, including porcelain flooring for a luxurious finish. Furthermore, porcelain tiles are a better option when compared with ceramic as it's more durable and waterproof.
Luxury vinyl flooring (LVT)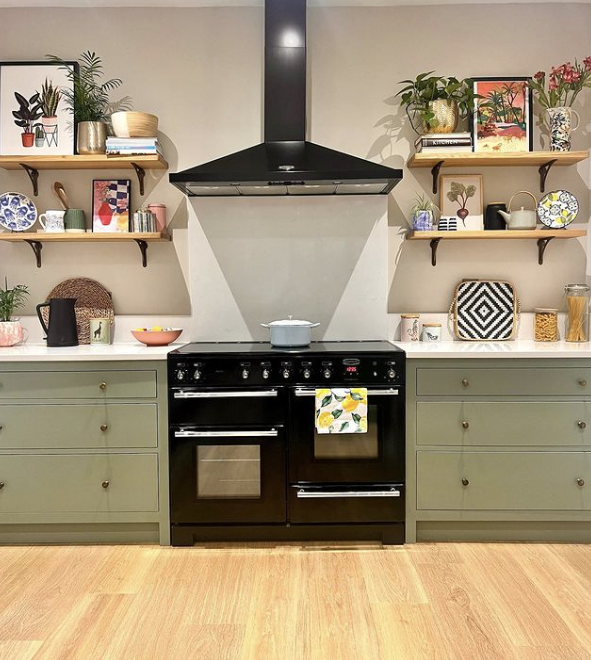 Get the look: Karndean LVT flooring in warmed brushed oak
For a real wooden floor look, consider LVT for your next kitchen project. It will give you the look and feel of a real wood floor without the hefty price tag.
We love this farmhouse style kitchen that uses luxury vinyl flooring to give the space a natural finish that complements the cupboards and shelving so beautifully.
Parquet LVT flooring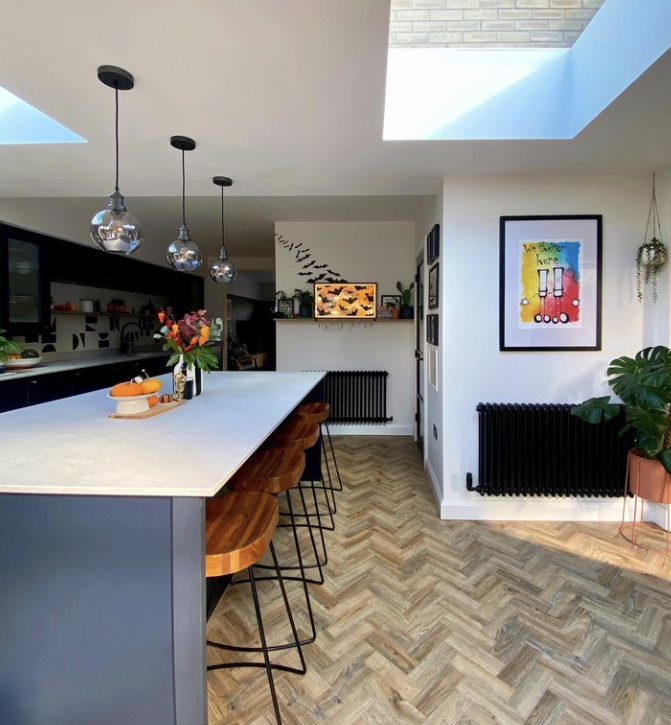 Add a cozy look to your kitchen with a classic parquet flooring using luxury vinyl tiles to save on the pennies but large on the style. Not only are LVT flooring budget friendly, the options are cast which means you can find plenty of designs to meet your interior needs. This beautiful textured LVT parquet flooring is the perfect example of how to give a kitchen a statement look with a classic twist for a timeless style that will be trendy for many years to come.
Combine laminate and ceramic flooring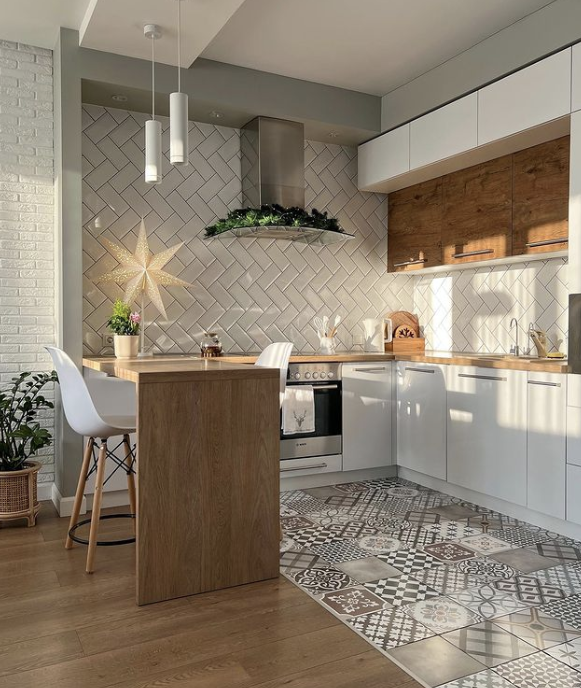 Get the look: dual green chic collection ceramic tiles by Helen Cold
Break up a kitchen diner with ceramic and laminate flooring for a statement look, just like this chic kitchen design with a neutral colour palette. It's also a great way to save on costs if you want ceramic tiles but can't afford to do your full square footage.
When using multiple flooring in the kitchen, decide where you want to break up the kitchen. Take note from this design that uses patterned ceramic flooring in the main kitchen area to bring in texture and light to open up the space, and the dining area with laminate flooring for a minimal look.