Lighting plays an important part in many ways in the bedroom. Whether it's to light up your entire room from morning to night, or setting the scene with focal lighting to make you feel calm and relaxed.
It also plays a huge role in how colour is seen in your space. Having lots of good daylight, compared to relying on artificial light, which can change how your eyes see colour in the space. In addition to this, choosing the right lightbulbs is key too.
Different types of lighting ideas for your bedroom
In this section, we explore some of the many lighting ideas and options you can have in your bedroom, for all range of purposes and styles.
1. Bubble chandelier lighting idea for your bedroom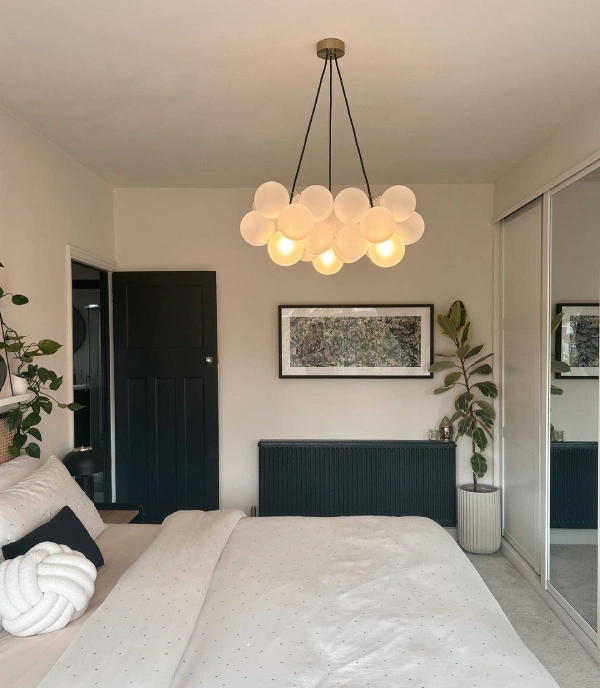 Image by @twentyfourcentral on Instagram
Bubble chandelier lights can be a stylish and captivating choice for your bedroom, offering a unique aesthetic and the potential to serve as a striking focal point. We love this neutral bedroom above, which uses the bubble chandelier to create a fun focal point to the space, making it feel whimsical and dreamy (like floating clouds) for a calming look.
They create an intriguing ambiance with their playful dispersion of light, making them suitable for modern, contemporary, or eclectic bedroom designs. However, it's important to consider factors such as ceiling height (be mindful of how low it will drop, or pick a shorter version), maintenance requirements, style compatibility, and budget before choosing one.
2. Bedsize table lamps and spotlights for large bedrooms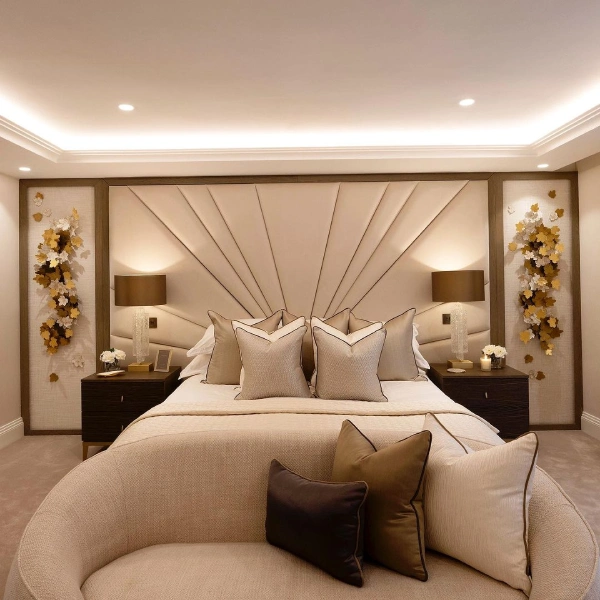 Image by @haleofahouse on Instagram
If you're lucky to have a spacious bedroom, designing the space with light in mind may mean you have to add more lighting than you think. We love this gorgeous neutral bedroom design above, which shows how you can add lighting to a large room in a simple and clutter-free way. With spotlights, you can dot them around the room so that you have the light spread out, as opposed to a single light pendant or chandelier, which may not be big enough to light the room.
In addition, use bedside lamps to add warmth to a large bedroom to make it feel cozy at night.
3. Recessed ceiling lighting idea for your bedroom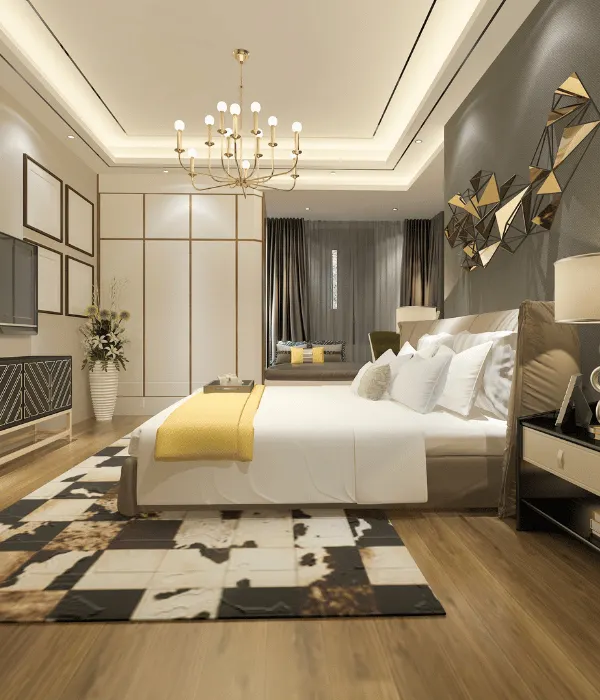 Another way that you can add lighting to your bedroom is by installing cove lighting around the perimeter of your bedroom's ceiling. This hidden lighting source can create a beautiful indirect illumination that softens the room's edges. You can also install a dimmer switch to adjust the brightness to your liking.
Adding a chandelier or pendant light in addition to recessed ceiling lights can enhance the look and feel of the room further. It will also give your ceiling a focal point and can draw attention to a show-stopping light feature, such as a glam chandelier.
4. Add floor lamps to your bedroom to give your space a cozy feel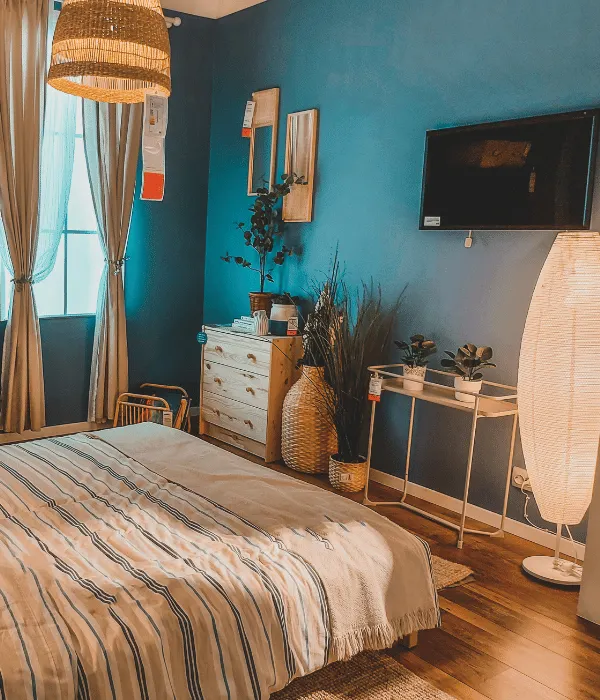 You may think that having a floor lamp might not be the best choice, but it can create a sense of height in a small bedroom. When placed strategically, it can draw the eye upward, making the room appear more spacious and visually appealing. This effect is especially valuable in smaller spaces where vertical space utilization is key to optimizing the room's layout and feel.
Additionally, you can move a floor lamp anywhere you would like in your room. If you have a particular dark spot or corner that you would like to make brighter, a floor lamp is a great solution for this.
5. Add luxury to your bedroom with an elegant chandelier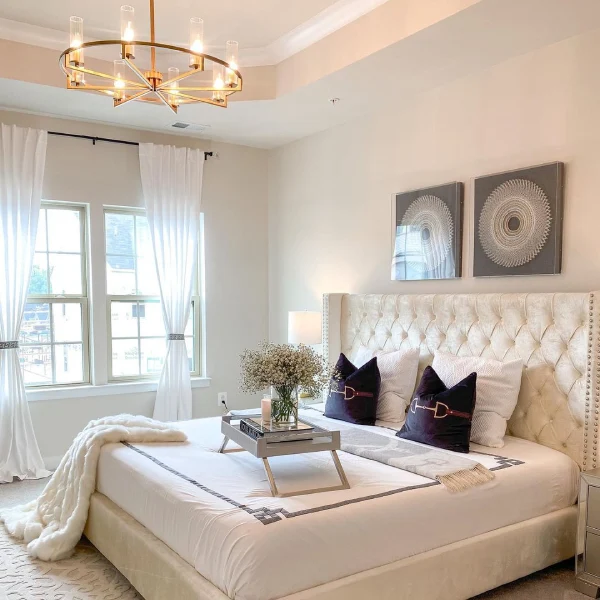 Image by @darakhader on Instagram
Having a chandelier in your bedroom can elevate a neutral scheme to look more luxurious. Take the above bedroom design as an example of how adding a gold chandelier can make the space feel glamorous. Furthermore, adding gold and reflective decor throughout can make your space feel bright and lighter. Chandeliers offer warm, ambient lighting that enhances the room's tranquility, while dimming options allow flexibility. Suitable for various room sizes, they create an inviting atmosphere.
6. Sphere bedside lighting in a neutral bedroom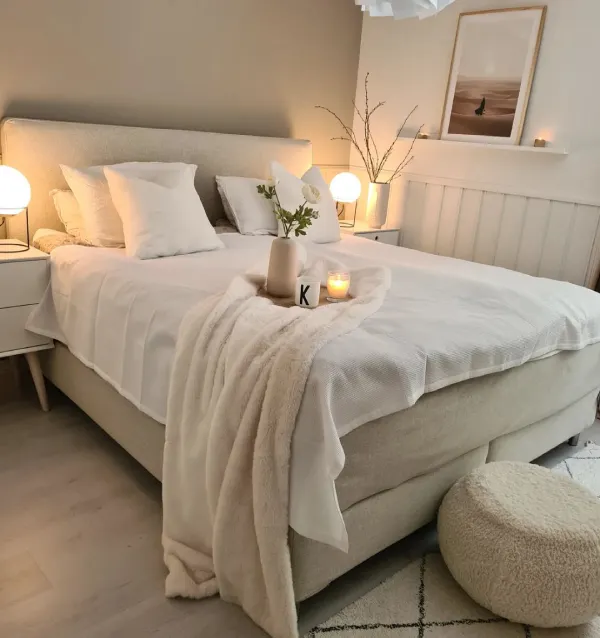 Image by @kristingronas on Instagram
This beautiful neutral bedroom with soft sphere lighting creates a super cozy look while keeping to a neutral aesthetic.
Enhance your bedroom ambience with sphere bedside table lighting which provides a soft, cozy glow that sets the mood for relaxation and adds a stylish touch to your bedroom decor. These pretty lamps are space-saving, easily accessible, and come in versatile designs, making them a perfect choice for adding a warm glow to your room at night.
7. Invisible lamp idea for a quirky bedroom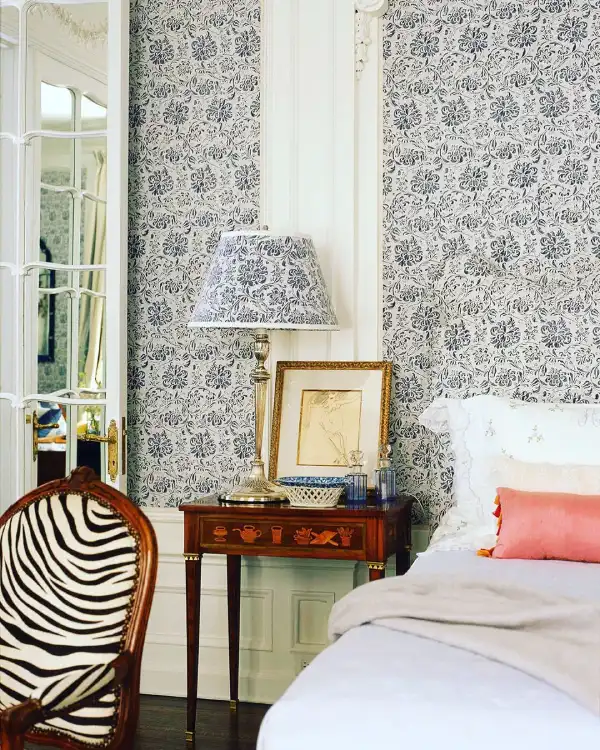 Image by @robertcouturierinc on Instagram
Match your lighting with your existing room decor for a cohesive look. Even in an eclectic and quirky bedroom style, you can blend items together to match. Take this bedroom design above as an example, the gorgeous floral wallpaper is a statement feature of the room. Incorporating the pattern into the lampshade gives the space a completed look – plus, we love how it almost looks invisible as it blends in with the wall, but contrasts with the white panels.
Continue reading for a lightbulb guide for your bedroom
Determine the Bulb Type:
Incandescent
These bulbs are known for their warm and soft light. However, they are not very energy-efficient and have a shorter lifespan.
LED
LED bulbs are energy-efficient, long-lasting, and come in a variety of colour temperatures, including warm and cool whites. They are a popular choice for bedrooms.
CFL (Compact Fluorescent Lamp)
CFL bulbs are energy-efficient but may take a moment to reach full brightness and may not be as dimmable as LEDs.
Dimmable lighting
If you have dimmer switches in your bedroom, make sure the bulbs you choose are compatible with dimmer switches. Not all LED or CFL bulbs are dimmable, so check the packaging for this feature.
Consider Colour Temperature:
Bulbs come in different colour temperatures measured in Kelvins (K). The temperature of your bulbs can determine the glow, from soothing orange glows to bright white lighting. Both of which offer a different feel to the space. Ideally, you would have a lighter bulb as your main light source (such as a pendant light in the middle of the room). Then, you would have table lamps with a warm light bulb for evening reading or relaxing.
Lower Kelvin values (e.g., 2700K-3000K) produce warm, cozy light ideal for bedrooms
Higher values (e.g., 4000K-5000K) create cooler, more daylight-like lighting
For a calming and cozy atmosphere in the bedroom, choose bulbs in the 2700K-3000K range.
Choosing the correct bulb to compliment your bedroom colour scheme:
Consider bulbs with a high CRI if you want to accurately see colours in your bedroom. A CRI of 90 or higher is ideal for bedrooms where colour accuracy matters, such as when choosing clothes or reading.
Conclusion
In this article, we've shared the different ways in which you can add lighting to your bedroom, from floor lamps that can make a bedroom look spacious, to recessed ceiling lights and chandeliers and pendant lighting to give your room a focal point. We've also discussed different bulb temperatures and how they can affect the colour in the room, as well as providing you with a simple guide on which bulb type to go for depending on your preferences.
Did you enjoy this article? Follow us on Instagram or Facebook to stay up-to-date with ideas and tips around the home!