When it comes to creating a warm and inviting dining space, banquette seating is an interior design trend that has captured the hearts of homeowners and designers alike. Not only does it offer a unique and cozy charm, but it also maximizes space utilization while adding a touch of elegance to your dining room or kitchen. In this article, we'll delve into the world of banquette seating, providing you with a range of ideas, tips, and answers to frequently asked questions.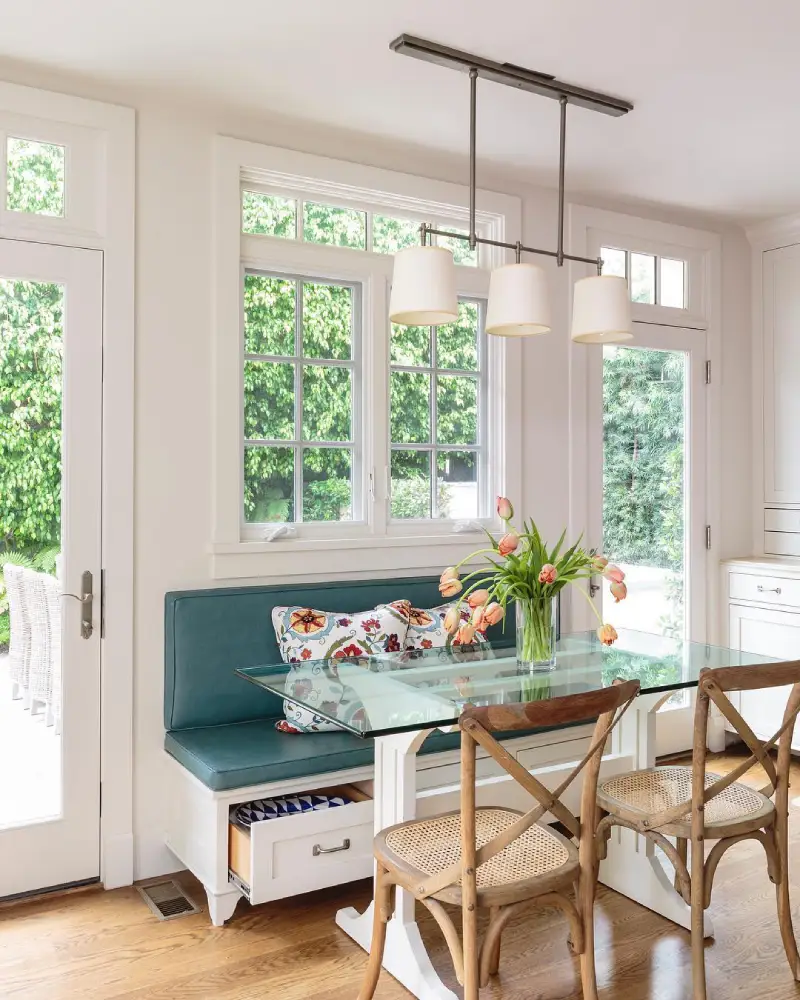 Banquette Seating: What Is It and Why Is It Trending?
Banquette seating refers to built-in benches or seating areas that are often placed along walls and windows, or in corners, allowing you to create an intimate dining nook. This style of seating brings a sense of coziness and comfort to your space, making it perfect for family gatherings, casual meals, and even formal dinners. The trend has gained popularity due to its space-saving qualities, aesthetic appeal, and versatility in design.
Banquette seating ideas and inspiration for your dining room and kitchen
1. Wooden banquette seating ideas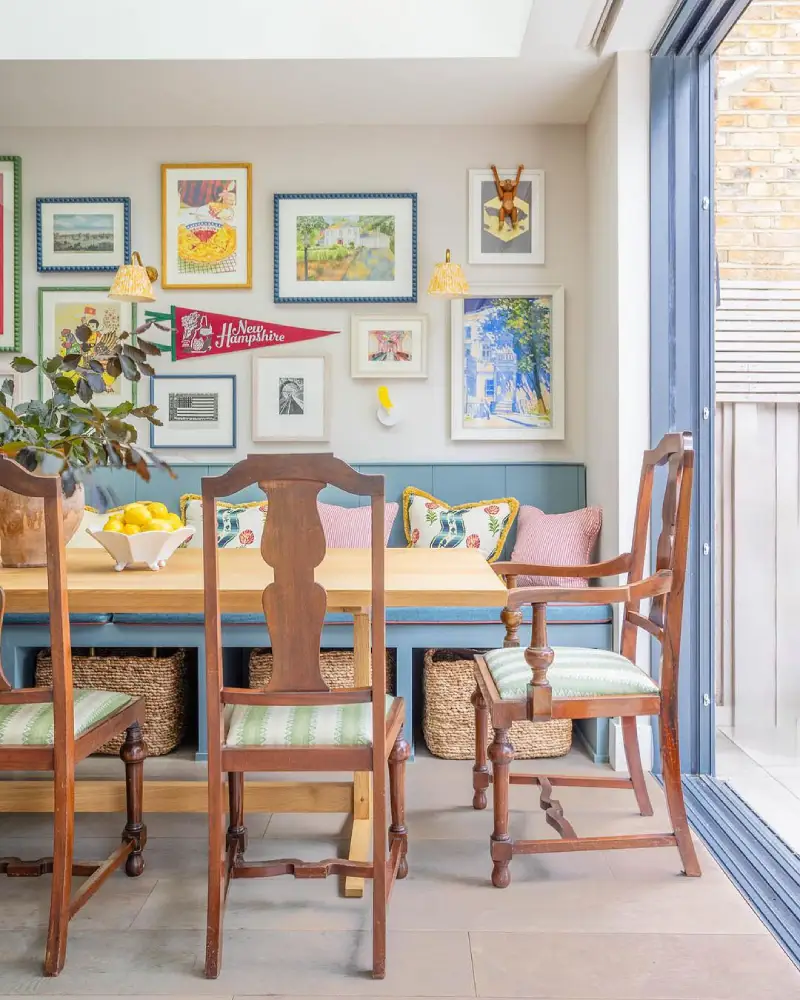 Beautiful wooden banquette seating by @seansymington – This gorgeous space features a bespoke 3-metre long banquette which is perfect for hosting large families, as well as offering additional storage underneath
Wooden banquette seating adds a touch of timeless charm and comfort to your dining area or kitchen. Crafted from various wood types, such as oak, reclaimed wood, or teak, these banquette designs offer a range of styles to suit your interior preferences. From rustic farmhouse vibes to sleek mid-century modern aesthetics, wooden banquette seating provides a cozy space for meals and a design statement that can seamlessly blend with your overall decor. Its versatility, durability, and ability to evoke a sense of warmth make wooden banquette seating a popular choice for those looking to create inviting and stylish seating arrangements.
2. Modern banquette seating ideas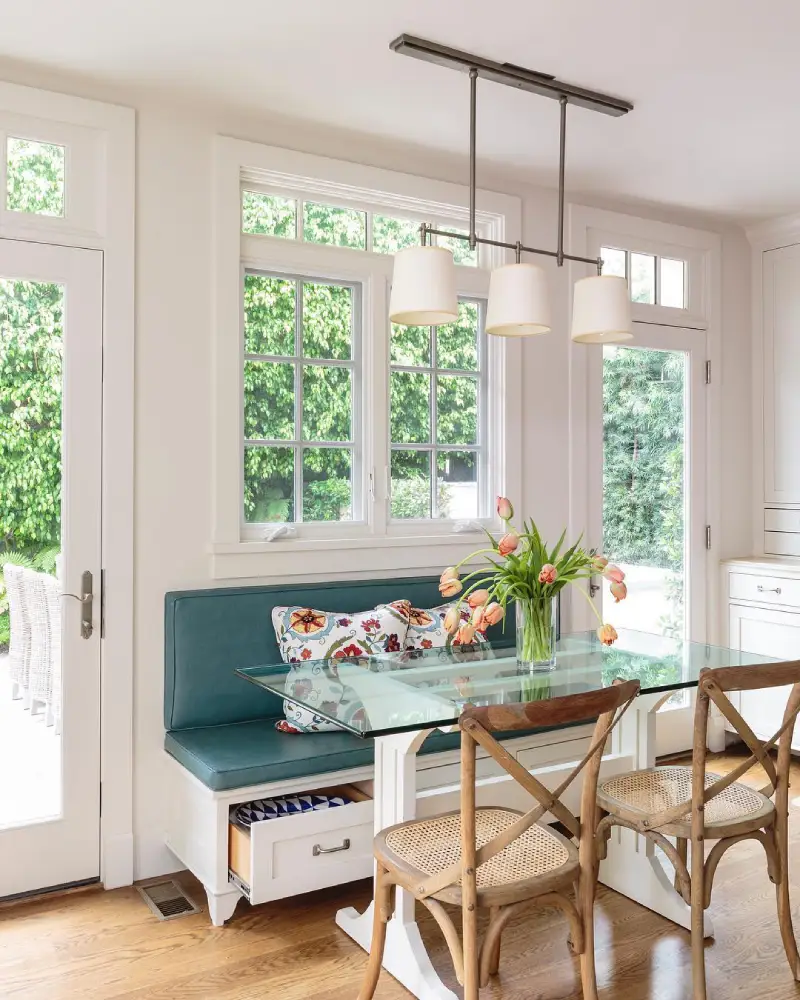 Modern banquette seating idea by @alisonkandler_interiordesign – The beautiful play with the glass table brightens up the space even more against the windows. We particularly love the use of space by transforming an unused space by the windows to create functional seating that looks elegant and chic.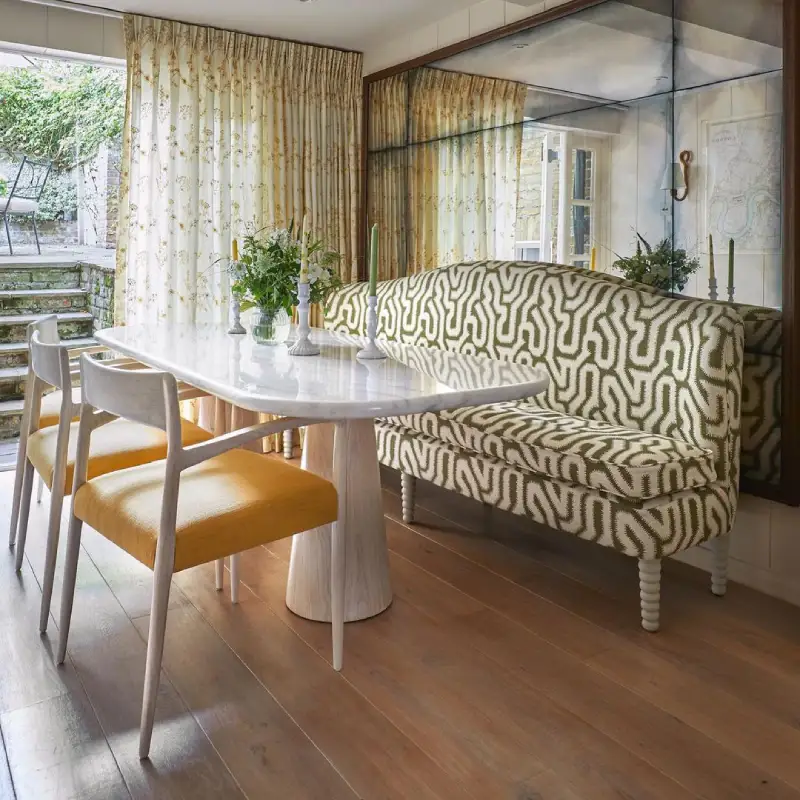 Modern banquette seating by @studioduggan (photographer cred: Sarah Giggs) – This modern banquette dining area has been designed to bring more light into the space due to its location. We love the quirky banquette seating and yellow accents that brighten up the space in a fun and bold way.
Modern banquette seating redefines dining spaces with the use of sleek lines, minimalist design, and functionality. Often featuring clean geometric shapes, metal accents, and upholstery in contemporary fabrics, modern banquette seating effortlessly adds a touch of sophistication to your space. With its emphasis on comfort without compromising on aesthetics, modern banquette seating is a compelling choice for those seeking a chic and practical seating solution that aligns with contemporary interior trends.
3. Kitchen banquette seating ideas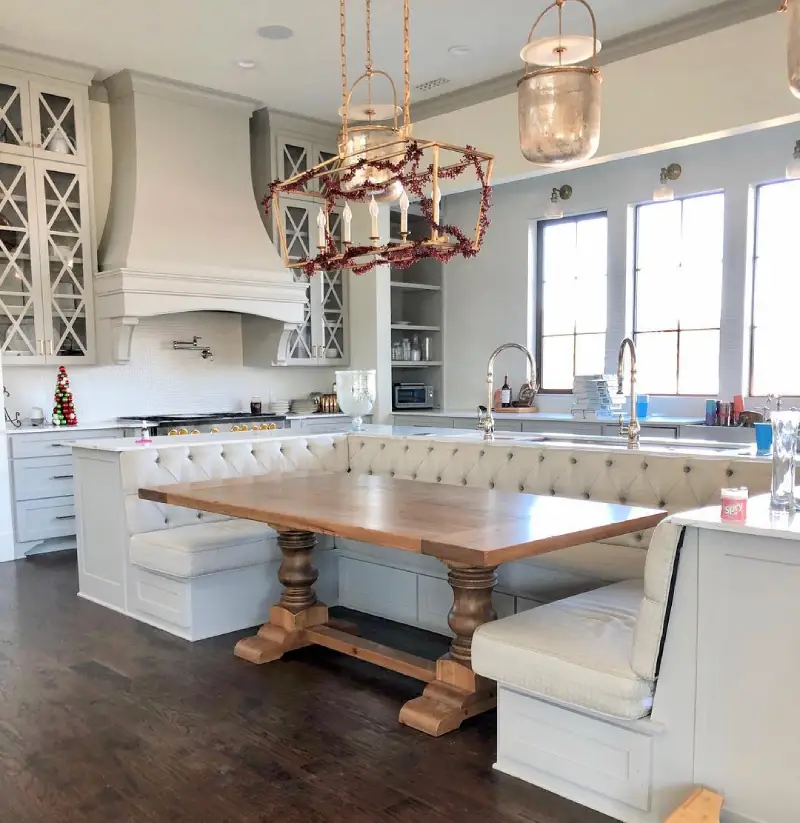 Kitchen banquette seating by @ldjordanfurniture – This gorgeous banquette dining effortlessly blends into the kitchen design and has luxurious finishes, such as button press fabric. We love the wooden table that brings a farmhouse kitchen charm to the space for family comfort. 
Having banquette seating in your kitchen offers a practical and stylish solution to make the heart of your home even more inviting. Nestled against a wall or under a window, a kitchen banquette creates a cozy dining nook that encourages casual meals, lively conversations, and a seamless transition between cooking and dining. With a range of design options from built-in benches to upholstered cushions, kitchen banquette seating can be tailored to suit your space and style. It not only maximizes seating but also enhances the overall aesthetic of your kitchen, transforming it into a functional and charming hub for family and friends to gather and enjoy culinary delights.
4. Breakfast banquette seating ideas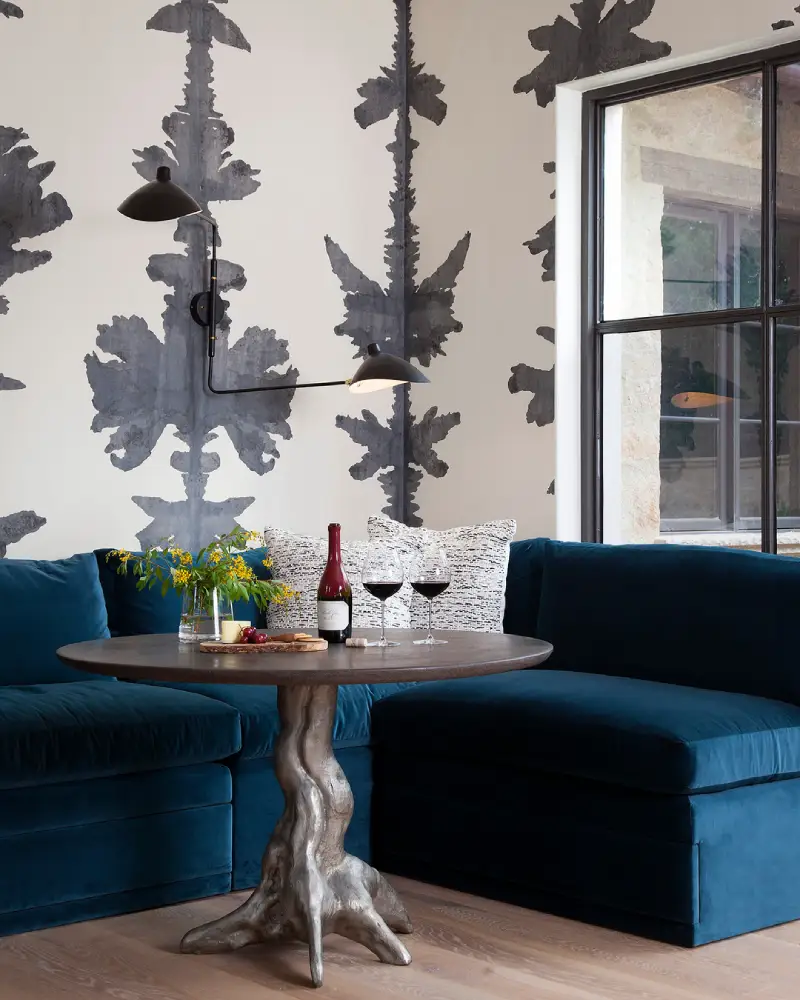 Breakfast banquette seating by @tribedesigngroup – This gorgeous nook shows how you can easily create banquette seating in your home with a statement sofa and dining table with no DIY needed! We love this enchanted forest theme as it's relaxing and charming.
Breakfast banquette seating can transform your mornings into delightful rituals by creating a cozy corner perfect for enjoying the first meal of the day. Whether nestled in the kitchen or a sunny nook, this seating arrangement offers a comfortable spot for sipping coffee, reading the news, or sharing breakfast with loved ones. Often designed with vibrant cushions, playful patterns, and a relaxed ambiance, a breakfast banquette adds an element of charm and informality to your space. It's an ideal setting to start your day in a relaxed and inviting atmosphere, setting a positive tone for the day ahead.
5. Country home banquette seating ideas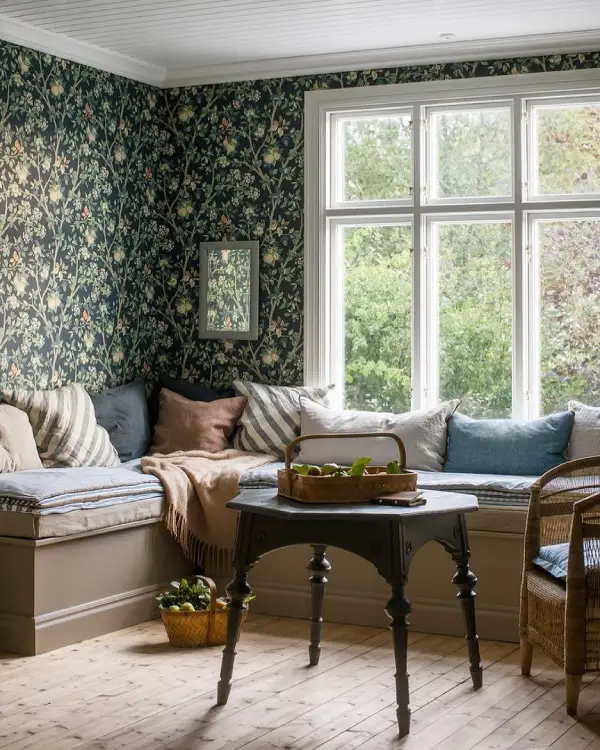 Country home banquette seating by @cotswoldinterior – We love the warmth of this country dining room with dark fabrics, walls and colours that creates a magical setting for entertaining as well as relaxing.
Country home banquette seating captures the warmth and simplicity of the countryside, creating a welcoming and comfortable atmosphere. Crafted from natural materials like wood and featuring charming details such as handcrafted finishes and vintage-inspired fabrics, this style of banquette exudes a sense of nostalgia and coziness. Whether placed in a farmhouse kitchen or a cottage dining room, country home banquette seating evokes a sense of togetherness and offers an inviting space for family meals, casual conversations, and a touch of rustic elegance that brings the countryside indoors.
6. Small banquette seating ideas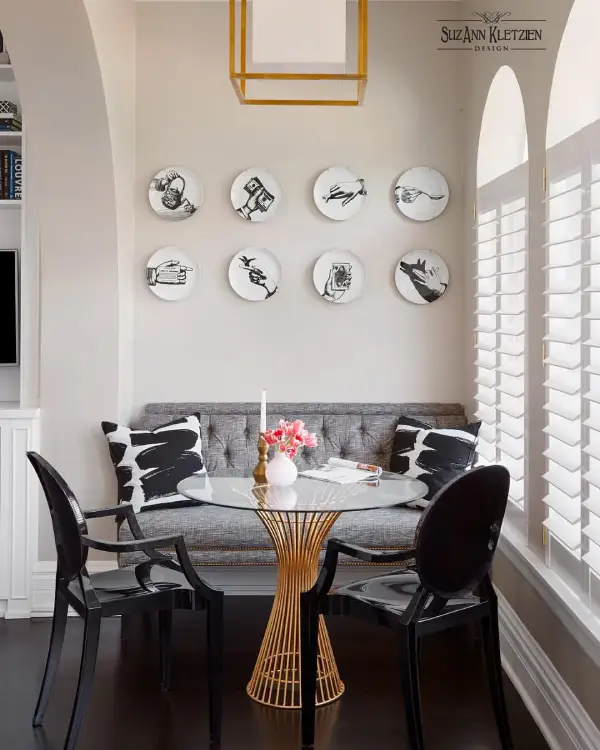 Small banquette seating by @suzannkletziendesign – The clever use of banquette seating provides more seating in this small kitchen diner in a stylish way!
If you have a small space, banquette seating is a clever design solution that transforms limited spaces into cozy and functional nooks. Perfect for apartments, cozy kitchens, or compact dining areas, small banquette seating optimizes every inch of space while maintaining comfort and style. Using built-in benches, space-saving table arrangements, and clever storage options, small banquette seating proves that even the tiniest areas can offer a charming spot for meals, conversations, or quiet moments. 
7. Arc-shaped banquette seating ideas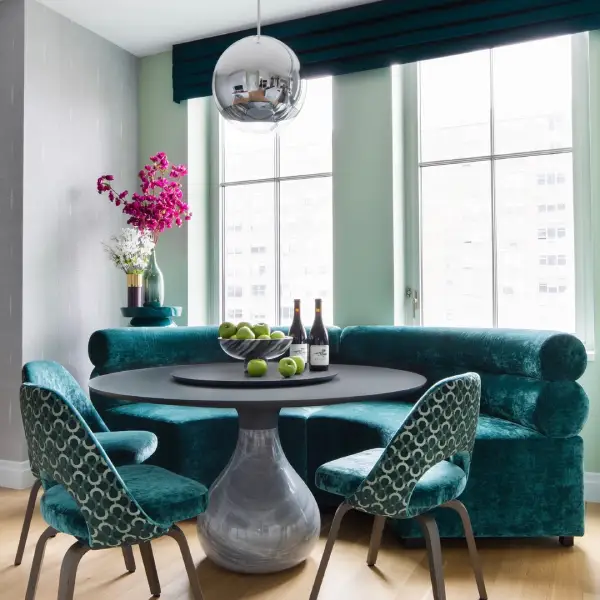 Arch-shaped banquette seating by @bespokedesignny – This elegant banquette dining area is curvacious and glamorous, with velvet finishes, reflective furnishings and lighting and a beautiful green colour scheme to feel close to nature.
Arc-shaped banquette seating is a great way to make your dining area a focal point, with its graceful curves and unique design. This style of banquette seating encourages natural flow and engaging conversations as it wraps around a circular or oval table. The gentle arc adds a touch of sophistication and creates an inviting atmosphere, making it an ideal choice for both formal and casual gatherings. This can be placed near a window or at the centre of a room for a show-stopping dining space!
Conclusion
We hope these banquette seating ideas have given you lots to think about for your next project. Whether you're looking to save space in your kitchen or dining area, banquette seating is a wonderful choice to incorporate into your home. It can also be achieved in many ways, from bespoke wood joinery to a more simple approach with sofas and seating arranged in a clever way.
If you're thinking about redesigning your home and would like some interior design advice. Check out our style board service. 
[caf_filter id='10630′]