Is panneling still going to be popular in 2023? We weigh in on the ever-growing trend…
Are you thinking about revamping your home with panelling? The wall panelling trend is still continuing to take over homes in 2023 with no sign of it slowing down. In fact, our panelling content still remains the most engaged with articles, which tells us that panelling is here and it's to stay.
When thinking about panelling your home, take into consideration your current room styling so that it becomes part of your home's character. This year, paneling is all about embracing boldness and textures. Whether you're looking to add an accent wall or revamp an entire room, these latest wall panelling trends by real homeowners will give you plenty of inspiration.
1. Panelling with bold colours
One of the biggest wall panelling trends for 2023 is bold colours. If you're feeling daring, consider a wall panel in a bold shade like deep blue, emerald green or sunny yellow. Not only will a coloured wall panel add a pop of colour to your room, but it will create a stylish statement for your room. Choose a bold colour that complements your existing decor or opt for a statement-making hue to really make your space stand out.
Examples of using panelling with bold colours by our favourite homeowners: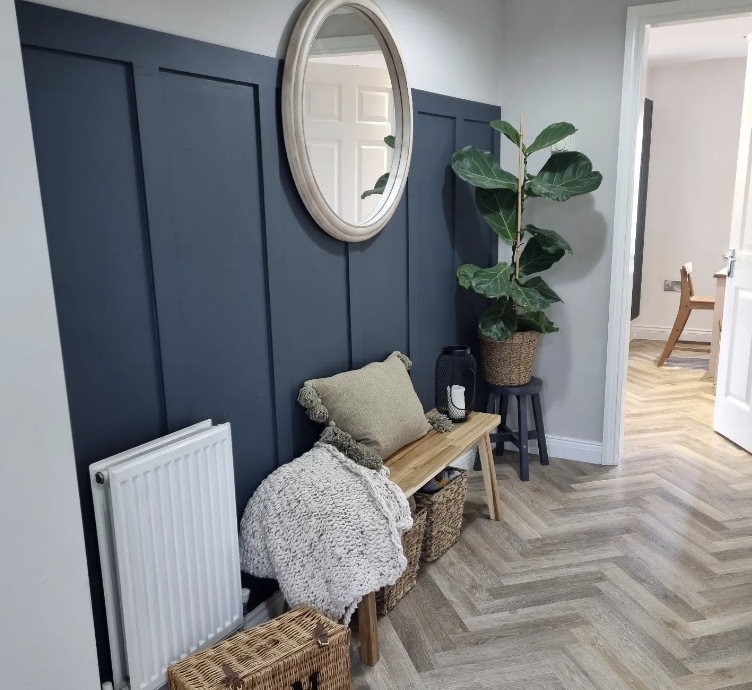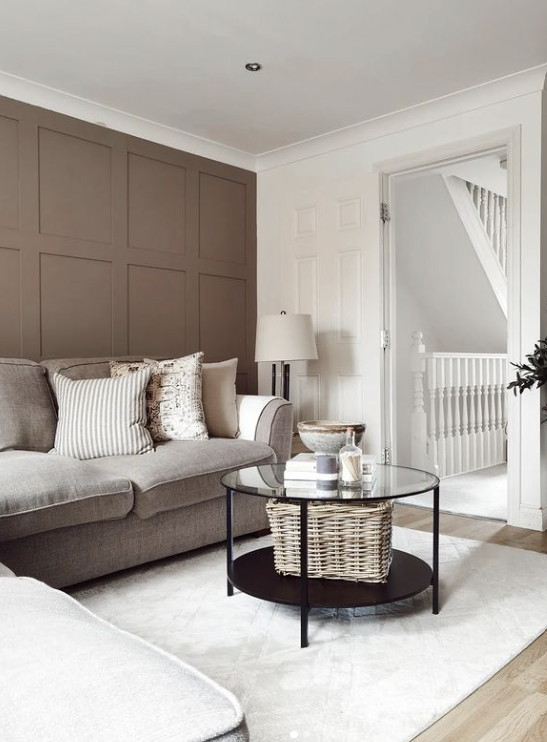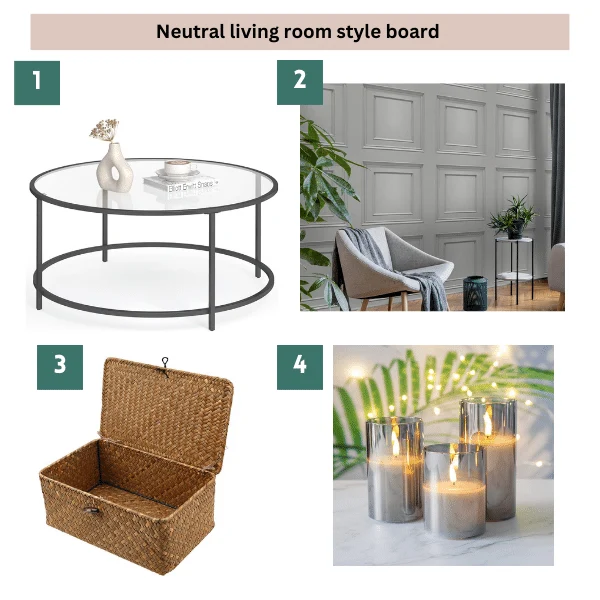 Read more: How to make wall panelling look beautiful – Best panelling colour ideas
2. Panelling and texture
Texture is a huge interior trend for 2023 and even more so when it comes to panelling. From textured wallpaper to 3D panels, this year is all about adding a tactile touch to your walls. 3D panels are a great option if you want to add a unique texture to your space. They're available in a range of materials, including wood, concrete, and metal, and come in a variety of designs, from geometric patterns to organic shapes.
Examples of using texture and panelling by our favourite homeowners: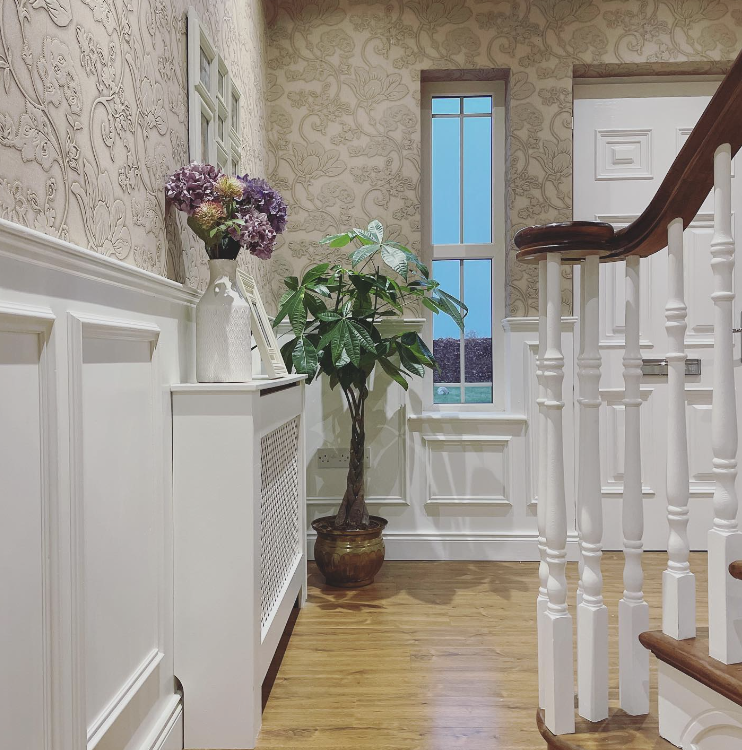 Image by this.is.home_homestyling using textured wallpaper and white panelling to create a fresh hallway look. Panelling colour: Arctic Blonde by Colourtrend.
Read more: Wood panel wallpaper ideas – No DIY needed!
3. Panelling and natural materials
Natural materials like wood, stone, and bamboo are great elements to add to your home as we look to connect with nature in our homes for 2023. These materials add a warm and organic feel to any room and are perfect for creating a cozy atmosphere. Opt for wood paneling that can be left natural or painted for a modern look. Combine panelled walls with hardwood flooring for a contemporary and warm finish.
Examples of using panelling natural materials by our favourite homeowners: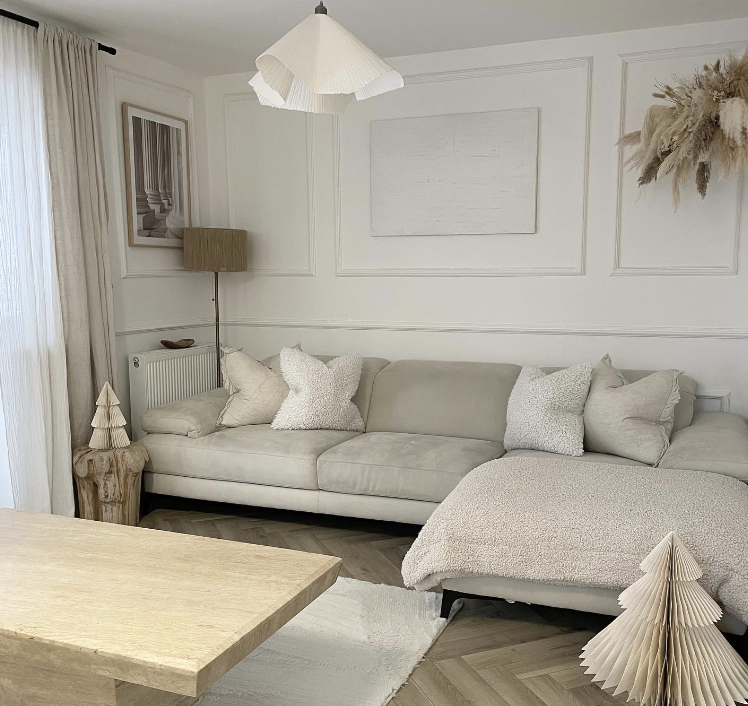 Image by joannes_home2 using natural coloured wood and oak accents with soft white panelling for sophisticated look. Paint colour used on panelling: Brilliant White by Dulux.
4. Panelling with mixed materials
Mixing and matching materials is another trend to watch for in 2023. Combine different textures and materials to create an interesting and unique look. For example, try pairing a textured wallpaper and textiles with a wooden panel or a stone panel with a metal accent.
Examples of panelling with mixed materials by our favourite homeowners: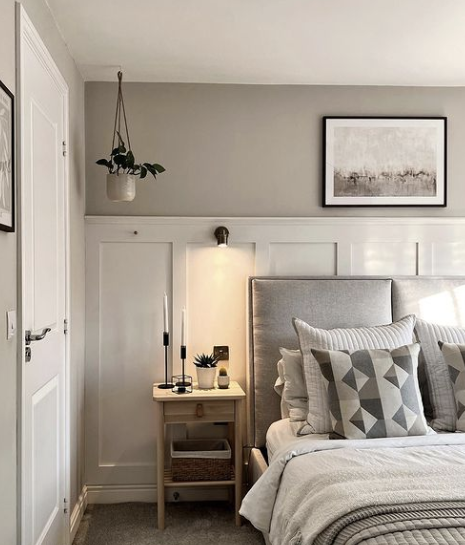 Image by scarlett_at_home using printed cushions, plants, artwork and textiles against panelled walls, to create a neutral bedroom style. Paint colour used on the panelling: Match of Farrow & Ball Wevet.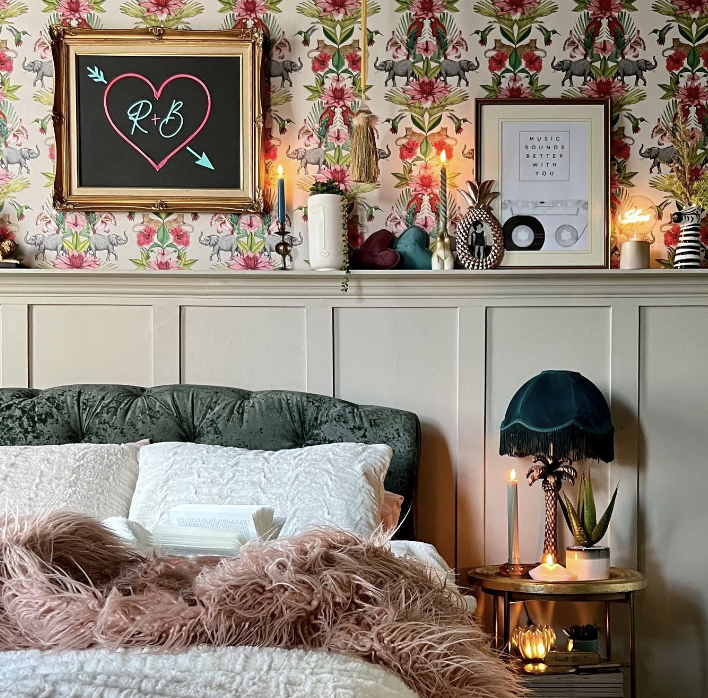 Image by the_girl_with_the_pink_door using floral wallpaper and eclectic decor for a maximalist bedroom look, which is softened by the beige hall panelled wall.
Paint colour used on the panelling: Earthy Beige by Valspar.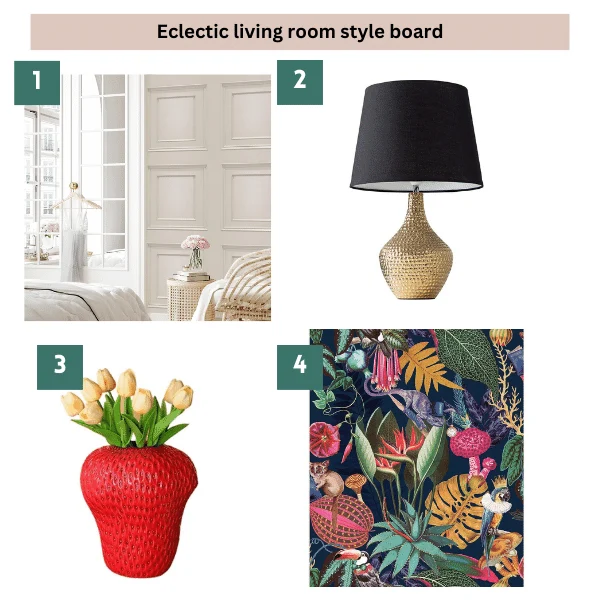 Read more: Best maximalist and eclectic interior design ideas
5. Panel Lighting for Ambiance and Functionality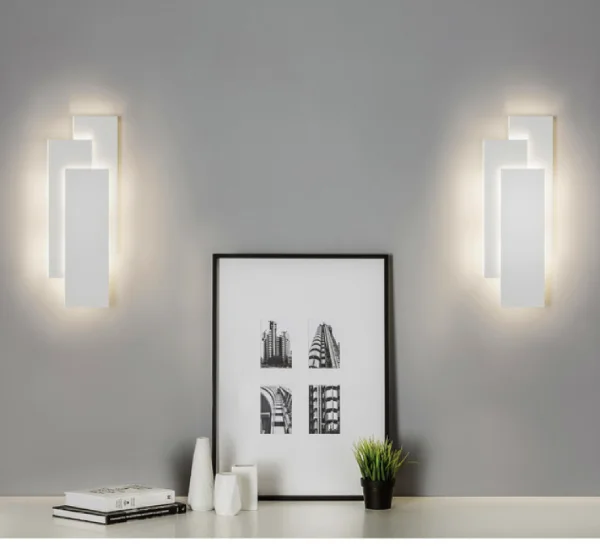 While wall panelling provides a stunning backdrop, integrating panel lighting can elevate the aesthetics and functionality of your space. Consider incorporating indoor wall spotlights strategically along the panelled walls. These fixtures not only accentuate the texture and color of the panels but also offer ambient illumination, creating a warm and inviting atmosphere. Whether you're showcasing artwork or simply enhancing the overall ambiance, panel lighting is a versatile addition that complements the timeless appeal of wall panelling.
Conclusion
In conclusion, wall panelling is the perfect way to add interest, texture, and colour to your space in 2023. With so many options available, it's easy to find a wall panel style that complements your decor and personal style. So, whether you're a fan of bold colours, textured surfaces, or natural materials, there's a wall panel out there for you!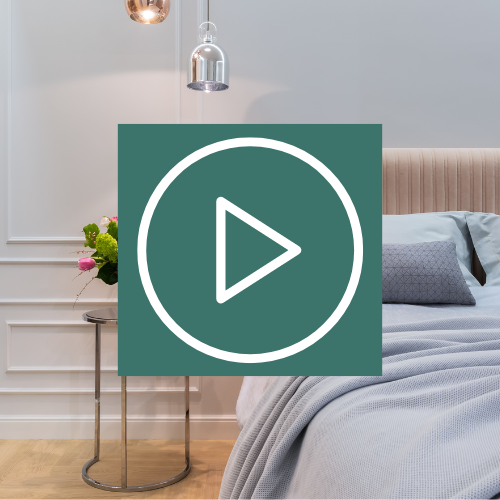 How to install wall panelling in your bedroom (video guides)
Thinking of panelling your bedroom yourself? Before you do, check out these 5 video ideas on how to install wall panelling in your bedroom.