Maximise on space in the bedroom with panelling that has a built-in shelf to make a statement look.
What colour is best for a panelled shelf in the bedroom?
There are so many ways to style your panelling, from pastel shades for neutral interiors, to bold and daring colours to make a room fun and bright. We have a range of colour ideas that go well together, to give you all the inspo you need to start your decorating journey.
Read on to see the best panel shelf colour ideas.
1. Calming Cream bedroom with panelled shelf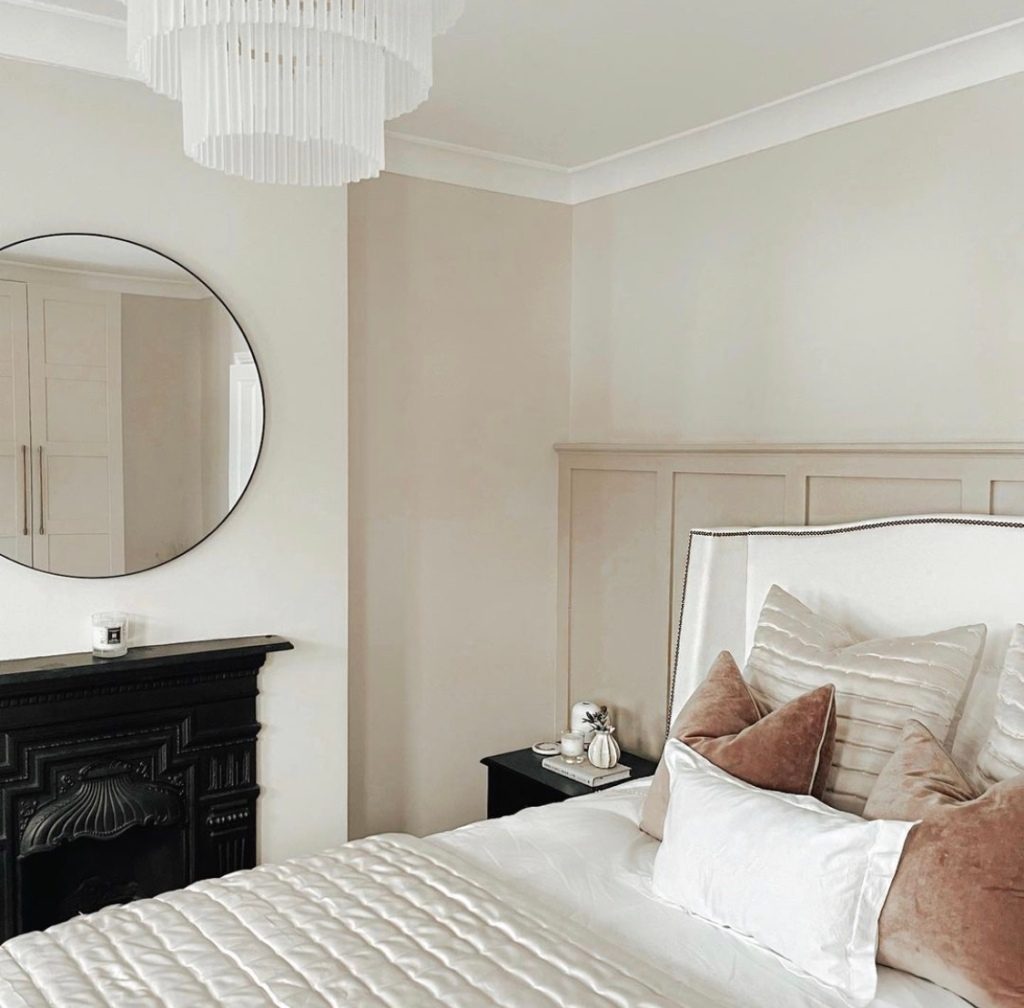 Spruce up a neutral bedroom with half wall panelling that doubles up as a shelf for a multi-functioning space. Colour your wall panelling a few shades darker than your walls so that you create a bold enough contrast to make your panelled shelves pop.
We love this gorgeous bedroom design by Christina, that has infused layers of cream and white to create a super cozy space. We especially love the white headboard that makes the panelled walls stand out.
Wall colour: Elephants Breath by Farrow and Ball
2. Add pastel green panelled walls to feel in touch with nature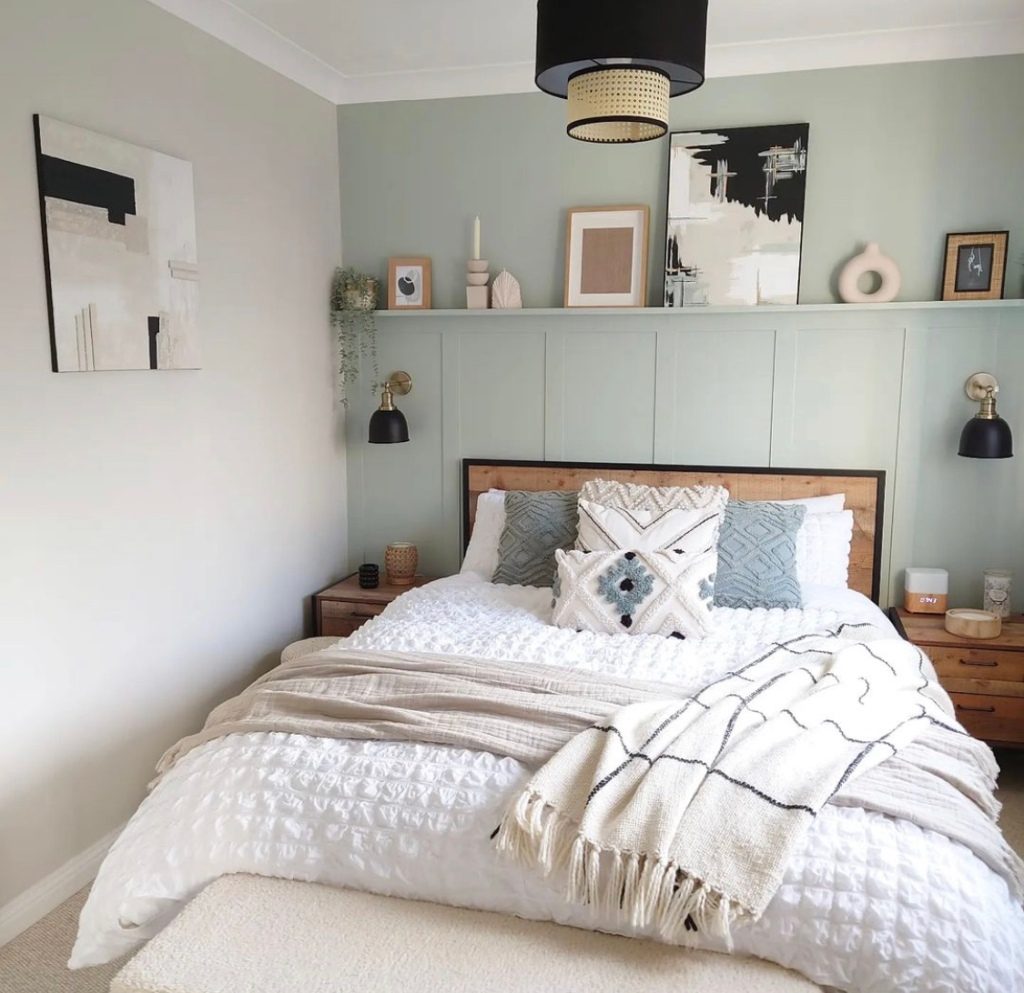 Feel closer to nature with pastel green interiors, just like this gorgeous design by Carly. Featuring a statement panelled wall with shelf in your bedroom can make all the difference. By adding a pop of colour, like green, the space instantly opens up and feels brighter.
For small bedrooms, keep your half-wall panelling the same colour as your feature wall so that you are keeping the colour scheme flowing to avoid making your walls feel compact.
3. Break up a grey bedroom with white wall panels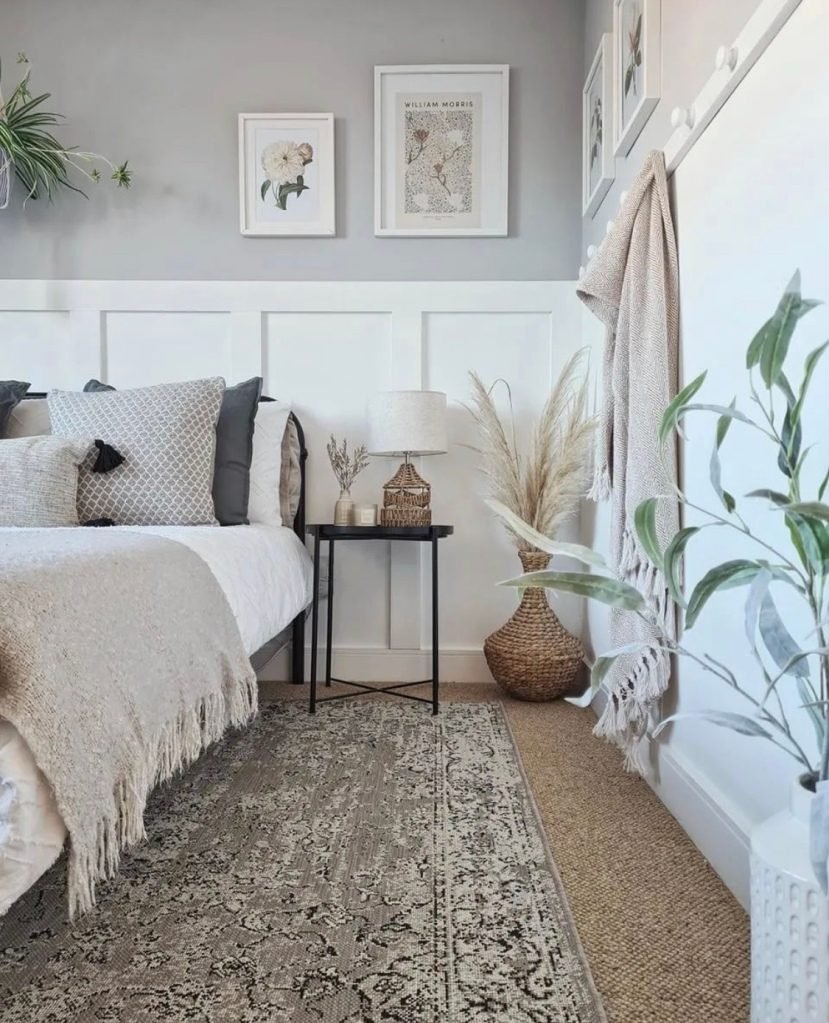 Add wall panelling to your existing space to add a bold contrast. Colours such as grey and white work perfectly together, as the white panels brighten up the grey walls and decor to make the bedroom feel airy and clean.
Half panelling in your bedroom also allows you to style your walls in replacement of a headboard so that your bed still feels dressed up and the focal point of your room.
4. Style your panelled shelves with artwork to express your personality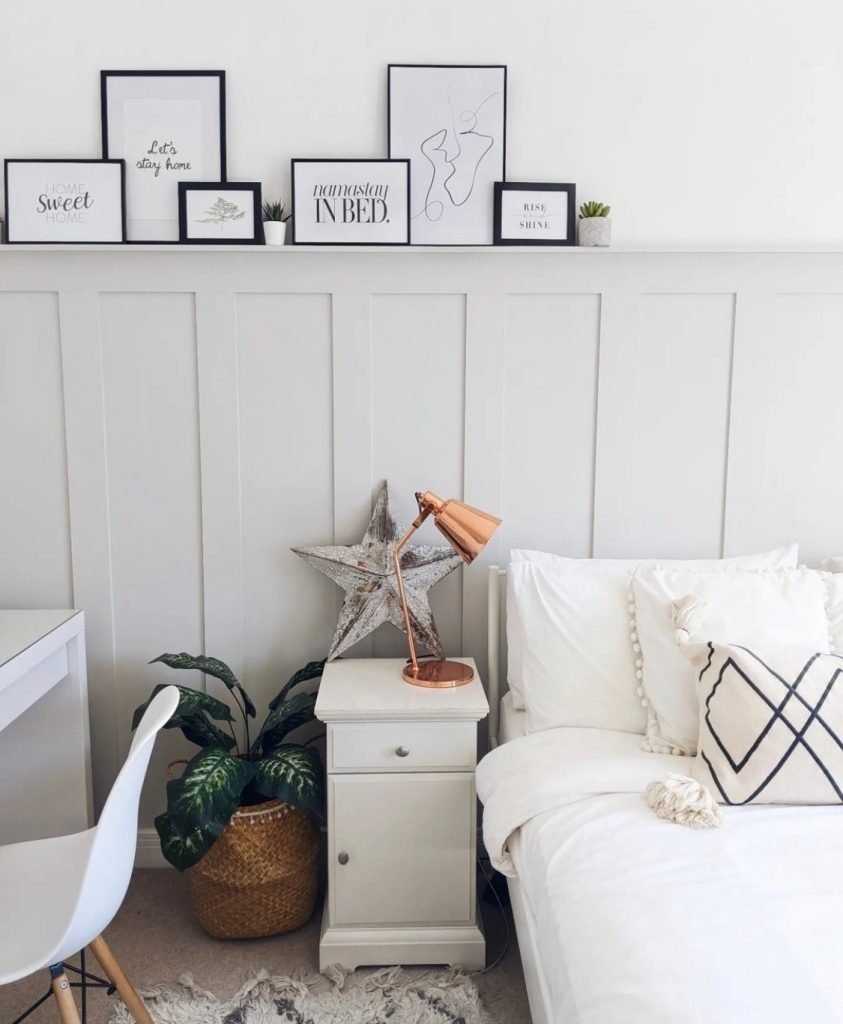 Dress your bedroom shelf panels with fun artwork to really express your style. Whether it's bold prints or inspirational words of affirmation, artwork can really add a lot to your space. We love this neutral grey design that stays to a refined colour scheme for a delicate look and feel to the space.
5. Pretty and pink panelling for a children's bedroom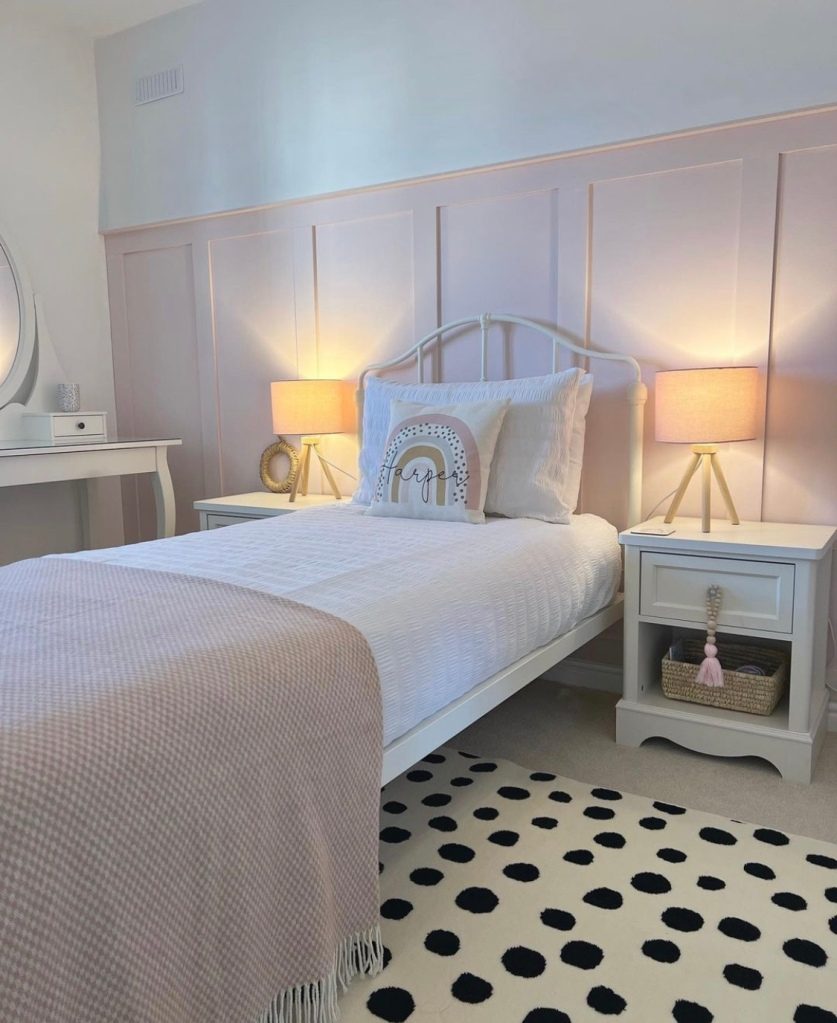 Panelling can be a great feature for a child's bedroom, especially for young teens that want to feel like they have their very own grown up space. Panel your walls half way up your wall for an elegant look.
Furthermore, choose a delicate pastel shade to colour panels for a subtle look that is still striking and makes a statement, just like this gorgeous pink for a feminine style.
Paint shade: Lick 04 Pink
6. Dark green shelf panelling idea for a botanical look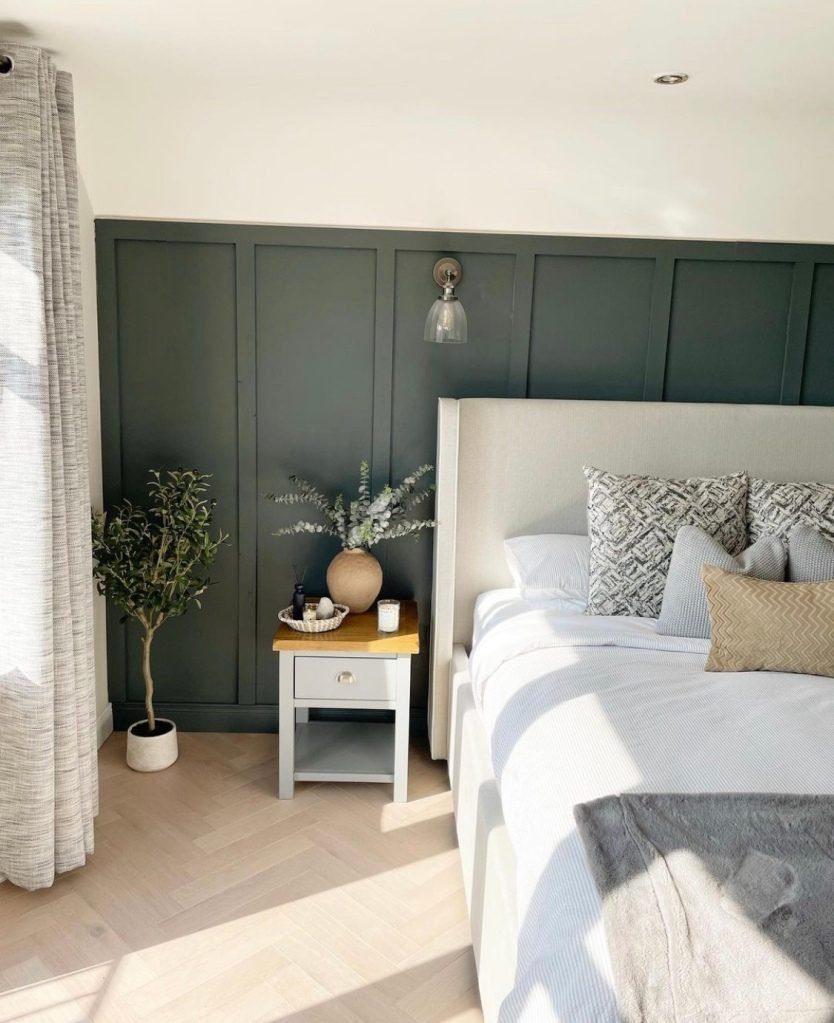 Break up white walls with dark green panelling to give your bedroom a bold look while still feeling neutral and relaxing. Dark green is a lovely colour to get in touch with nature, as you can brighten it up with beige and cream furnishings and textures to add warmth and coziness to the space.
Double up your panelling as a shelf, or utilise it as a feature wall to offset your bed. We love the small details of this design by Keith, with the simple light features that add a touch of hotel glam to the space.
Paint shade: Smoke by Neptune
7. Victorian style bedroom with panelled shelves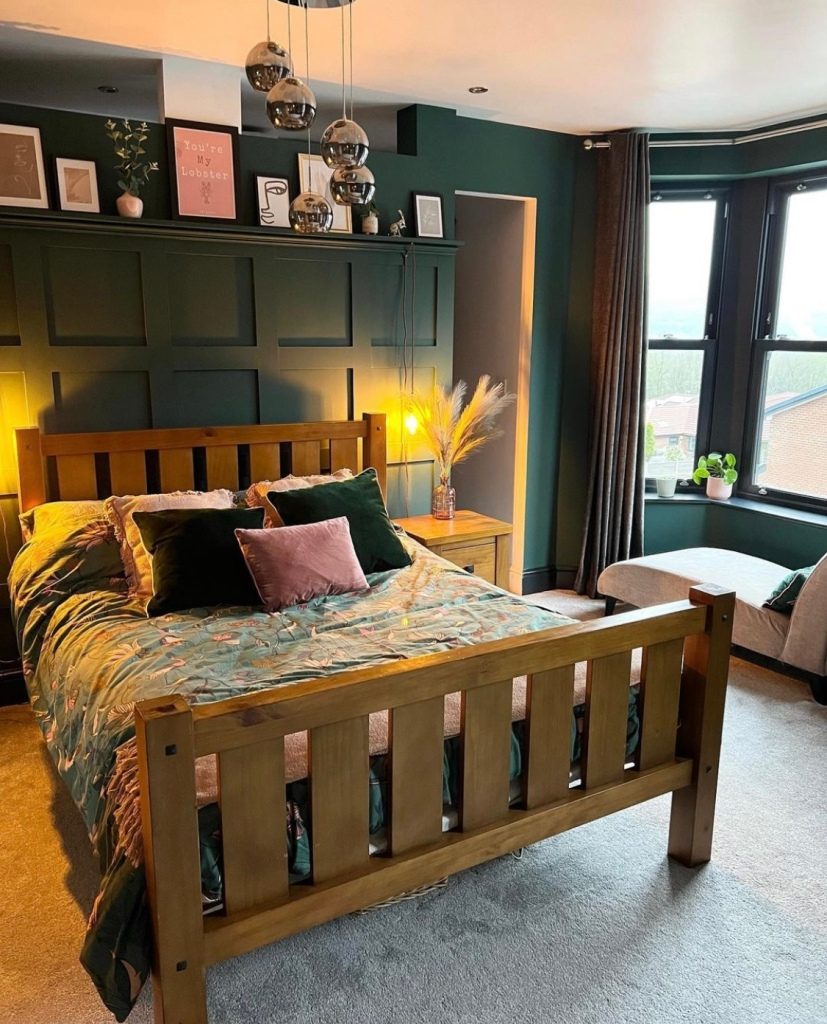 If you love a colourful home and your bedroom needs some inspiration, take note from this gorgeous Victorian bedroom. The square panelling with the upper shelf creates a statement look that shows off the beauty of the bed with exposed wood frame and matching table, which allows the space to feel connected with nature through a lush green and brown colour palette.
8. Give your bedroom a bold outline with dark panel shelves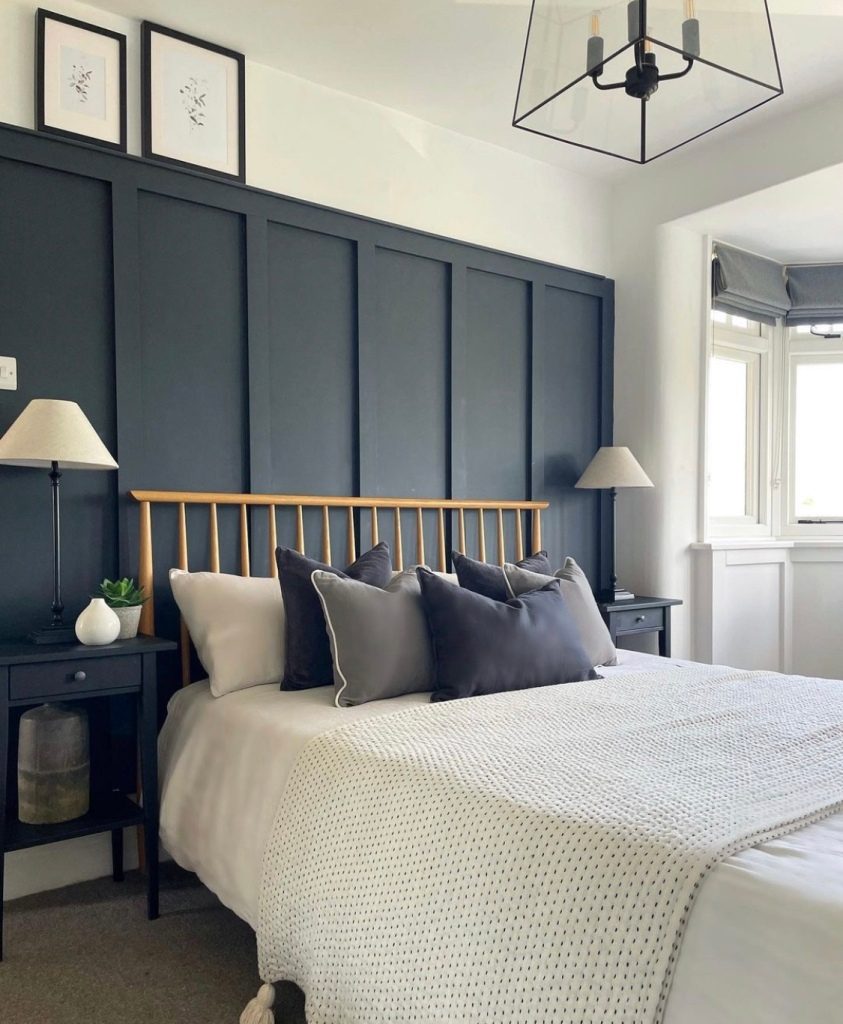 If you love playing with contrasting interiors, use panelling as a way to bring your space to life. We love this ¾ panelling with vertical strips that make the walls appear taller as well as adding a striking contrast where the wall and ceiling meet.
Furthermore, the navy blue colour panels add an intense depth to the space and draw the eye to the bold elements; from the lamp shade to the artwork neatly sitting on the panelled shelf.
Paint shade: Farrow and Ball Railings
9. Shelf panelling in a loft bedroom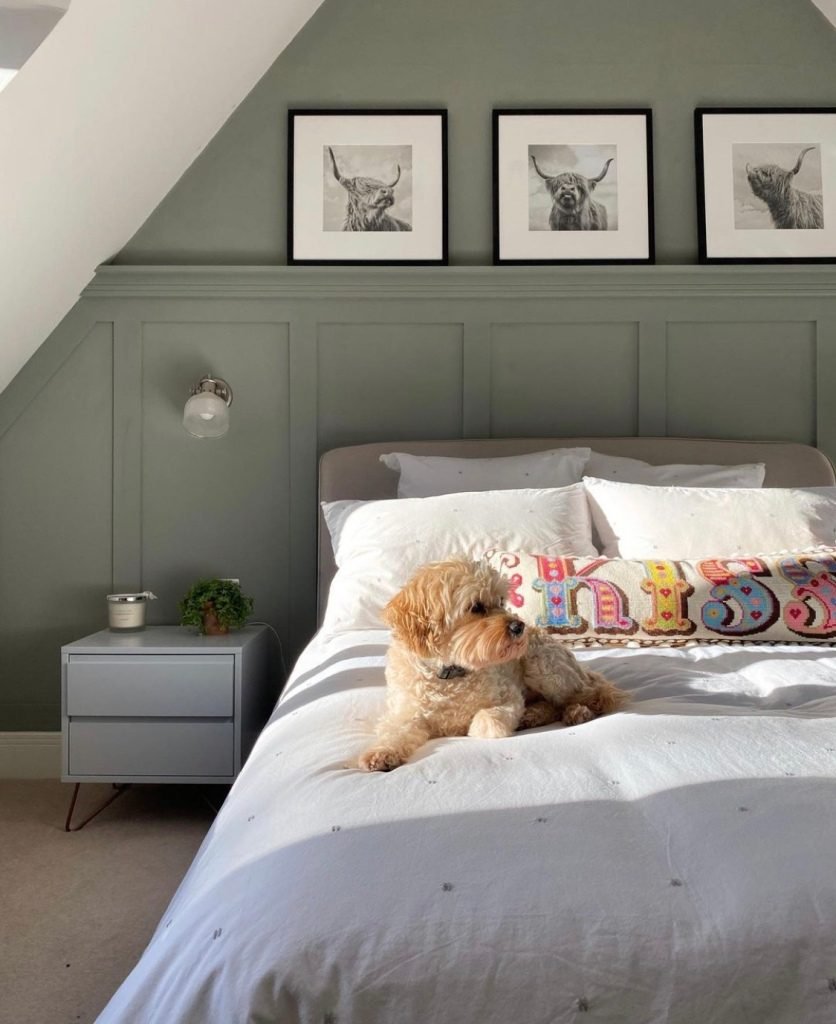 The wonderful thing about panelling is that it can be shaped to fit any corner and any wall in the home, including a loft bedroom. Design your bespoke panelling to add character to a loft bedroom by doubling it up as a shelf to showcase your favourite artwork or accessories.
If your loft is a blank canvas, why not use panelling to add a pop of colour in a stylish way that adds depth and form, just like this gorgeous design by Emily and Anthony at the Thatched Yew Tree Cottage.
Paint shade: Farrow and Ball Pigeon
10. Pink and green bedroom with shelf panels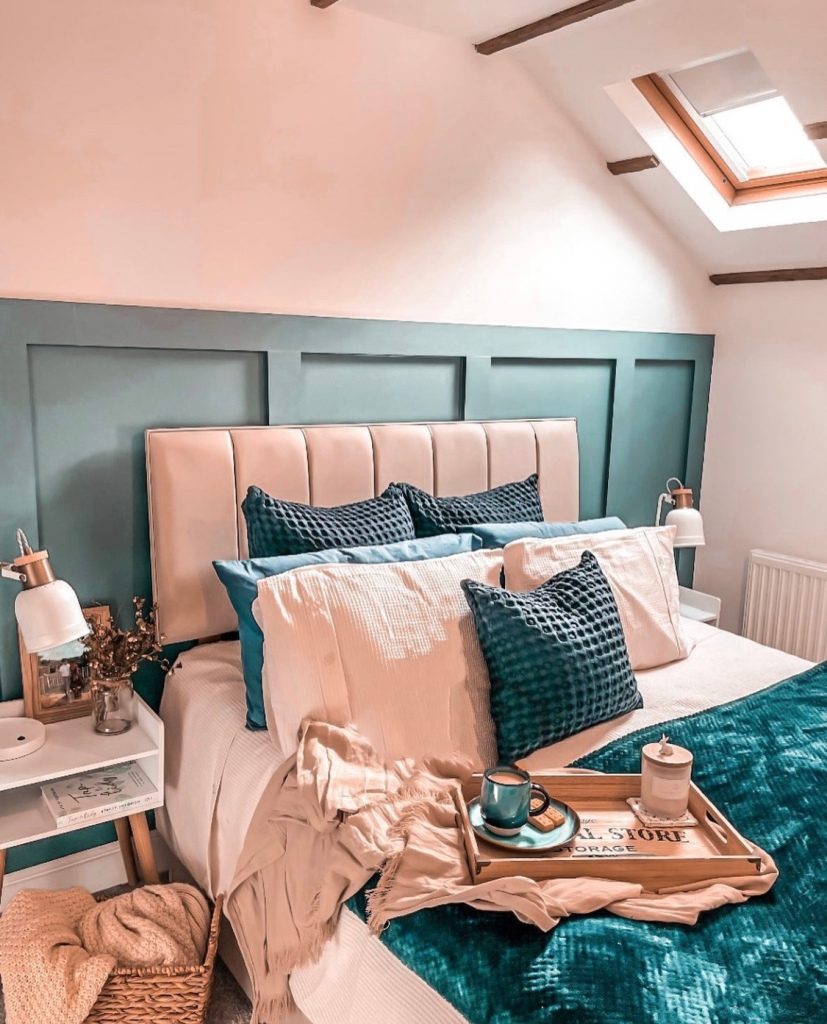 Combine pink and green for a relaxing bedroom style that is full of colour. Match intense greens with pastel pink to balance the bold colours so that your space feels inviting and cozy. Having a bold green panel shelf on the main bedroom wall allows you to create a statement look, as well as giving the room a focal point. Match leafy green colours with light pink to create a gorgeous contrast through accessories, bedding and furnishings.
11. Cottage blue bedroom panelling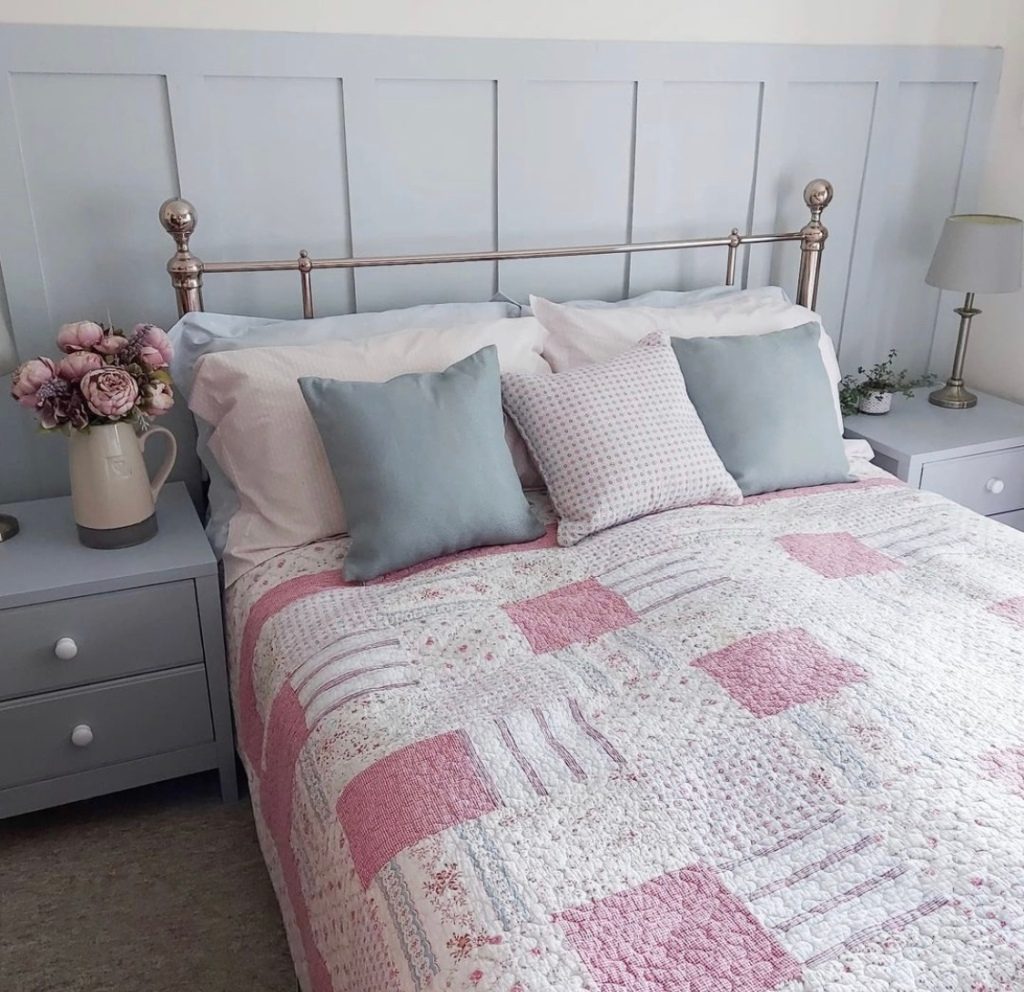 Periodic styling and cottagecore work wonderfully together to give a modern twist on two interior aesthetics that are on trend. We love this modern take on a cottage inspired bedroom with baby blue panelling to add a soft look to the room. Half wall panelling is a great way to break up bare walls and adds depth and texture to your space.
Keep the quaint look and feel of a cottage bedroom flowing, by adding pattern blankets and duvets on the bed.
12. Shelf panelling for a shabby chic bedroom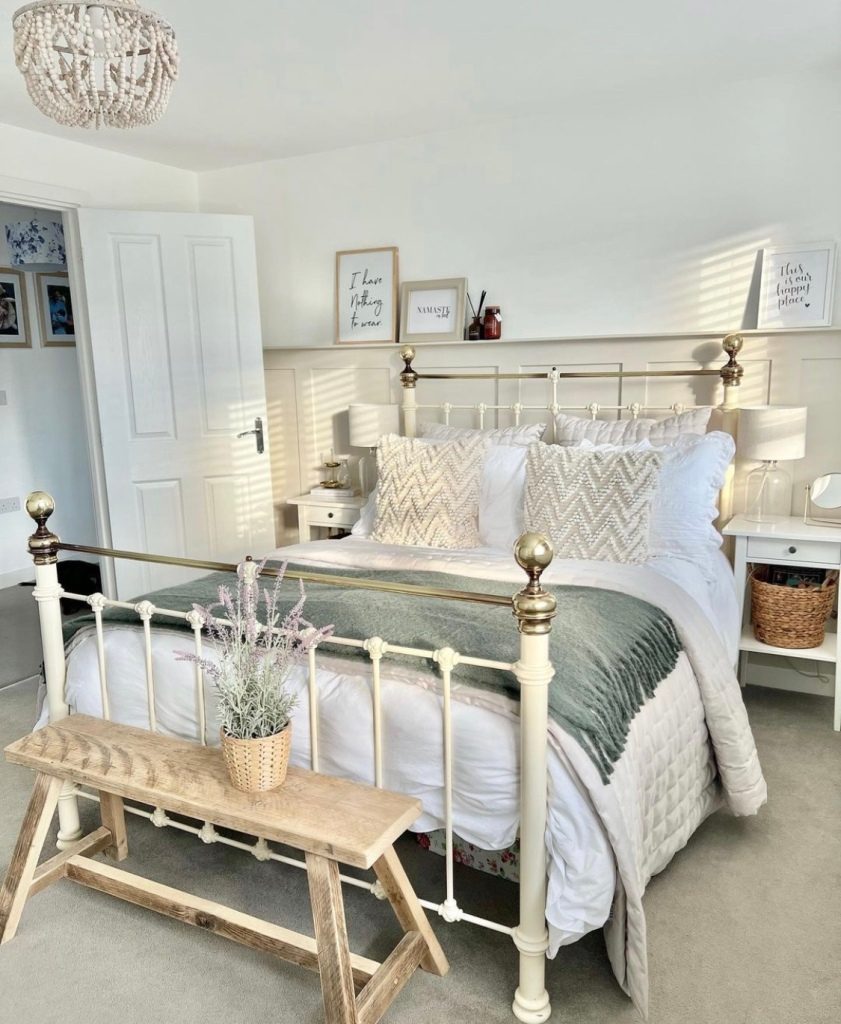 Mix and match furnishings and accessories in a fun and modern way to create a rustic bedroom style that is totally unique to you. This gorgeous bedroom by Becky uses all the elements of a shabby chic space, from modern shelf panelling with framed artwork, to country style furnishings and an exposed railing bed frame that gives the entire room a feel of retro glam in the countryside.
Paint your panelled shelf with a pastel or warm colour that matches your room's palette for a delicate look that looks effortless but stylish.
13. Dusky pink panelled shelf in a grey bedroom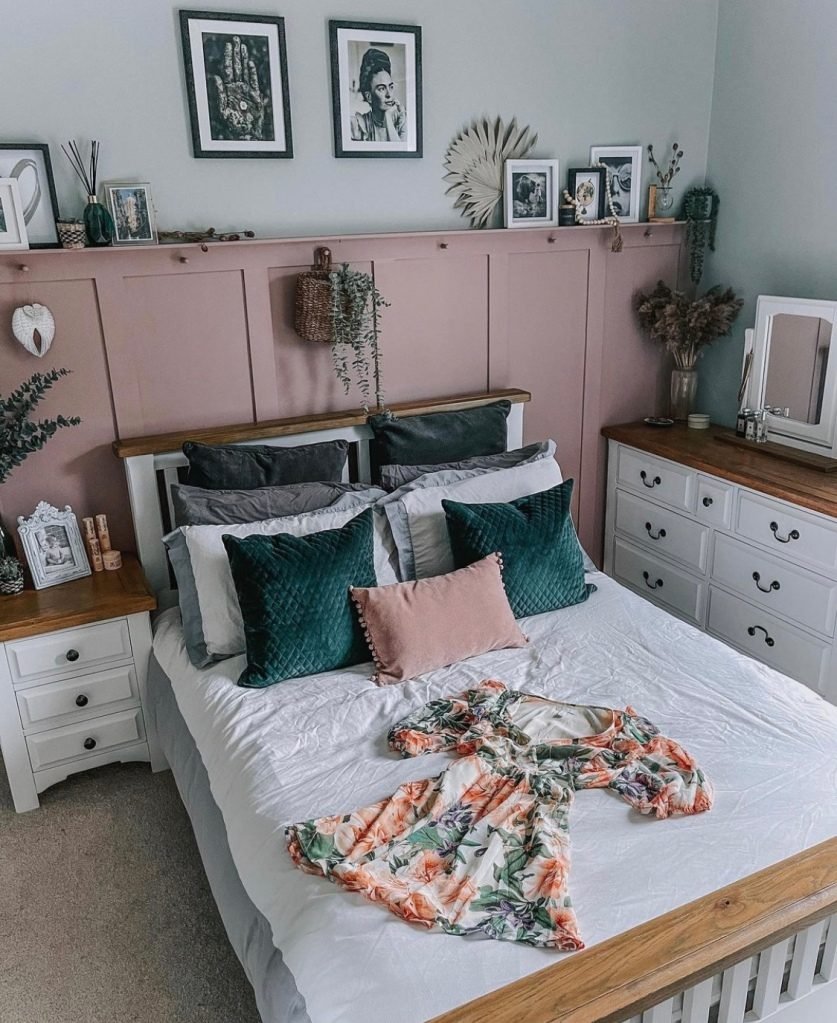 Create a cozy but bright space in your bedroom with a dusky pink shelf panel that serves as an extension of your beds headboard for a statement look. The beauty of a panelled shelf is that you can use it to decorate your space in a much more vibrant way than adding artwork to your walls.
This gorgeous pink panelling leaves no stone unturned when adding character to a room. From hanging plants to fun artwork and scented accessories, a panelled shelf can give you more space and functionality whilst adding your own style into the mix.
Bedroom Shelf Panelling FAQ
What is bedroom shelf panelling?
Bedroom shelf panelling refers to the process of adding decorative wooden panels to the walls surrounding bedroom shelves.
Why should I consider adding bedroom shelf panelling to my room?
Bedroom shelf panelling can add both visual interest and functionality to a room. It can help to create a focal point and bring warmth and texture to an otherwise plain wall. Additionally, it can protect the wall from scuffs and scratches that can occur from items being placed on and removed from shelves.
What are the different types of bedroom shelf panelling?
There are several types of bedroom shelf panelling, including tongue and groove panels, shiplap panels, and beadboard panels. Each type has its own unique look and feel, and can be customized to suit a variety of design preferences.
What are the benefits of tongue and groove bedroom shelf panelling?
Tongue and groove bedroom shelf panelling is known for its durability and ease of installation. The interlocking panels create a seamless and sturdy finish that can withstand wear and tear. Additionally, it is relatively easy to install and can be painted or stained to match any decor.
What are the benefits of shiplap bedroom shelf panelling?
Shiplap bedroom shelf panelling is a popular choice for its rustic and charming aesthetic. It can be used to create a cozy and welcoming atmosphere in any bedroom, and is versatile enough to be used in both modern and traditional spaces. Additionally, it is relatively easy to install and can be painted to suit your interiors.
What are the benefits of beadboard bedroom shelf panelling?
Beadboard bedroom shelf panelling is a classic choice that can add a touch of elegance and sophistication to any space. It is often used in traditional and cottage-style homes. Additionally, it is relatively easy to install and can be used to create a variety of design effects, from subtle texture to bold patterns.
Can I install bedroom shelf panelling myself, or do I need to hire a professional?
Bedroom shelf panelling can be installed by aa DIY, but it is important to have some basic carpentry skills and tools. If you are unsure about your ability to install the panels correctly, it may be best to hire a professional to ensure a quality finished product.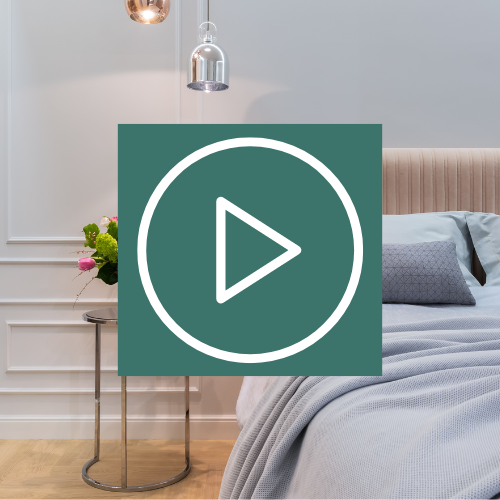 How to install wall panelling in your bedroom (video guides)
Thinking of panelling your bedroom yourself? Before you do, check out these 5 video ideas on how to install wall panelling in your bedroom.