Bathroom trends for 2023 revealed…
What are the bathroom trends for 2023?
2023 will be a fun year for bathroom interiors as we see people being creative with their money with cost saving interiors and DIY hacks. We will also see bright bathrooms using unconventional colours such as pink to create bold statements and maximise on decor for a full of character bathroom.
2023 popular bathroom trends include:
Read on to discover all bathrooms trends for 2023 below.
Glossy white bathrooms for a fresh clean look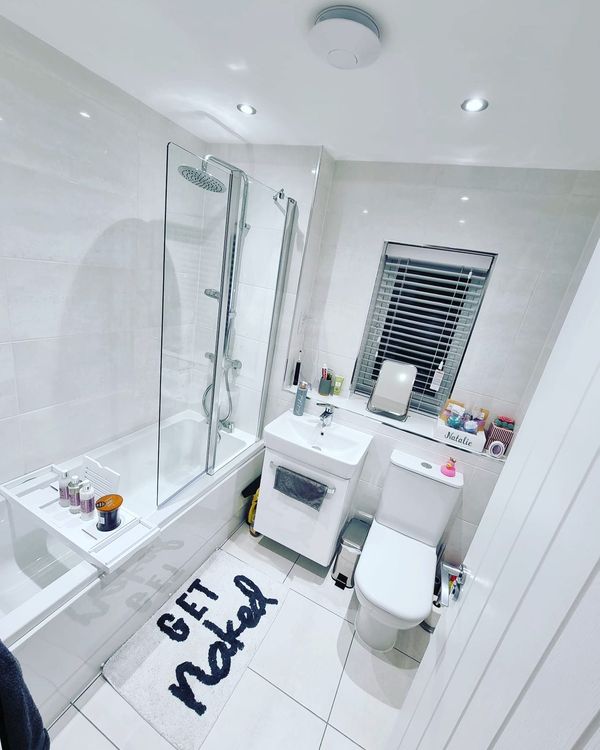 All white bathroom design for a fresh look by Our_tw_shelford_home on Instagram
Get the look: 'Get Naked' bath mat from Next
2023 will be a big year for cleaning hacks and optimising storage. With bathrooms being no exception. We will see more and more fresh and bright bathroom ideas pop up, just like this glossy white bathroom that is designed to feel spa-like and airy (even in small bathrooms) with beautiful product displays. Furthermore, fun decor pieces will also see their way into the bathrooms in 2023 with the rise of the 'get naked' bath mats that add a touch of fun and personality to the space.
Marble bathrooms will continue to be popular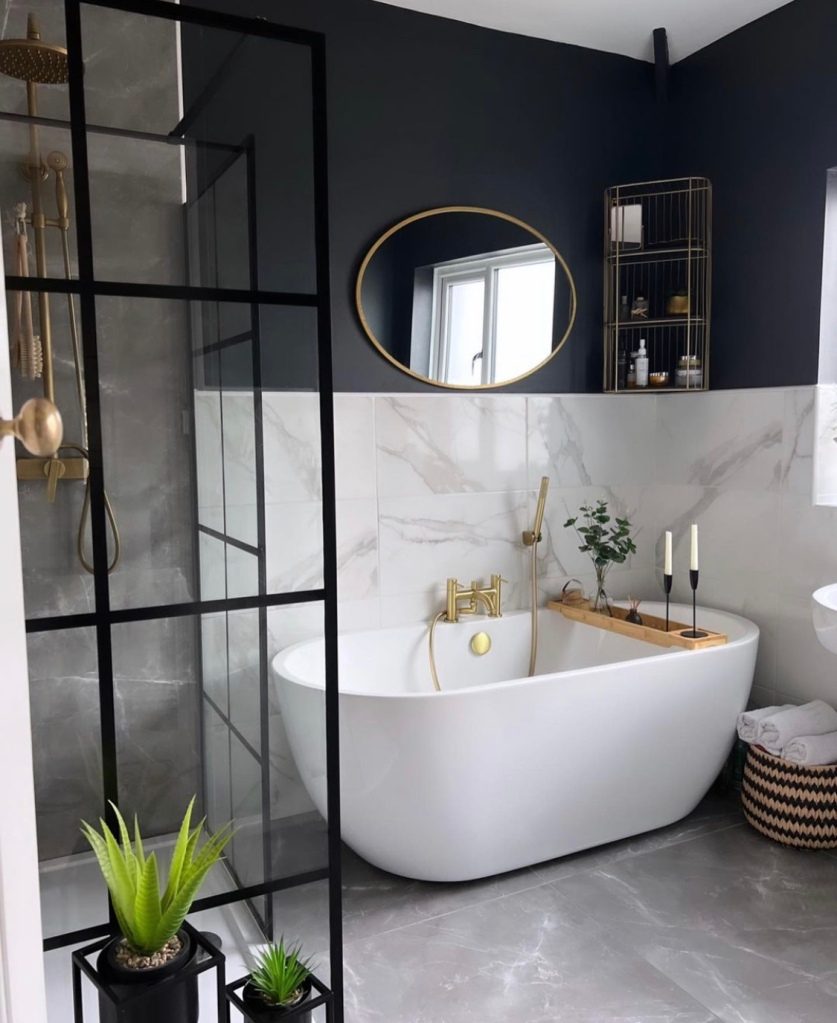 2023 will be a year of cost saving, but not necessarily sacrificing on style. We will see more bathrooms glam up with interior elements such as marble which makes the space look glossy and sleek. With vinyl floor tiles and homeware stores offering a variety of low cost tiling and splashback options for bathrooms, homeowners will look to save on costs but still make their bathrooms feel like a luxurious space.
We love this black and white bathroom that combines two marble tiles into one space to create a contrasting look and separates the bathtub from the shower beautifully.
Grey and white colour palette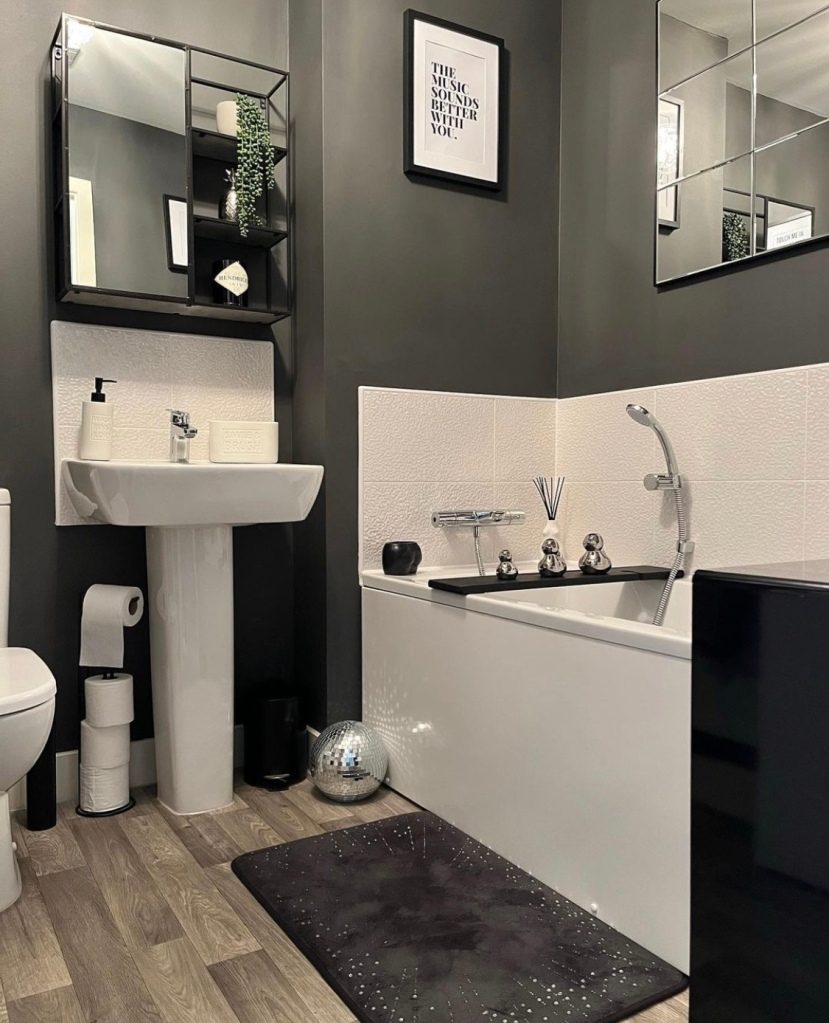 Grey and white will carry on being a popular color scheme for bathrooms throughout 2022 as they are modern and timeless to keep your bathroom looking fresh. Moody interiors have also been popular this year and incorporating dark gray tones with black can help bring some of that trend into your bathroom whilst still feeling neutral.
Bring a pop of pink into your bathroom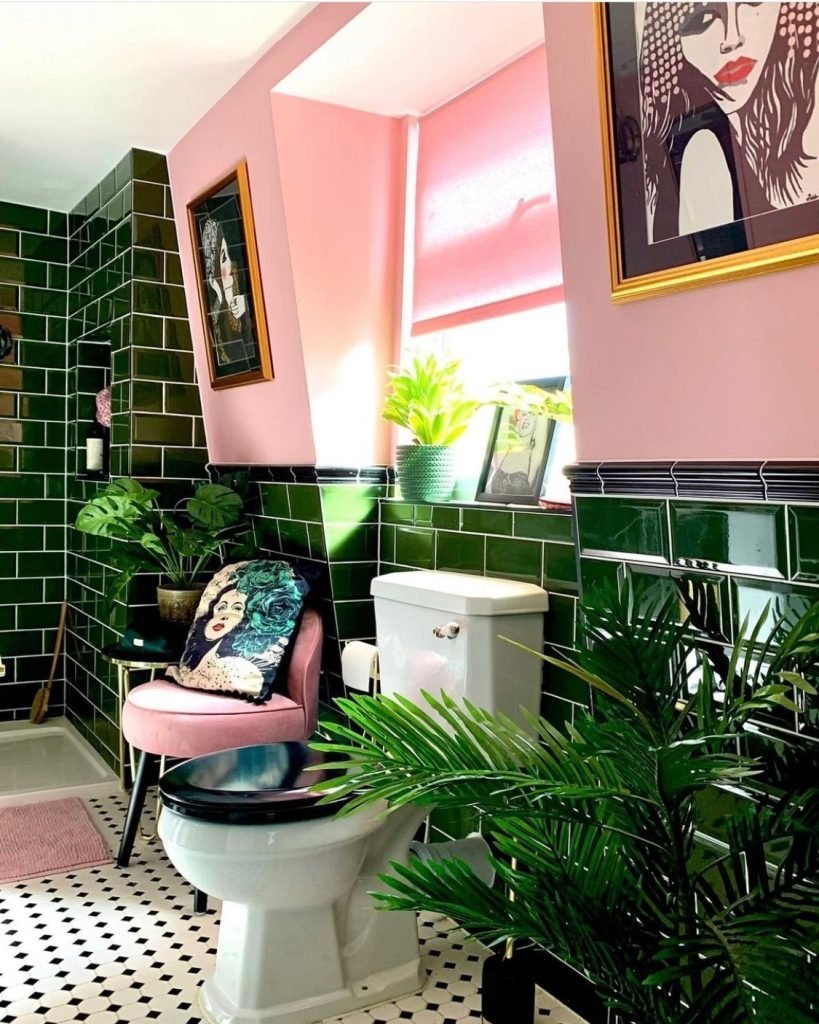 We've seen an increase of pink interiors pop up in living rooms and bedrooms throughout 2022 and we think that this will carry on with more people looking to add bold colours to their bathrooms too! This beautiful green and pink bathroom is sophisticated and luxurious with glossy green tiles and pink accents to recreate modern Victorian interiors in a hotel luxe type of way, that are vibrant and make you feel joyous.
Boho bathrooms will continue to be trendy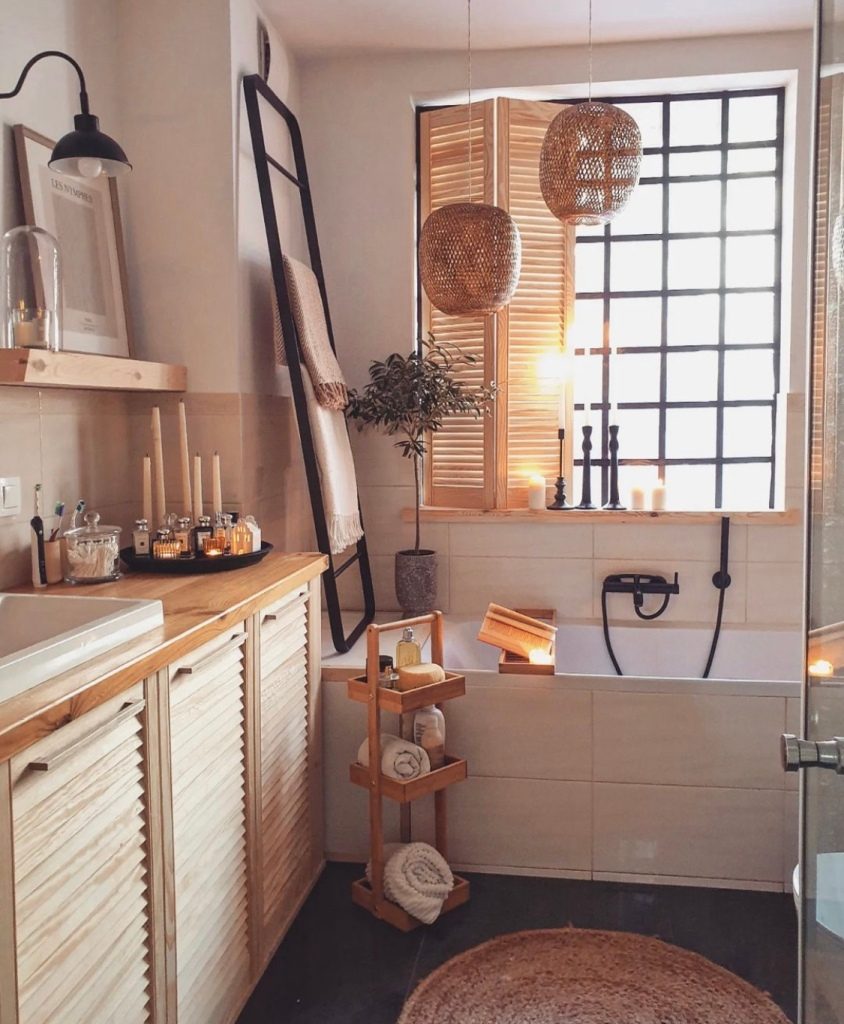 If you've thought about transforming your bathroom with natural interiors combined with a cozy and minimal aesthetic, a boho style bathroom may be for you.
With eco-friendly and natural products being used more and more in the interior world, 2023 will be a year of making conscious decisions around the home. Whether it's choosing natural woods over plastic, having a few extra plants dotted around or overall minimalism to reduce your consumer footprint. Bringing some of that into the bathroom is a good way to feel calm and relaxed, with wooden furnishings and fixtures to bring nature into your bathroom.
Green bathrooms to bring in the essence of nature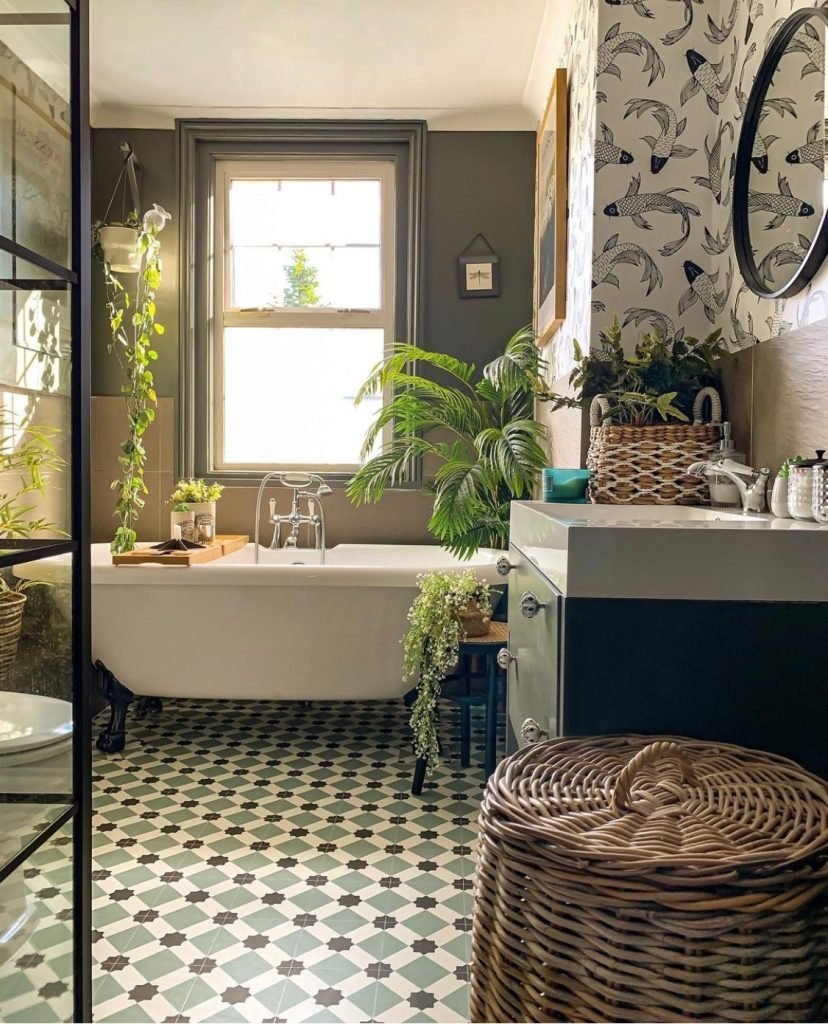 Similar to how boho bathrooms will be popular to bring natural elements into the bathroom, green will be a key colour trend used in bathrooms next year. Painted walls, pattern tiling and hanging plants are staple bathroom interiors that we will see more next year off the back of trends in 2022.
We love this quirky green bathroom that is full of character and still evokes feelings of the outdoors through the soft green colour scheme, wicker basket accessories and draped plants to complete the look.
Vintage meets modern bathroom styles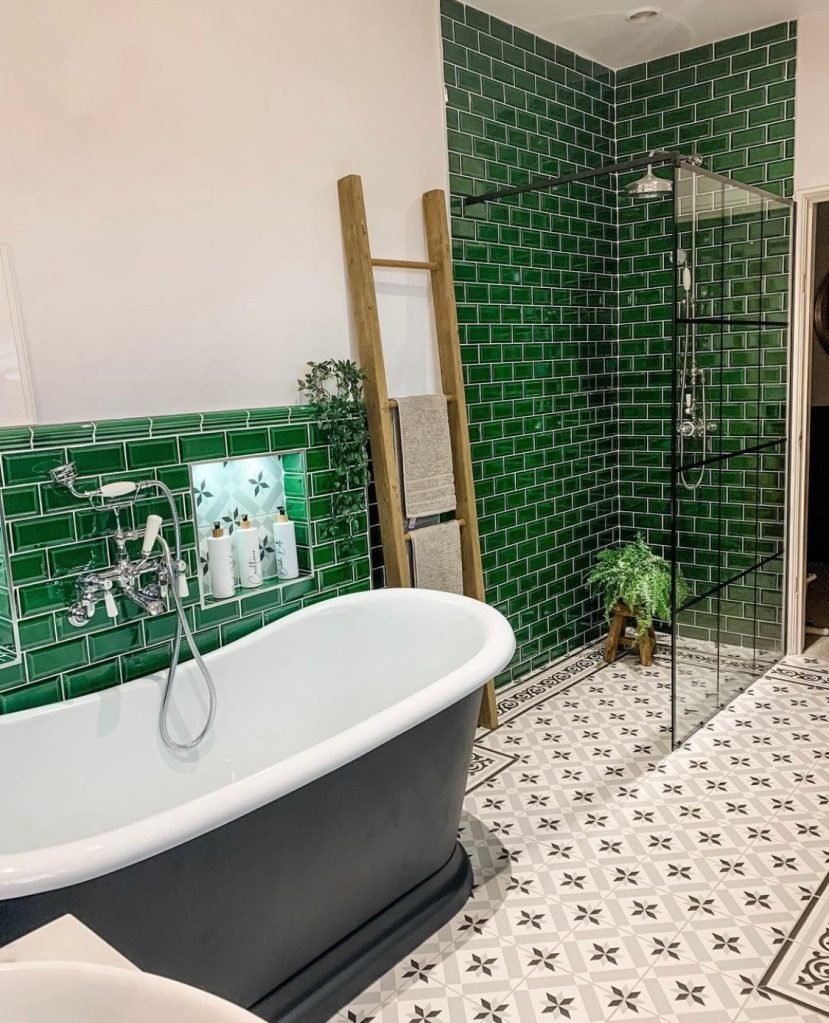 We have seen lots of Victorian and periodic home styles pop up in 2022 and this will continue to increase in 2023 with more people looking at add a bountiful of character to their space, even in rooms such as the bathroom.
A continued trend is green tiles, especially glossy tiles that give a retro glam look that you may find at a luxurious hotel. Statement tubs and walk in shower bathrooms are popular among the more spacious bathroom, like this beautiful vintage design that combines vintage looking tiles and a classic tub with modern patterned flooring and framed shower screen.
Bold bath panels and wall panelling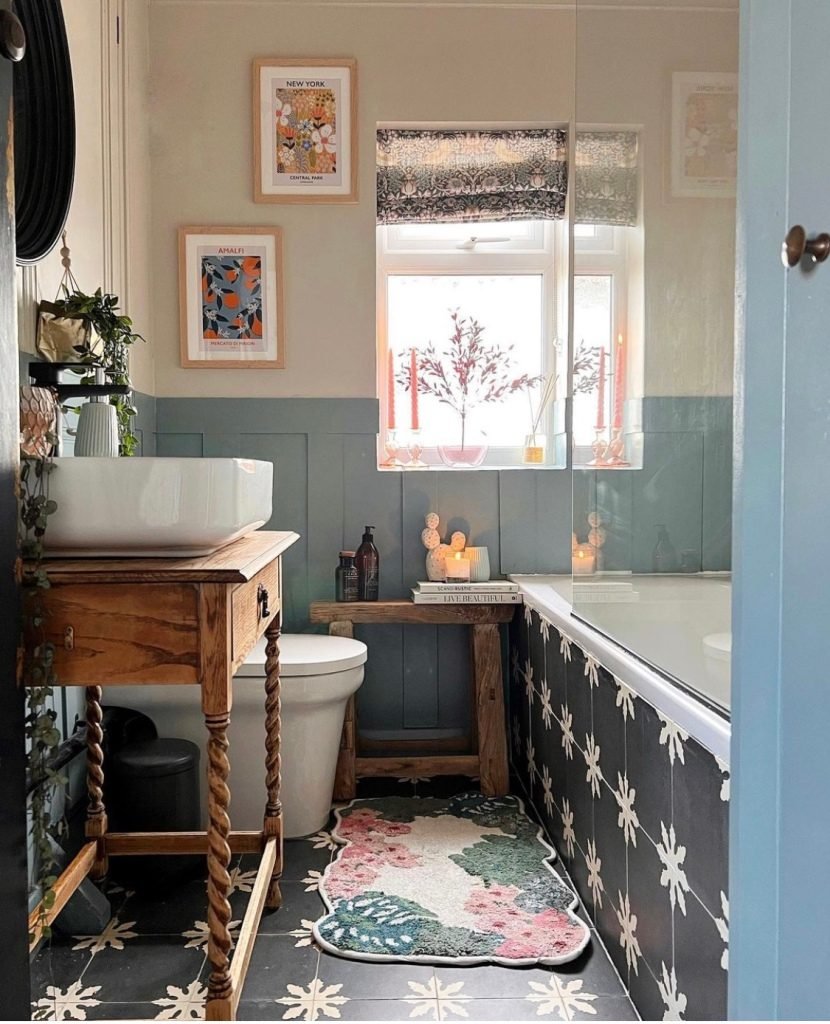 Panelling is here to stay in 2023 and in the bathroom you can double up with panelled baths and walls to create texture and depth to your space. Maximalism is also a huge interior trend that is continuing to stay, and the bathroom is no exception either.
We love this bold and full of character bathroom that features matching floors and bath panels that masks small spaces and gives character through patterned tiles. Furthermore, adding panelling to your walls is a great way to give a maximalist bathroom contrast to break up bold patterns with blocks of colour.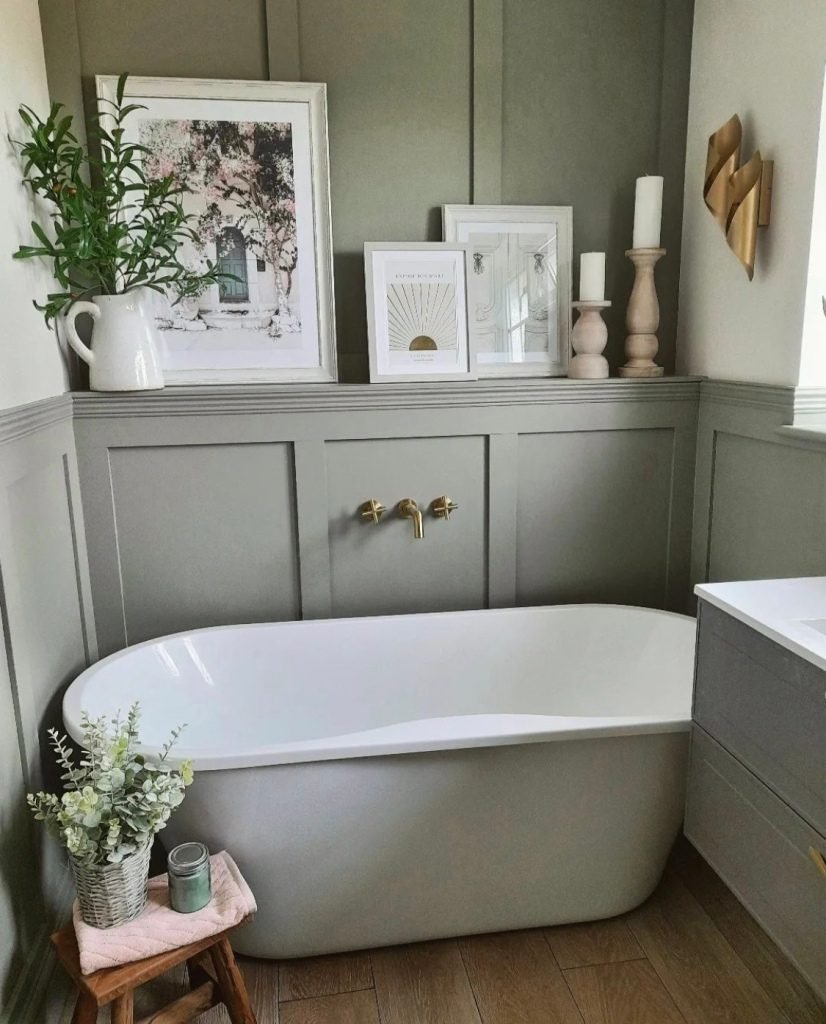 Create a statement look for your bathtub with half wall panelling that doubles up as a shelf for storage, making this an ideal interior design feature that can make a small bathroom feel cozy and functional.
Furthermore, we love how the bathtub is tap-less and instead, the taps are featured on the panelled wall which makes the design look luxurious.
Black framed shower screen for contemporary style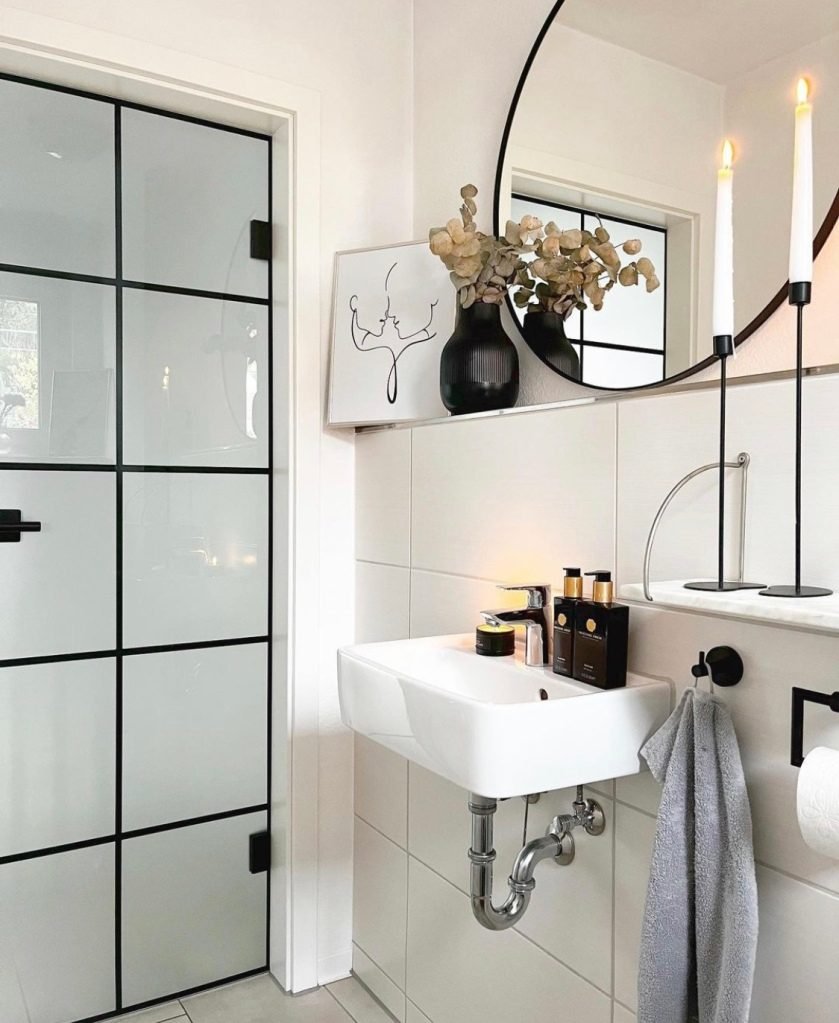 Create a contemporary look in your bathroom with interior trends that are fresh but won't date easily. Black framed shower screens are one bathroom trend that is increasingly popular and adds a modern touch to showers to make them more of a statement piece in the bathroom for a modern look. Whether you're after frosted or clear glass screens, either work well and can really add depth and character to a simple bathroom design, just like this white bathroom with black accents for a minimal look.