Create a relaxing space in your living room with shades of blue that connect you to nature whilst nurturing your senses. From Victorian blues and moody hues, our best blue living room paint ideas will inspire your next DIY project. Scroll down to reveal our favourite blue paint colours.
Sky and inky blue combined for a contrasting look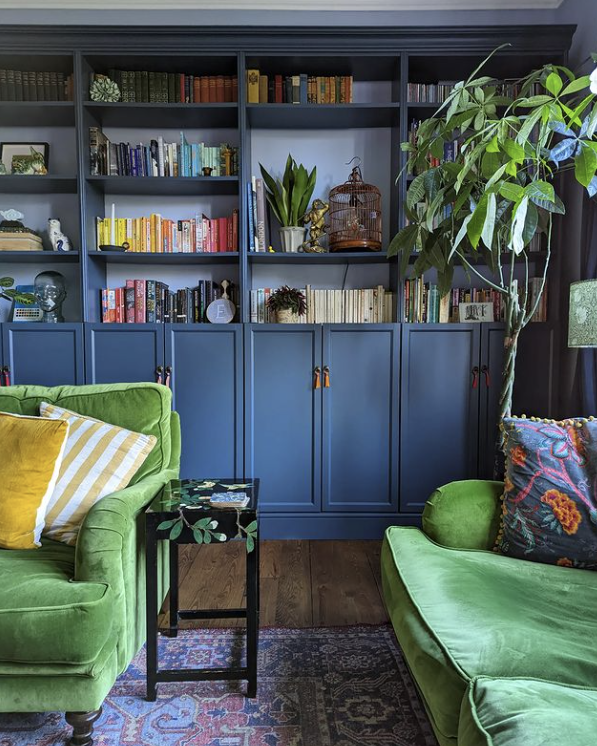 Create a striking look in your lunge with inky blue features like this gorgeous full length bookcase which is brought to life by bold green sofas and printed textiles. Furthermore, the subtle sky blue walls behind the bookcase brighten up the space as well as serving as a contrast colour in between the shelving.
Intense teal for a eclectic living room look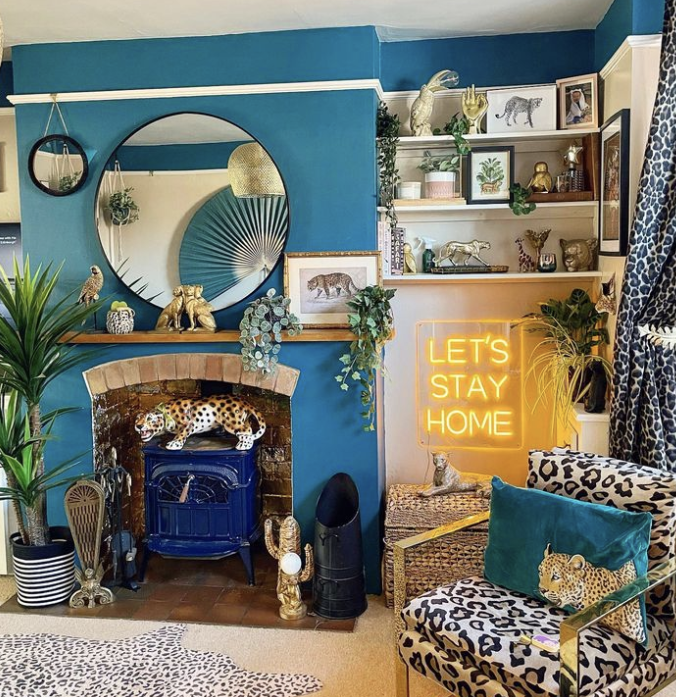 Gorgeous eclectic blue living room design by at_home_with_taddy on Instagram that infuses blue and pattern decor for a warm living room look. Paint colour used: Dulux Teal Tension
If you love eclectic decor and want to incorporate blue into your space, why not try a dark deal against white walls? This will give your living rooma pop of colour while creating a bold contrast. You can layer blue fabrics also, which will bring the look together.
Sapphire blue for a bold living room style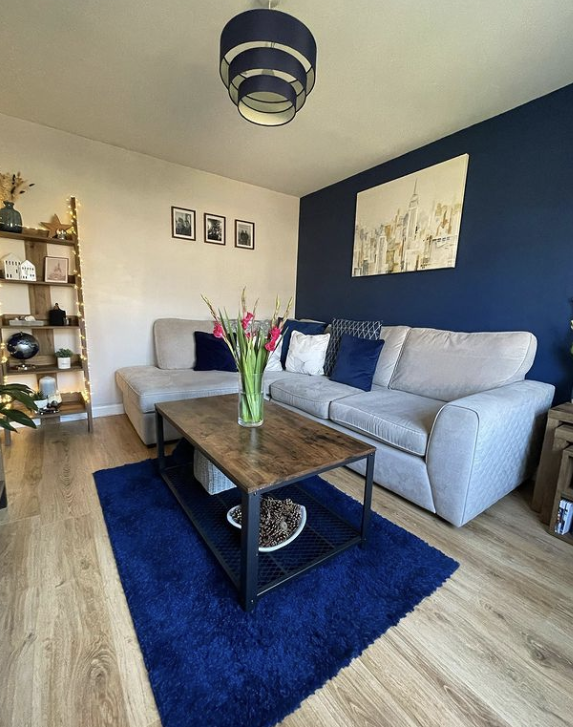 Statement living room look with navy blue accent wall and matching rug by Amyshomelife on Instagram
Paint used: Dulux Sapphire Blue
Break up a grey living room with a bold navy blue wall and matching rug, just like this statement look.don't be afraid to go bold in your living room, blue is a great colour choice to do so, as it's still a warm colour so it will look cozy and rich against your furnishings.
Duck egg blue to brighten up a small living room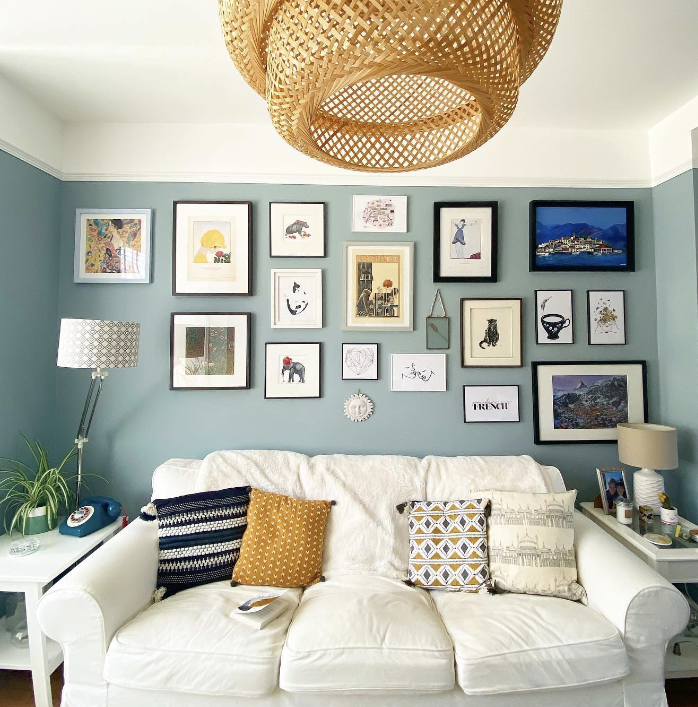 Make your sofa stand out with a bright blue wall. Living room design by Tiffanymasbou on Instagram
Paint used: Classic Duck Egg Blue by Crown Period Collection
Brighten up a small lounge with a light blue paint safe that will give your space extra character. We love this duck egg blue wall idea with a gallery wall that gives the space so much more personality than it would if it were white or cream. Furthermore, the blue makes the white sofa stand out as a statement piece that draws the eyes in.
Victorian Dusk Blue for a periodic style living room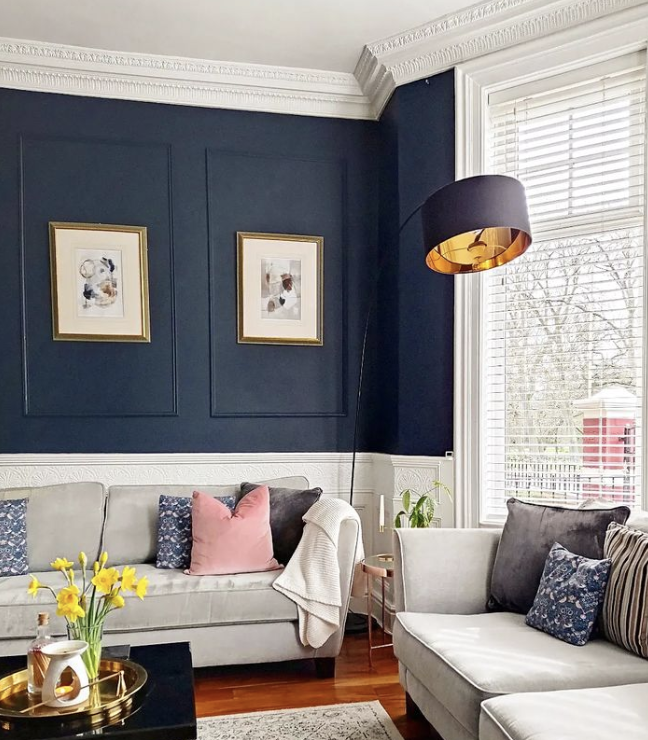 Bold blue living room with Victorian design by Victorianhouse1896 on Instagram
Paint used: Victorian Dusk by Valspar
Create a snug living room look by modernising Victorian accents with a dusk blue paint against bright white panelling and coving which will give your space a bold contrast. We love this Victorian living room that uses a dark yet vibrant blue to accentuate periodic features such as panelling and dark flooring to bring the look together beautifully.
Bothy Blue for a beachside style living room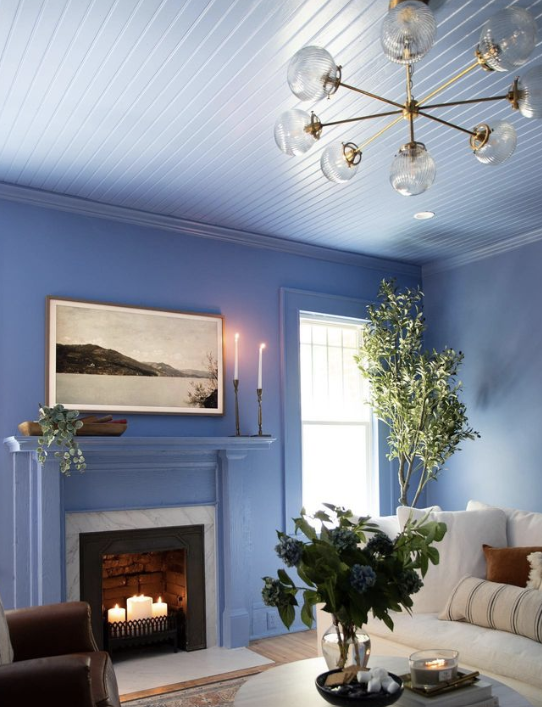 Calming blue living room design by Fromgrittopearl on Instagram
Paint used: Bothy Blue by Farrow & Ball
Blue is a very calming colour for your living room and can be used as a way to replicate the calmness of the sea. Take note of this gorgeous family living room design which is styled with a medium/light blue and furnished with snug sofas, cozy fireplace and leafy plants to bring in the essence of the beach. Furthermore, this combination also gives the feeling of bringing the outdoors inside through colour and different textures (like photography artwork, plants and lighting).
Modern vintage blue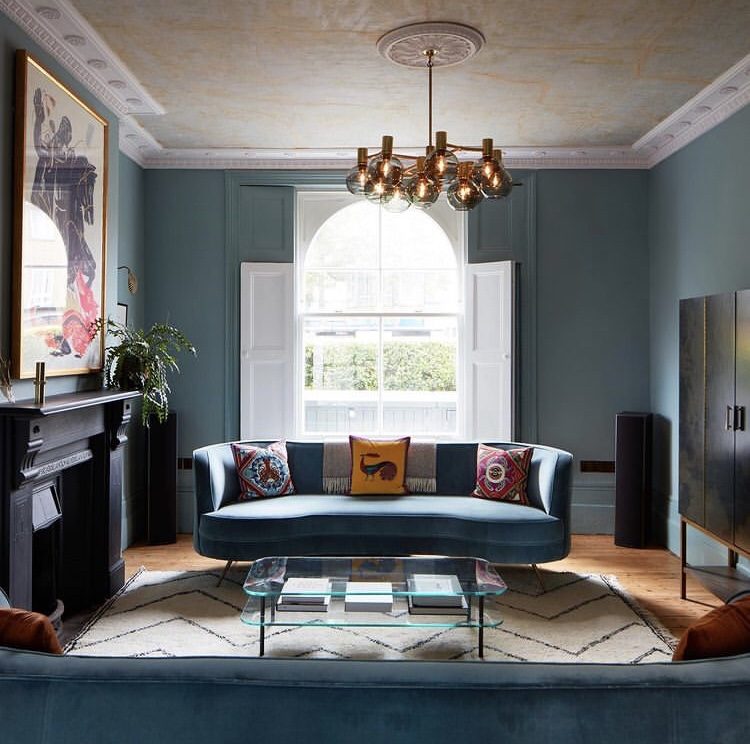 Image source @golden_design_interiors
Mixing up different shades of blue in your living room is a great way to add depth to your space. This works really well with large spaces with high ceilings. We love the light blue walls against the darker blue sofa, which is contrasted beautifully by the white window frame and ceiling.
Artsy blue living space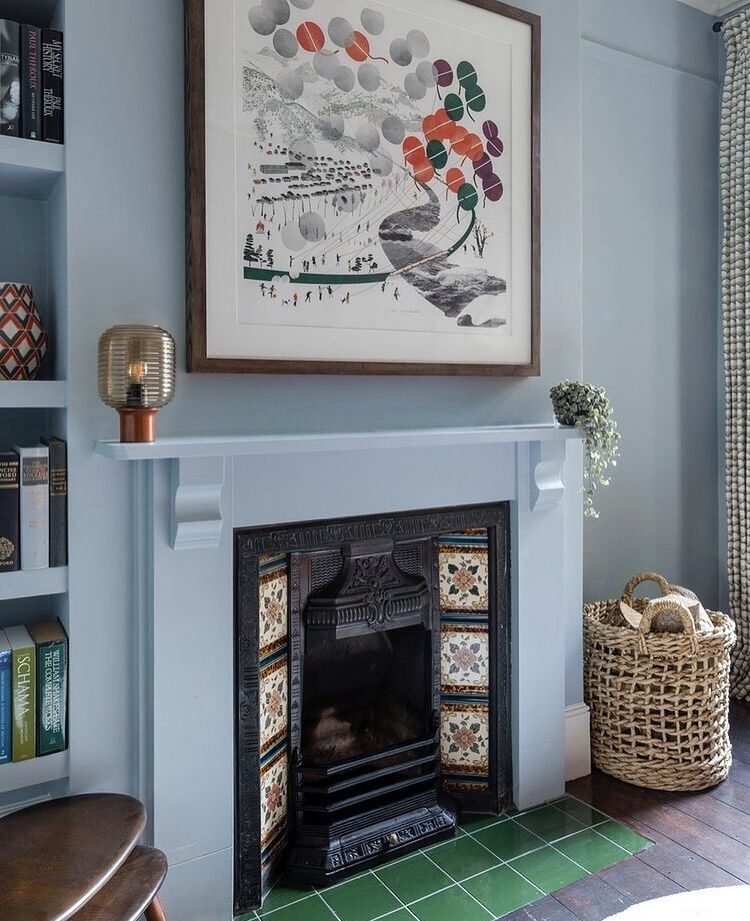 Image source @lizziegreen.co
For a modern and fresh living room style, match pastel blue walls with dark features and bright artwork. This gorgeous living room layout on Instagram features a statement fireplace that comes together with the black interior and striking artwork positioned above. The unique green tiles and patterned feature on the fireplace makes this feature stand out.
Dark blue living room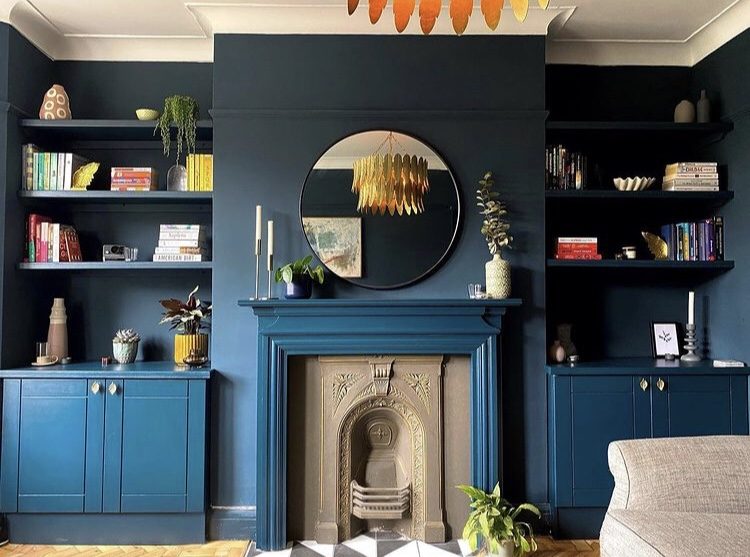 Image source @renovatingnumber6_
Dark blue paint is a great canvas for colourful interiors. This design on Instagram, which uses bold decor elements like vases, books and plant pots creates a fun and happy place to relax.
Blue accent wall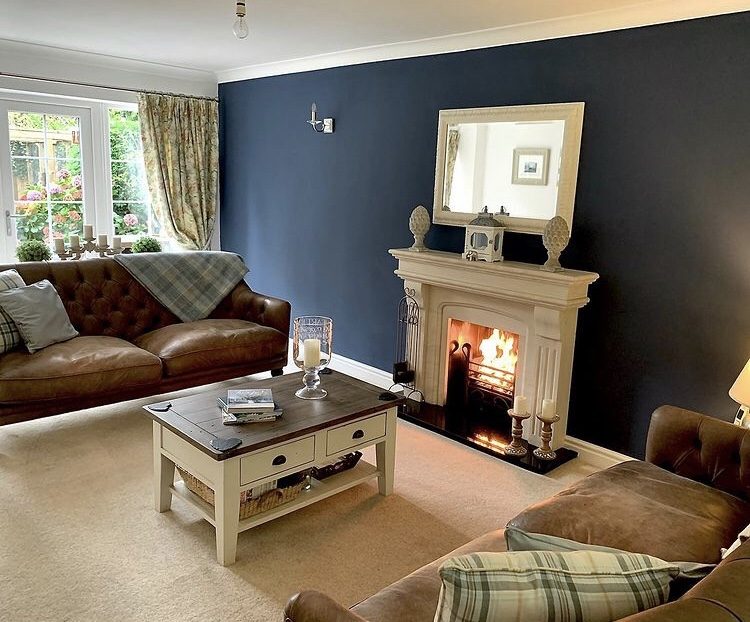 Image source @wrightswoodcottage
If you're planning a quick renovation in your living room, why not consider a navy blue accent wall? Blend with white, creams and brown decor for a cottage inspired space to relax and unwind. We love this design on Instagram that is ultra modern and cosy with a statement fireplace and accent wall that makes the space look ultra snug.
Elegant Victorian blue living room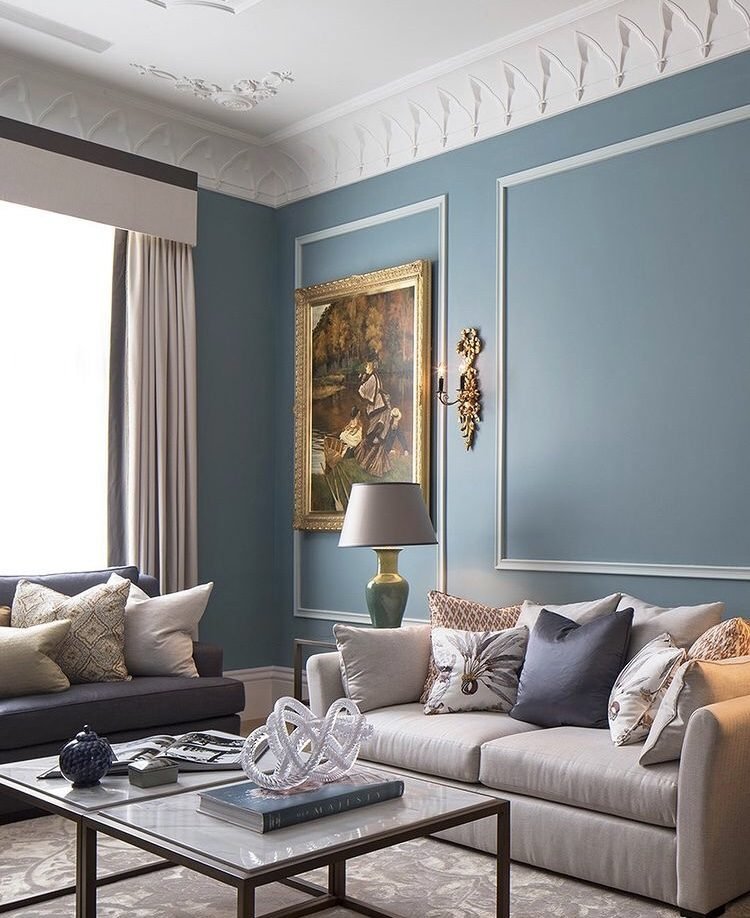 Image source @roswilsondesign
Elegant English decor isn't shy of gold and grand decor pieces, which is why choosing the right wall paint for your Victorian style home makes all the difference. This gorgeous living room design on Instagram is the perfect inspiration for a modern Victorian home. The light pastel blue walls and white panel detail create subtle style when combined with traditional framed art and soft furnishings.
Blue Living Rooms FAQ
Is blue a calming colour?
Shades of blue are often associated with feelings of calm and serenity, making them a popular choice for creating a relaxing atmosphere in a room. Whether you're looking to create a peaceful bedroom, a serene living room, or a soothing home office, there are several shades of blue that can help you achieve the desired effect.
What shades of blue are popular to paint my living room?
One popular shade of blue for creating a calming atmosphere is a pale, sky blue. This color is reminiscent of a clear, sunny day and can help to create a sense of tranquility in a space. Another great option is a soft, powder blue, which can add a gentle and soothing touch to any room.

Darker shades of blue, such as navy or midnight blue, can also be used to create a calm and peaceful atmosphere. These shades are rich and deep, and can be paired with neutral colors such as white, beige, or gray to create a serene and sophisticated look.

For a more dramatic effect, consider using a deep, rich shade of cobalt blue. This color can add a bold and striking touch to a room, while still maintaining a sense of calm and tranquility.

When it comes to creating a calming atmosphere with shades of blue, the key is to choose a color that resonates with you and your personal style. Whether you prefer a pale, soft blue or a deep, rich shade, there is a blue that can help you create the peaceful and serene space you desire.

In summary, shades of blue can be a great choice for creating a relaxing atmosphere in a room. Some great options include pale sky blue, powder blue, navy, midnight blue and cobalt blue. With the right shade, you can create a calming and peaceful space that reflects your personal style and promote serenity in your home.