We've collected some of this year's top trending DIY and home decor tips to help you spruce up your home while being bang on trend. Whether you're looking to sell your home, or you intend to just give it a bit of a fresh look, our tips will help inspire your next renovation.
Wallpaper in the bathroom
2020 is the year that reinvents bathroom style. If you're thinking about brightening up your bathroom, why not consider changing up part of your walls with water resistant wallpaper? It's a great way to make a big change without too much effort.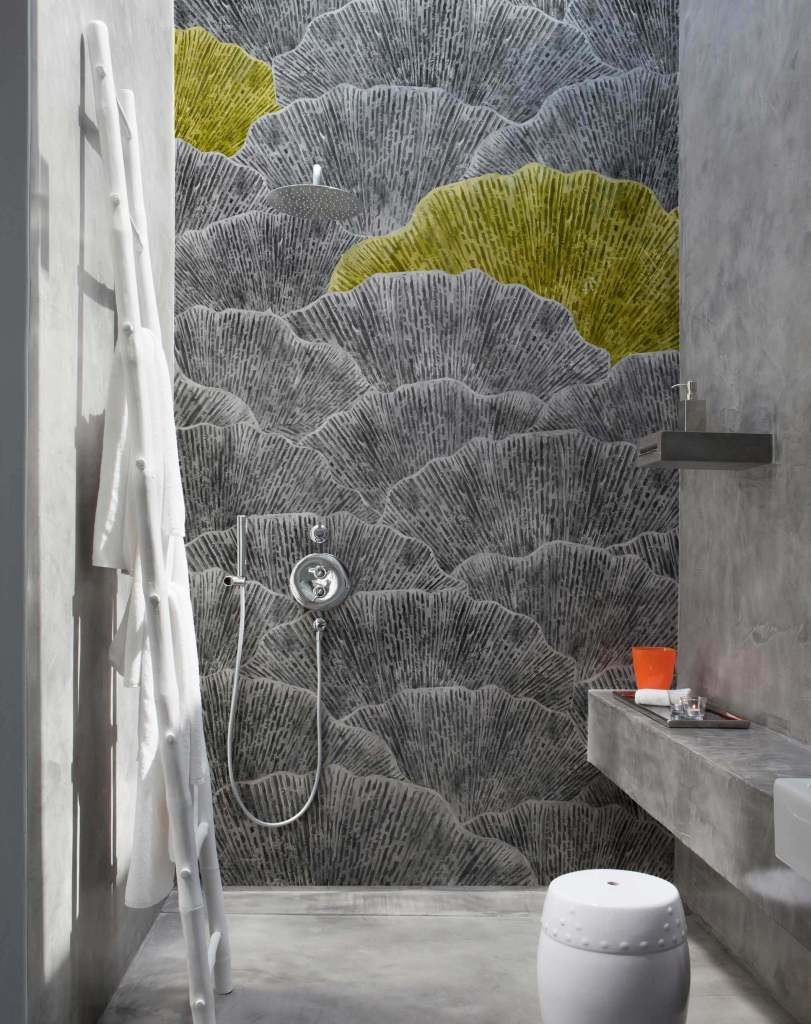 Create a bold statement in your bathroom with patterned wallpaper just like this beautiful one from West One Bathrooms. Feel as though you're in a spa with this gorgeous materic texture wallpaper with semi-gloss finish. It's designed with bathrooms in wind and is resistant against damp and yellowing when cleaning with household detergents too!
Industrial dining table
With 2020 being the year where pretty much every meal is eaten in the home, it's no surprise that investing in a good dining table is one of the top home decor pieces right now. Long dining tables with a bench and seating is a top pick for this year. It's great for entertaining and can fit all the family nicely.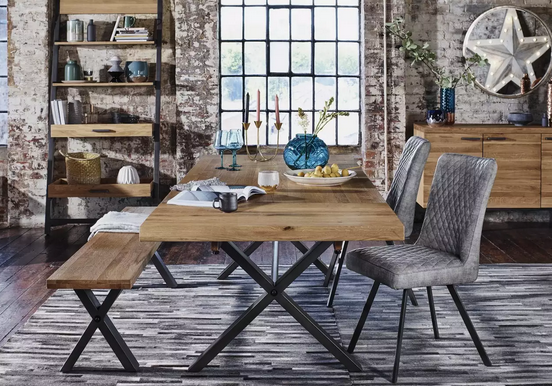 The industrial trend is still very much going strong this year and there are so many wonderful designs to choose from. We love this one from Furniture Village, which comes with 2 comfy chairs and a dining bench.
Art Deco interior
Geometric luxe is making a return in 2020 with art deco being a top trend this year. Bold and patterned wallpaper, glamorous upholstery, gatsby styled furnishings and gold decor pieces take the stage.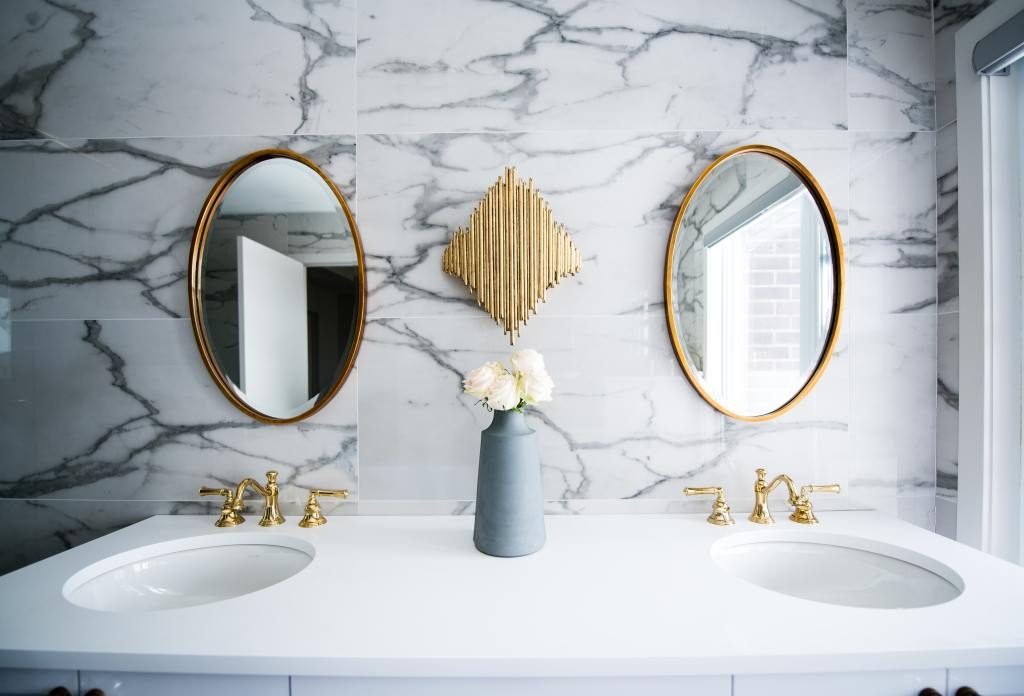 Art Deco is all about playing around with texture through patterns and adding plenty of colours into your home. Choose either a pastel scheme or a rich colour scheme and finish off with gold details such as lamps, mirror and photo frames, chairs and tables to really make the space pop.
Navy blue colour scheme
Colourful spaces take a front seat in 2020 when it comes to home decor style. If you love the idea of adding a pop of colour into your living room or kitchen, blue is the colour of the year. Navy blue in particular is a popular colour scheme this year, teamed with gold detailing for a luxe finish.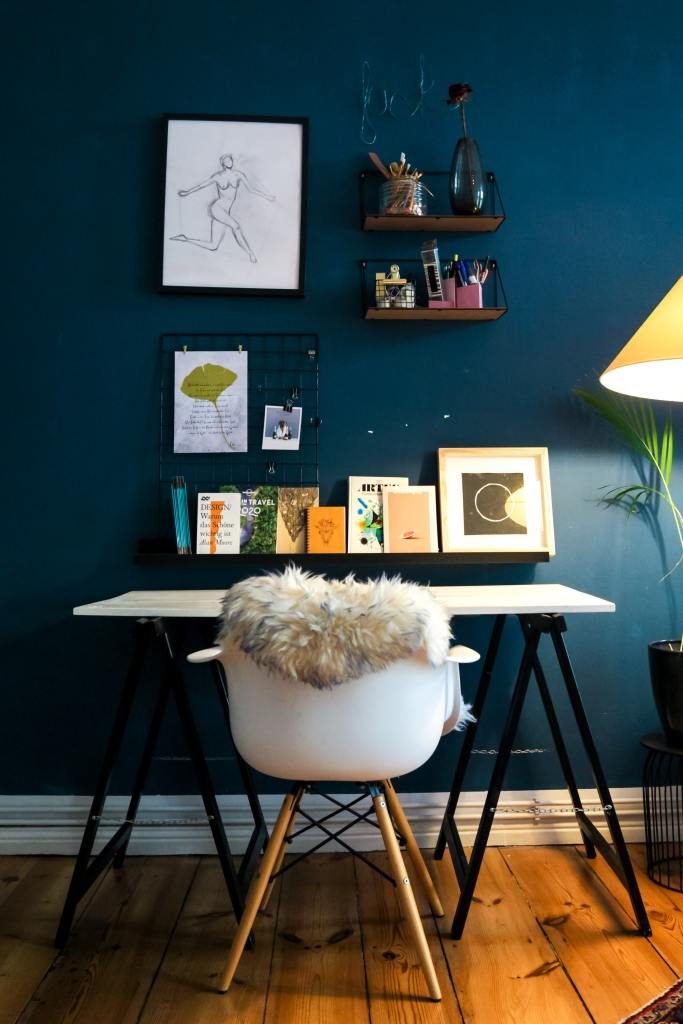 Velvet sofa for a luxury feel
Continuing on with the luxe home ambience, velvet sofas are a big trend for 2020 and 2021. Add a sprinkle of comfort elegance in your home with a gorgeous velvet sofa. The soft and plush surface makes it an appealing statement piece in your living room while adding ultimate comfort.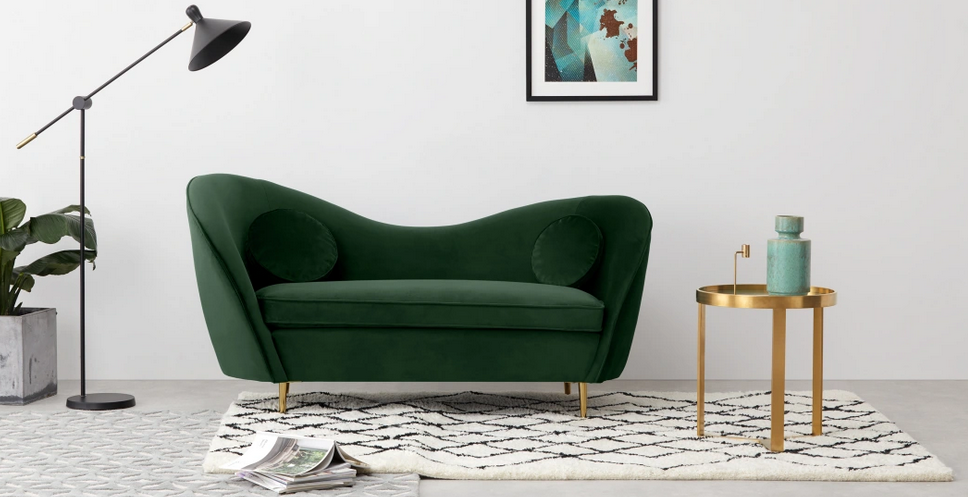 Gallery wall art
A great way to express your passions is through art and photography, so what better way than to adorn your walls with beautifully placed art. This year has been a big year for DIY projects and budget-friendly ideas to spruce up homes in an easy way. We love the gallery wall art trend and we think it's here to stay for quite a while.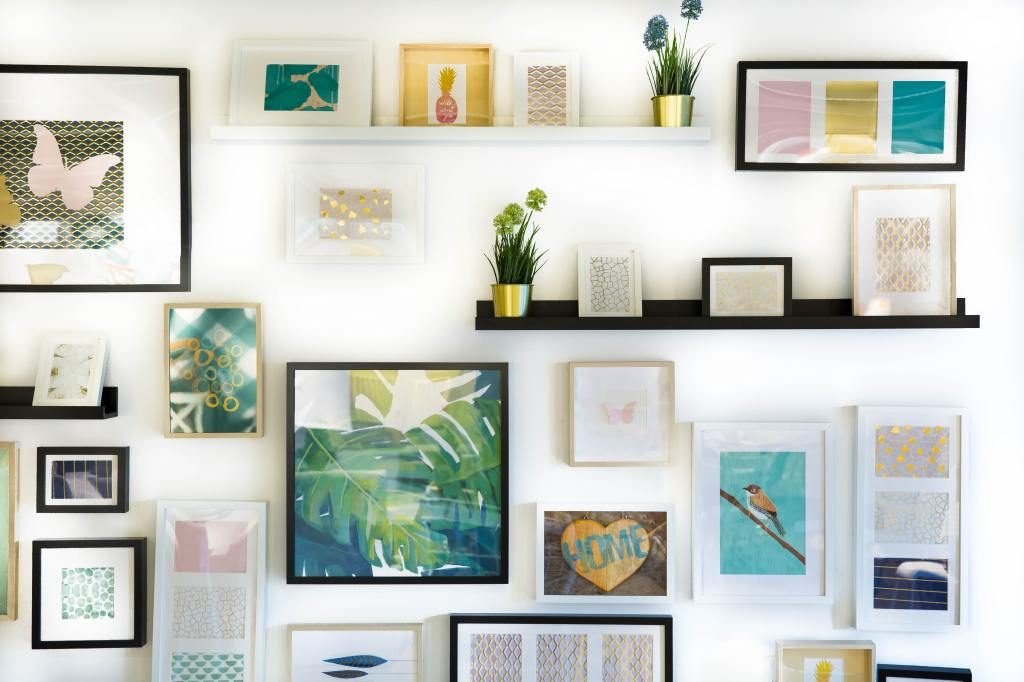 The best part about having your own gallery wall is you can create it exactly how you like it depending on your unique style. Whether you like order and organisation with matching frames and a flowing art pattern or you're more into mix and match frames and out-of-the-ordinary art – the choice is very much yours to play with. We love that gallery walls can be changed up seasonally too, meaning you can always refresh your room when it suits you.
Contrasts in the kitchen
Two-tone kitchens are a big trend right now. It's a great design trend to add value to your home while also increasing the appearance of space. Opt for a darker colour scheme on the cabinets, while bringing in light colours on the countertops and tiles to make the space pop.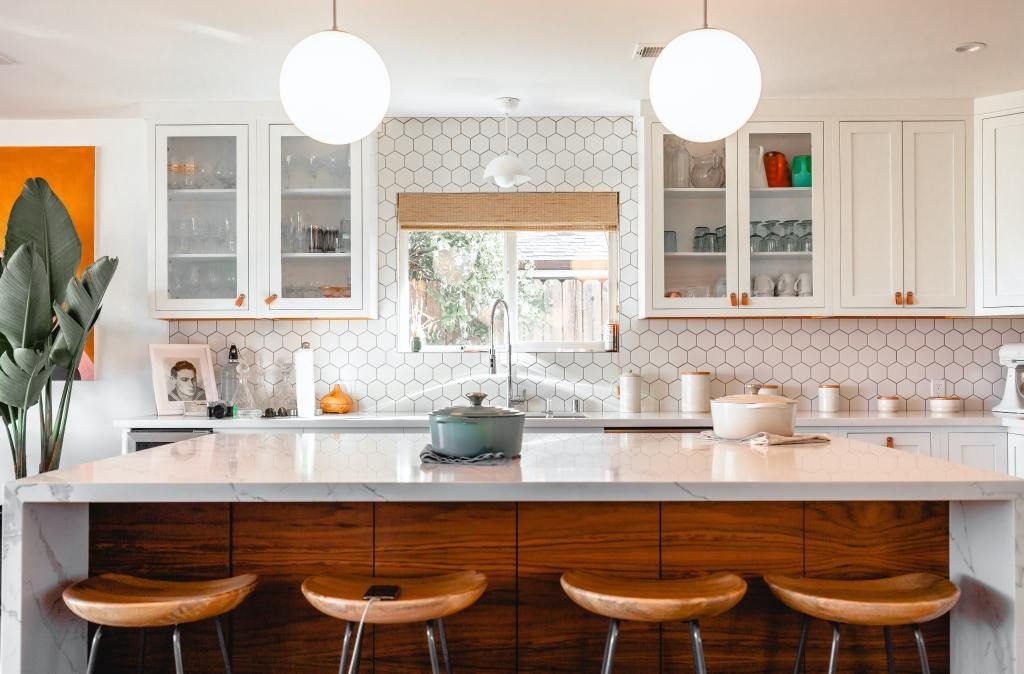 Natural decor
Brown is a huge colour scheme taking over living rooms right now. From wooden furnishings to cosy throws. Adorn your home with a blend of brown and beige furnishings and finishings to set the hygge ambience. If you love a space that's warm and cosy we really think this trend is one that won't be going anywhere. There's also the option of adding details and colour into the space too, with bright pillows and artwork to bring in vibrancy.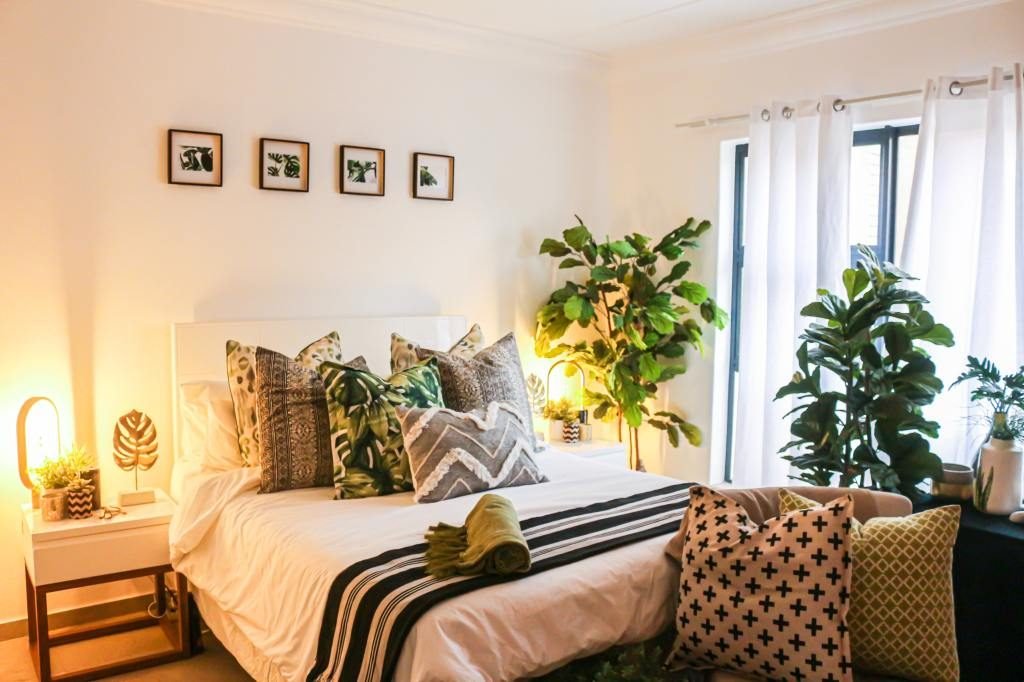 Floral wallpaper
Wallpaper has certainly made a return in 2020 and is becoming increasingly popular around the home. Especially in spaces such as the bathroom and toilet. With so many gorgeous patterns and prints on the market, there's really something for every taste. A big wallpaper trend right now is the floral wallpaper.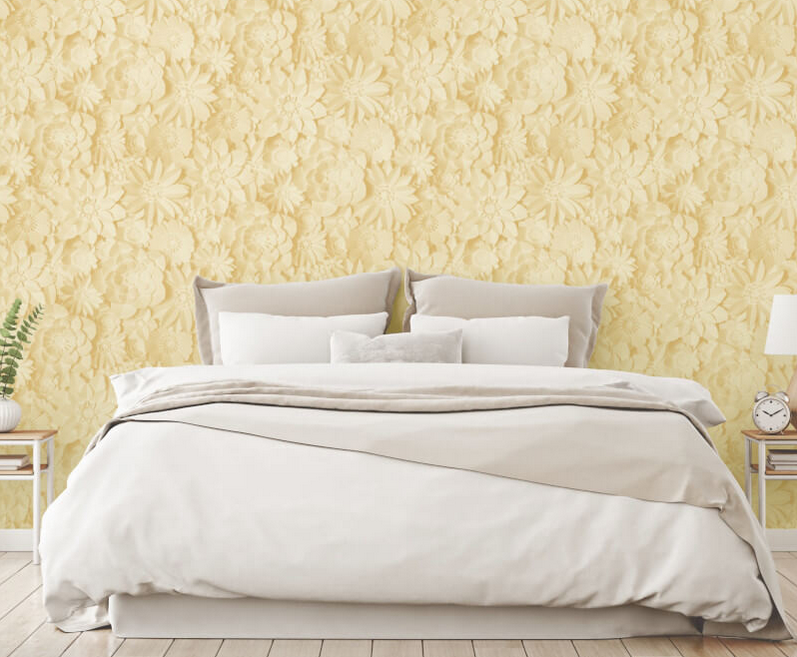 This Go Wallpaper 3D style wallpaper is a fun choice for the bedroom. The optical illusion and summer feel will brighten up your room and looks fairy-tale like.
Eco-friendly decor
Sourcing eco-friendly home decor is a big trend this year and it's not going anywhere. From sustainable furnishings to vegan-friendly cleaning products and paints, there's a demand in every aspect of the home improvement market.
A great way to incorporate eco-friendly living into your home is to swap wood for bamboo. This can be done in many ways, from swapping your pillows to picking out dining sets or seating made from bamboo to help the environment, while still having beautiful furniture in your home. Read all about our top reasons to switch your furniture to eco-friendly bamboo.
Free-standing bathtubs
If there's one 'must-have' in the home, it's a bathtub. We all dream of ending a long day at work with a soak in a deep tub with bubbles and a glass of wine, right?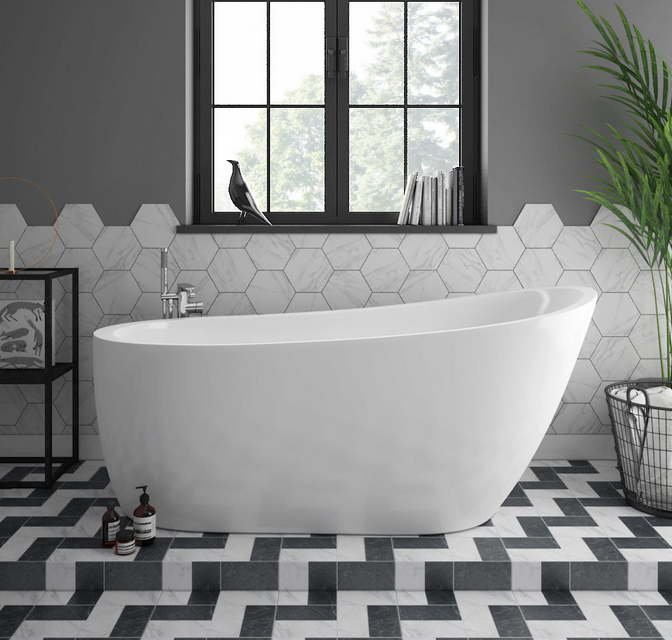 We adore this modern luxury free-standing bathtub at Victoria Plumbing. If you've got a small bathroom, but you still dream of having a soaking tub, this is a perfect option. The curved edges and slipper design will suit any bathroom style perfectly.