Decorating your home can be an exciting and rewarding experience, but it can also be daunting and overwhelming, especially if you're not sure where to start or what mistakes to avoid.
Whether you're a seasoned decorator or just starting your DIY journey, there are certain don'ts (and do's) of decorating that can help you create a beautiful and functional home.
In this article, we'll explore some of the most common decorating mistakes to avoid, and provide you with tips and solutions on how to fix them. So grab a cuppa, and let's dive into the world of decorating dos and don'ts!
Jump to sections of this article:
6 Common mistakes of decorating:
Mistake 1: Not having a plan
Before you start buying decor and furniture, it's important to have a plan for how you want your space to look and feel. This includes considering the function of the room, the colour scheme, and the overall style you're going for. Without a plan, you may end up with a mishmash of styles and colors that don't work together.
A mood board is great for this as you can clearly visualise colours that go well together, as well as patterns that accompany your interior style. Use tools such as Instagram, Pinterest, and Canva to create your ultimate mood board.
Mistake 2: Overcrowding the space
While it can be tempting to fill every inch of your home with decor and furniture, this can actually make your space feel smaller and cluttered. Instead, focus on choosing a few key pieces that you really love and arranging them in a way that feels open and inviting.
Our guide on how to decorate a small apartment is a great read if you're struggling to know how to layout a small space.
Mistake 3: Ignoring the scale of the room
When choosing furniture, it's important to consider the size of your room. A huge sectional may look great in a spacious living room, but it could overwhelm a smaller space. Similarly, a tiny coffee table might get lost in a large room. Take the time to measure your space and choose pieces that are appropriately sized.
Mistake 4: Being too trendy
While it's fun to incorporate trendy decor pieces into your home, it's important to remember that trends come and go. Instead of filling your home with trendy pieces that will go out of style in a year, focus on choosing classic pieces that will stand the test of time.
That being said, there are some interior trends such as panelling and dark interiors, which have been popular for years, so it's worth considering which trend you want to achieve and if it will outdate or keep its popularity so that your home stays timeless.
Mistake 5: Ignoring the importance of lighting
Lighting can make a huge difference in the look and feel of a room, but it's often overlooked in the decorating process. Make sure to incorporate a variety of lighting options, including overhead lighting, table lamps, and floor lamps. This will create a warm and inviting atmosphere in your home.
Mistake 6: Choosing the wrong colour palette
Colour can have a significant impact on the mood of a room, so it's important to choose the right color palette for your space. Consider the function of the room and the feeling you want to create. For example, soft blues and greens can create a calming atmosphere in a bedroom, while bright oranges and yellows can energize a kitchen.
By avoiding these common decorating mistakes, you'll be well on your way to creating a home that you love. Remember to take your time, plan, and choose pieces that speak to you.
We've also broken down mistakes to avoid by room, see below for the complete guide:
Interior design rules to follow for a beautiful and tidy home
Don't neglect functionality: Your home should be a space that functions well for your needs, so don't sacrifice function for form. Make a big impact on a small space with these clever storage ideas
Don't clutter the space: Avoid cluttering your room with too many decorative items or furniture pieces that don't serve a purpose. See these before and after bedroom transformations that will blow your mind!
Don't use harsh lighting: Overly bright or harsh lighting can make it difficult to relax and fall asleep, so opt for soft, warm lighting options.
Don't choose uncomfortable furniture like sofas and beds: Your bed is the most important piece of furniture in your bedroom, so don't skimp on quality or comfort. For living rooms, choose quality and comfy furnishings that are timeless in style so they will last a long time. Even if you pay a higher price, a timeless sofa, armchair, and dining table will pay off in the long run, rather than having to rebuy when you get bored of the look. Check out these beds for couples that are super comfy or read our guide on decorating a rented home.
Don't neglect the walls: Walls are a blank canvas for adding visual interest, so don't neglect them when decorating your home. See how wall panelling can add depth to your space.
Don't choose the wrong colour scheme: Choose a colour scheme that promotes relaxation and calmness, and avoid colors that are overly stimulating. We particularly love sage green for a bedroom as it's a relaxing hue.
Don't ignore the bedding: High-quality bedding can make a huge difference in the comfort and aesthetic of your bedroom, so invest in bedding that you love. Read our guide on how to choose the best sheets for a good night's sleep.
Don't forget about the floor: Choose flooring options that are comfortable and easy to maintain, and add area rugs to add warmth and texture. Read our guides on bathroom flooring and kitchen flooring options to consider.
Don't be afraid to personalize: Your home is a space for reflecting your personal style and tastes, so don't be afraid to incorporate character and personal touches that make you happy.
Don't use only overhead lighting: Overhead lighting can be harsh and unflattering in living rooms. Instead, use other lighting options such as table lamps and floor lamps to create a relaxing space with ambient lighting.
Don't forget about ventilation: Proper ventilation is important in a kitchen to prevent odors and promote good air quality.
Don't block the flow: When decorating and styling your hallways, make sure to avoid furniture or decorative elements obstructing the path to your other rooms and stairs. If you have a narrow hallway consider these ideas to help you style your space in a clever and fun way.
Don't forget about safety in the bathroom: Choose materials and fixtures that are safe and slip-resistant to avoid falling and accidents. Consider options such as bathmats with under grips and use storage baskets that suction onto your tiles, or drawers/ladder shelving to avoid cluttering around your bath.
Don't choose an overly large or small dining table: Choose a dining table that is sized for your space. A good rule of thumb is to know how many people often use the table and either stick to this amount of seating options, or add an extra two for guests. When deciding on the shape of your dining table, consider your space size. Choose a circle table for a small space and a long, rectangular table for open spaces with lots of room.
7 Interior design rules to follow for a beautiful home
We didn't want to make our article all about the 'don'ts' so we've compiled our list of the best interior design tips to 'do' to create a beautiful home. Continue reading to discover what they are…
1. Embrace a neutral color palette
Neutral colors are versatile and timeless, and they provide a great backdrop for adding pops of color and personality through accessories and decor. Furthermore, using neutral colours doesn't mean using a boring colour palette, think about the various hues of black, grey, beige and cream, as well as light green and blue which can really add personality to your home.
2. Choose quality over quantity
Invest in high-quality pieces that will stand the test of time, rather than cheap pieces that may need to be replaced frequently. Some decor pieces such as throws, cushions, artwork and ornaments are fine to buy on a budget. However, the bigger pieces such as the sofa, bed and dining table are investable items that can add huge style to your home. If you are on a budget, think about buying good quality, second-hand furniture and sprucing it up with some new DIY skills!
3. Incorporate texture and layering
Texture and layering add visual interest and depth to a space, so mix and match different textures and materials to create a dynamic and inviting atmosphere. Think rugs, cushions, throws and artwork which all infuse texture and colour into your home.
4. Let natural light in
Natural light is the best kind of light, so make sure to maximise the natural light in your home by choosing window treatments that allow for plenty of light to filter in. If you don't have much natural light, keep to light-coloured walls and plenty of lamps to make the space feel more open.
5. Add a touch of greenery
Indoor plants are not only visually appealing, but they also help purify the air and promote a sense of calm and well-being in your home.
6. Mix old and new
Combining vintage or antique pieces with modern decor can add character and interest to your space, so don't be afraid to mix and match different styles for a fun look!
7. Make it personal
Your home should be a reflection of your personality and style, so make sure to incorporate personal touches and mementos that make you happy and feel at home. Think artwork, your favourite candles or showcase the best books on your coffee table, as a few examples.
By following these interior design rules, you can create a beautiful, inviting, and comfortable home that you and your loved ones will enjoy for years to come.
Inspired by these Interior Design tips? Read more ideas around the home below!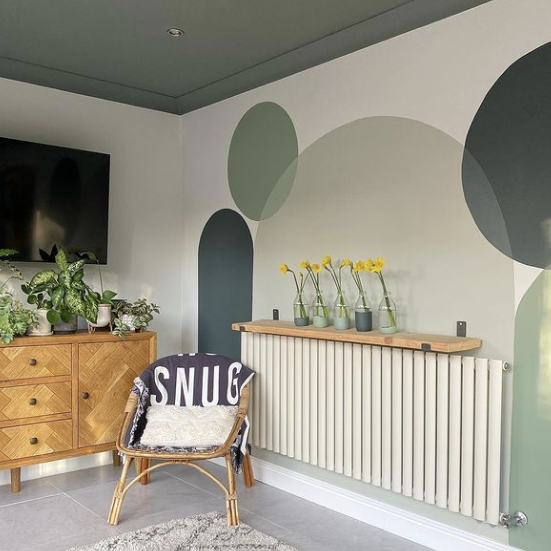 Bathroom Bedroom Decor Inspo DIY and renovation Hallway How To Interior Trends Kitchen Living Room Uncategorized